iWatch Price & Rumors: Analyst Says New Apple Smartwatch May Be $299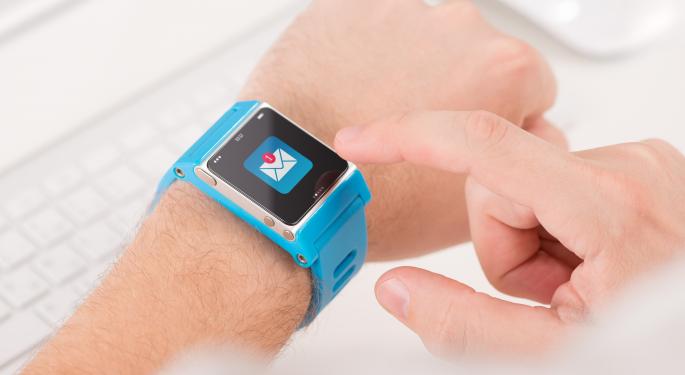 In a research note released by Morgan Stanley Tuesday, analysts are saying that Apple's (NASDAQ: AAPL) much-rumored iWatch will be priced at $299, similar to other wearable smart devices currently in the market.
Katy Huberty of Morgan Stanley wrote that the financial firm thinks that Apple's stock will be a hit in 2014, and that much of its potential success depends on new product categories.
In a recent earnings call, CEO Tim Cook confirmed that Apple is planning on adding new product categories to its existing lineups of Mac computers and laptops, iPhones, and iPad's, but didn't elaborate. Huberty wrote that, judging from Apple's recent acquisitions of companies like WiFiSlam, Passif Semiconductor, and PrimeSense, Apple is preparing to enter the wearable technology industry.
Previous periods of increased research and development investments by Apple have resulted in some of the most revolutionary products the company has created. This trend has been noted in 2000-2001 when the iPod was released, 2005-2006 with the iPhone and 2008-2009 when Apple announced the iPad. While over the past three years Apple has kept R&D development at over 30 percent, the company is now investing even more in R&D, even after this "period of prolonged R&D growth."
See also: Amazon Poised For A Big 2-14 After Quiet Acquisition Year
Huberty also says that Apple has been investing a lot in property, plant, and equipment over the past few quarters. While much of this can be attributed to the increase in data capability for services like iCloud, Apple Maps and other Internet-related services, Huberty thinks that another reason is that Apple's planning on infiltrating another product category.
Morgan Stanley also thinks that the iWatch will have a large and immediate impact on Apple's bottom line. While some are still skeptical of wearable technology, Huberty thinks that the iWatch will set a record for shipments in its first year on the market. The device has a number of uses, from health to mobile payments, but more importantly, analysts see it as an accessory. With Apple's user base growing rapidly, and much larger when the company announced the iPhone or the iPad, current Apple customers can be convinced to purchase the iWatch.
Based on estimates, Huberty thinks that the iWatch can make $17.5 billion in revenue for Apple, which means if the device is priced at $299 like Morgan Stanley thinks, Apple will sell 58 million units in its first year. The only issue, writes Huberty, is supply. "If there are supply bottlenecks in the first year, we see a more conservative revenue range from $10B (assuming iPhone penetration curve) to $14B (average of iPhone and iPad penetration curves)."
It remains to be seen whether or not Apple will announce an iWatch this year though, with Cook saying in his earnings call that "The reality is that the work we do to produce truly innovative products is very hard…I assure you that we're working very closely with manufacturing partners to achieve a very exciting roadmap."
Keep up with all the latest breaking news and trading ideas by following us on Twitter.
 
View Comments and Join the Discussion!
Posted-In: iWatch Katy Huberty Morgan StanleyNews Rumors Tech Best of Benzinga