Market Wrap For February 4: Investors And Traders Go Bargain Hunting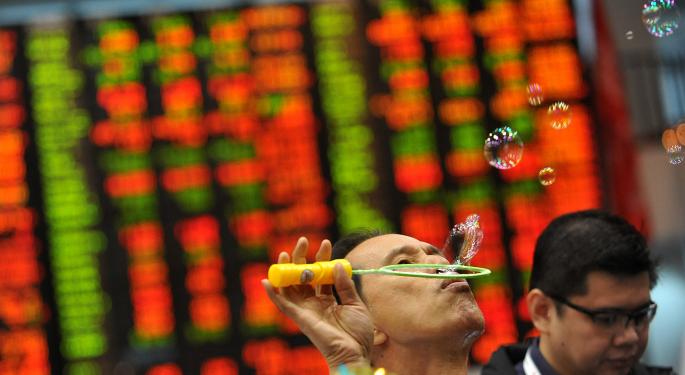 U.S. stocks rose today as investors and traders felt that there were plenty of bargains in the market to be found.
"Today is just a bounce. I don't think there is really that much behind it, other than some bargain hunters stepping in," Robert Pavlik, a chief market strategist said to CNBC.
Chicago Fed President Charles Evans said today that it would be a "high hurdle" to later the current $10 billion per month taper. "It's the right time and approach to moderately reduce our asset purchase pace." Evans also expressed concern that inflation is still below the Fed's two percent target and that "as long as inflation is below our 2% objective we can continue to have highly accommodative policy."
The Dow gained 0.47 percent, closing at 15,445.24.
The S&P 500 gained 0.76 percent, closing at 1,755.20.
The Nasdaq gained 0.86 percent, closing at 4,031.52.
Gold lost 0.42 percent, trading at $1,254.60 an ounce.
Oil gained 0.96 percent, trading at $97.36 a barrel.
Silver gained 0.31 percent, trading at $19.47 an ounce.
News of Note
ICSC Retail Store Sales rose 0.3 percent week over week compared to a 0.2 percent gain last week.
Redbook Chain Store Sales rose 2.7 percent year over year, trailing last week's 3.2 percent gain.
December Factory Orders declined 1.5 percent, lower than the consensus estimate calling for a decline of 1.8 percent.
Treasury Secretary Jack Lew warned of the consequences of not raising the $16.7 trillion debt limit. Lew said the government would default on its obligations "very soon" after using up whatever emergency measures it has available.
For the second straight week, Russia cancelled its bond auctions due to an unfavorable market condition in the country and echoed in emerging markets worldwide..
Equities-Specific News of Note
Analysts at UBS upgraded shares of Zynga (NASDAQ: ZNGA) to Buy from Neutral with a price target raised to $6.00 from a previous $4.00. The analysts noted their raise reflects their increased confidence that: a) Zynga's core operations have begun to realize stabilization under the new management team (led by CEO Don Mattrick), b) that core cost cutting announced with Q4 operating results will result in a bottom for Zynga's EBITDA margins; and c) that the $527mm acquisition of NaturalMotion (a leading iOS gaming company) will result in a greater level of scale and innovation to the broader Zynga mobile game pipeline." Shares hit new 52 week highs of $4.97 before closing the day at $4.59, up 2.23 percent.
Analysts at Baird upgraded shares of Gilead Sciences (NASDAQ: GILD) to Outperform from Market Perform with a price target raised to $103 from a previous $65. The analysts noted "Sovaldi selling way beyond our expectations. The initial prescription data are so massively outperforming even the biggest weeks Incivek ever had, we believe any reasonable comparison between the two drugs would indicate that U.S. sales in 2014, alone, are going to exceed $5 billion" and that "There is almost no way barring an extreme reduction in volume over the next few weeks that Gilead won't hit at least $1 billion in sales in 1Q14 (consensus is at $336 million), and that really only accounts for U.S. sales." Shares gained 4.05 percent, closing at $82.02.
Analysts at Citigroup upgraded OpenTable (NASDAQ: OPEN) to Neutral from Sell with a price target increased to $74 from a previous $68. The analysts noted "OpenTable is scheduled to report 4Q13 results and provide 1Q14 and CY14 guidance after the close this Thursday, February 6th. We believe 4Q13 results will likely be at least in line with our $51.7mn revenue (vs. consensus of $51.5mn and management's guidance for $50.7-52.1mn), $23.2mn EBITDA (vs. consensus $22.6mn and management's guidance for $21.9-23.3mn) and $0.52 EPS estimates (in line w/ consensus of $0.52 and management's guidance of $0.49-0.53)." Shares gained 3.45 percent, closing at $75.58.
Analysts at Sterne Agee said that shares of Boeing (NYSE: BA) which have dropped around ten percent in 2014 is approaching "bargain levels" and that "investors should get very aggressive" about buying, based on his estimate of 2014 and 2015 earnings. Shares lost 0.84 percent, closing at $122.05.
Analysts at Jefferies upgraded shares of Pfizer (NYSE: PFE) to Buy from Hold with a price target increased to $38 from a previous $33. The analysts noted "Oncology and restructuring are key themes for the Pharma sector. Pfizer has both with palbociclib looking like it could launch before year end, whilst management look to give increased visibility on a new organizational structure from Q1'14," and that "we have upgraded the shares to Buy as we expect the market will soon reflect incremental value in the shares for these drivers." Shares gained 2.75 percent, closing at $31.44.
Analysts at Roth Capital transferred coverage on Salesforce.com (NYSE: CRM) to Buy from Neutral with a price target of $80. The analysts noted the reason for the upgrade is due to the company's leadership, accelerating growth and free cash flow generation. Shares gained 4.24 percent, closing at $60.95.
Analysts at Topeka Capital Management initiated coverage on Lions Gate (NYSE: LGF) with a Buy rating and $40 target. The analysts noted that their view is based on valuation following shares recent declines. Shares gained 0.79 percent, closing at $30.77.
Microsoft (NASDAQ: MSFT) officially named Satya Nadella as its new CEO. Nadella will leave his position as enterprise/cloud chief to replace the outgoing CEO Steve Ballmer. Bill Gates pledged to devote around one third of his time to "meet with product groups" as he assumes a new title as technology adviser. Shares lost 0.36 percent, closing at $36.35.
Related: Microsoft Officially Announces Satya Nadella As CEO
Netflix (NASDAQ: NFLX) plans to sell $400 million worth of senior notes due in 2024 to be used for "general corporate purposes." Separately, the company said that it has renewed House of Cards for a third season. The show which scored several Emmy awards will return online for a second season next week. Shares gained 0.38 percent, closing at $405.91.
Top executives at Target (NYSE: TGT) and Neiman Marcus are on the hot seat today, testifying in front of a Senate Judiciary committee on their recent data security breaches. Target's CFO mentioned the company is in the middle of an ongoing review but provided no further detail on who is responsible for the data breach. Delara Derakshani, Policy Counsel at the Consumers Union called for the U.S. to switch to "chip and PIN" based credit cards, similar to those used in Canada. Target said that all participants (corporate and government agencies) need to work together to move collectively toward the safer technology. Shares hit new 52 week lows of $55.10 before closing the day at $55.12, down 0.52 percent.
Google (NASDAQ: GOOG) and Cisco (NASDAQ: CSCO) finalized a patent cross-licensing deal. Terms were not initially disclosed. Shares of Google gained 0.42 percent, closing at $1,138.16 while Cisco gained 1.16 percent, closing at $21.80.
Related: Google Has Big Plans For Its Humble Chromecast Device
Novartis (NYSE: NVS) is drawing interest for its human vaccines unit which could fetch as much as $1 billion. Shares lost 0.53 percent, closing at $78.20.
Cree (NASDAQ: CREE) is set to expand into the lighting control market and launched SmartCast, a wireless commercial lighting control system that costs half as much as traditional systems. Shares gained 1.36 percent, closing at $57.99.
Related: Bright Idea: LED Technologies Expected To Light Up 2014
Liberty Global (NASDAQ: LBTYA) and Discovery Communications (NASDAQ: DISCA) have made a joint approach to CVC Capital to acquire a 49 percent stake in Formula One. Shares of Liberty Global gained 1.34 percent, closing at $80.09 while Discovery Communications lost 0.01 percent, closing at $78.03.
According to the Wall Street Journal, RadioShack (NYSE: RSH) will close 500 stores within a few months which would reduce its store count by around 11 percent. Shares lost 4.84 percent, closing at $2.36.
Related: Radio Shack vs. General Mills: Which Would You Rather - Super Bowl Edition
Dish Network (NASDAQ: DISH) and Disney (NYSE: DIS) are close to agreeing on a carriage deal. The two have been operating under a short-term distribution agreement since September. Shares of Dish gained 3.63 percent, closing at $56.58 while Disney gained 1.51 percent, closing at $71.05.
Total (NYSE: TOT) said that it will sell its 15 percent stake in an Angola offshore oil block for $750 million as part of the company's plan to come up with $20 billion through 2015 to finance a series of expensive but lucrative exploration and production projects. Shares gained 0.69 percent, closing at $56.59.
Wal-Mart (NYSE: WMT) said that it will invest around $500 million to boost up its operations in Canada. The company will invest in its infrastructure, fresh food distribution network and e-commerce projects. Shares gained 0.10 percent, closing at $72.73.
Related: Wal-Mart Sets Its Eyes On Winning The Canadian Market
The Federal Communications Commission Chairman Tom Wheeler expressed doubt over the possibility of Sprint (NYSE: S) acquiring T-Mobile US (NYSE: TMUS). Shares of Sprint lost 0.13 percent, closing at $7.84 while T-Mobile US gained 2.03 percent, closing at $30.13.
Winners of Note
This morning, Michael Kors (NYSE: KORS) reported its third quarter results. The company announced an EPS of $1.11, beating the consensus estimate of $0.86. Revenue of $1.00 billion beat the consensus estimate of $859.4 billion. Comparable-store sales rose 28 percent in the quarter with wholesale sales rising 68.2 percent year over year to $461 million and licensing revenue rising 59 percent to $47.4 million. The company guided its fourth quarter revenue to be $790 million to $80 million as it expects comparable store sales will increase by 15 percent to 20 percent. Shares hit new 52 week highs of $93.18 before closing the day at $89.91, up 17.27 percent.
Michael Kors' Earnings Impresses Investors And Analysts
Furiex Pharmaceuticals (NASDAQ: FURX) reported that its Eluxadoline treatment for diarrhea-predominant irritable bowel syndrome (IBS-d) successfully met the goals of two Phase III trials. The company intends to apply for final FDA approval by the middle of the year and will file similarly with the European Union's regulatory body in early 2015. Shares hit new 52 week highs of $121.97 before closing the day at $105.69, surging 129.91 percent.
Iridian Asset Management disclosed a 9.3 percent passive stake in AOL (NYSE: AOL). The asset management company is known to target companies "undergoing significant corporate change." AOL will announce its fourth quarter earnings on Thursday before the market opens. Shares gained 5.59 percent, closing at $49.49.
Recommended: Mark Zuckerberg Talks Facebook's 10-Year-Anniversary
Analysts at Cowen speculated that Plug Power (NASDAQ: PLUG) could be profitable bye the end of the year as the company expands to Asia. The analysts see sales growth of 68 percent through 2018 as the company continues to gain market share in the U.S. and Europe and successfully expands to the Asian market. Shares gained 15.14 percent, closing at $3.27.
Sony (NYSE: SNE) is in talks to sell its PC unit for a price tag of $394 million to $492 million. It was initially rumored that Lenovo (OTC: LNVGY) is in talks to acquire the unit from Sony. Sony denied the report but did not confirm that it is exploring options for the business. Shares gained 5.57 percent, closing at $16.10.
Recommended: Common Tax Filing Errors Made By College Students
Decliners of Note
This morning, J.C. Penney (NYSE: JCP) said that it has recorded a two percent increase in same-store sales during the fourth quarter. The last time the company achieved this feet was in the second quarter of 2011. What at first glance appears to be a positive for the company has failed to impress analysts and investors. Analysts at Sterne Agee said that a two percent comp sales mark isn't high enough while analysts at Goldman Sachs said with inventory building up faster than sales an "aggressive right-sizing" of the business may occur. Brian Sozzi of Belus Capital Advisors said that he is "willing to stay the course with our two-year plus sell rating on the stock pending: (1) clarity on the quarter over quarter gross margin comparisons; and (2) the raw operating cash flow figure, which will shed light on whether JC Penney's operations have normalized or if another penalizing cash raise is likely in 2014. Shares hit new 52 week lows of $4.90 before closing the day at $5.08, down 10.56 percent.
Related: J.C. Penney: We're Back, Baby!
Oasis Petroleum (NYSE: OAS) said that it plans to increase spending significantly throughout 2014 to ramp up its production. The company plans to spend $1.43 billion, a 40 percent increase from last year's spending. The company wants to increase its 2013 production of 33,904 boe/day to 46,000 to 50,000 boe/day. Shares lost 5.24 percent, closing at $39.09.
Earnings of Note
This morning, Becton, Dickinson and Company (NYSE: BDX) reported its first quarter results. The company announced an EPS of $1.42, beating the consensus estimate of $1.30. Revenue of $2.02 billion beat the consensus estimate of $1.98 billion. Net profit for the quarter fell to $271 million from last year's $625 million as operating costs increased 8.5 percent to $1.64 billion. The company raised the lower end of its full year EPS guidance by three cents and expects to earn $6.19 to $6.22, slightly below the consensus estimate of $6.23. Shares gained 0.58 percent, closing at $106.01.
This morning, Sirius XM Radio (NASDAQ: SIRI) reported its fourth quarter results. The company announced an EPS of $0.01, missing the consensus estimate of $0.02. Revenue of $1 billion beat the consensus estimate of 981.9 million. Subscriber revenue rose 10.1 percent in the quarter to $852.5 million as the company added 411,484 subscribers to bring its total user base to 21.1 million. Shares lost 0.85 percent, closing at $3.52.
After the market closed, Buffalo Wild Wings (NASDAQ: BWLD) reported its fourth quarter results. The company announced an EPS of $1.10, beating the consensus estimate of $1.07. Revenue of $341.5 million missed the consensus estimate of $346.85 million. Shares were trading slightly higher by 0.18 percent at $141.00 following the company's earnings release.
Quote of the Day
"The recent $120/mmBtu spike in gas prices in New York underscores the ongoing bottleneck issues that plague some of the high gas consuming areas in the country. The system's inability to deliver enough natural gas to where consumers are, especially given that the fastest-growing shale gas play in the US, the Marcellus, is nearby, raises the issues of what it takes to solve such bottlenecks and where and how such rapidly growing production can be allocated, as producers have faced some bottlenecks of their own. Specifically, Marcellus production growth reached almost 4 Bcf/d in 2013, with this increased supply having had a direct, negative impact on the regional basis (for producers), while consumer prices (city gates) have benefitted [sic] little, if at all, from the surging levels of production." – A report written by a team of Goldman Sachs analysts explaining why they hiked their natural gas price forecast to $4.50 per million btu from $4.25.
View Comments and Join the Discussion!
Posted-In: AOL Baird Becton Belus Capital Advisors BoeingNews FDA After-Hours Center Best of Benzinga