Top Trending Tickers On StockTwits For February 3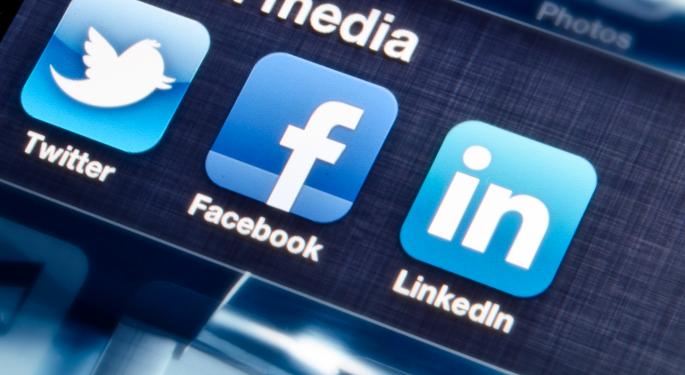 Here's a look at the top tickers trending on StockTwits.com
Sina: Record breaking milestone
Sina Weibo is the Chinese equivalent of Twitter and set a corporate historical milestone last night.
Sina Weibo users "tweeted" 863,408 posts within the first minute of the Chinese New Year, 130,000 more "tweets" than last year.
Unfortunately, Sina Weibo's historic milestone pales in comparison to WeChat (developed by Tencent) which processed ten million messages in one minute following the Chinese New Year.
See also: Top Financial Tweets For February 3
Investors are using this data to continue debating which social media platform in China remains supreme. Sina Weibo has recently been losing followers to rivals such as WeChat as a report by China Internet Network Information Centre showed that Weibo's user base fell nine percent to 280.8 million, from 308.6 million in 2013.
Shares of Sina were trading higher by 1.15 percent in the pre-market session.
FireEye: $700 million stock sell
FireEye (NASDAQ: FEYE) announced this morning that it plans to sell $700 million in common stock.
Shares of FireEye were trading lower by 2.04 percent in the pre-market session.
Herbalife: Positive guidance, buyback program
This morning, Herbalife (NYSE: HLF) said that it expects its fourth quarter EPS to come in a range of $1.26 to $1.30, above the consensus estimate of $1.17. The company also projected that its net sales grew 19.8 percent, above the consensus estimate of 15.5 percent.
Herbalife also announced that it will increase its stock repurchase program to an available balance of $1.5 billion. The previous $1 billion had a balance of $653 million. To pay for the buybacks, Herbalife said that it will offer $1 billion of five-year convertible debt.
Shares of Herbalife were trading higher by 5.3 percent in the pre-market session.
Randgold: Profit hit
This morning, Randgold Resources (NASDAQ: GOLD) reported a 2013 EPS of $3.02, beating the consensus estimate of $2.83. The London and Nasdaq listed, African based gold miner also announced that its net profit fell to $278.4 million from $431.8 million a year ago. A 17 percent decline in gold prices offset record productions of 910,374 troy ounces.
Randgold said that it expects to ramp up its gold production by 25 percent to 30 percent in 2014. The company is also eyeing M&A activity in 2014 as smaller mining companies are appearing to be vulnerable after amassing debt to expand operations when gold prices were substantially higher a few years ago.
Randgold's report comes at the same time that Bloomberg reported that hedge funds are the most bullish on gold since July. Bloomberg referenced Commodity Futures Trading Commission data which showed the net-long position in gold jumped 40 percent to 60,672 futures and options in the week ended January 28. Bloomberg also reported that long positions in gold rose 5.5 percent to the highest since September, and short positions fell 16 percent.
Shares of Randgold were trading higher by 3.93 percent in the pre-market session.
Yum! Brands: Reporting after the close
After the market closes today, investors will focus on Yum! Brands (NYSE: YUM). Analysts are expecting the company to report an EPS of $1.27 on $4.27 billion of revenue.
Yum! Is still dealing with its issued in China which include an accusation of using chicken suppliers that are guilty of using antibiotics. Despite the lingering overhang, Yum! Did post small gains in China for same stores sales to close out 2013.
Posted-In: Chinese New Year FireEye Herbalife Herbalife Buyback Randgold Sina Weibo stocktwitsNews Best of Benzinga
View Comments and Join the Discussion!