Why Did The Motorola Mobility News From Google Cause Lenovo Shares To Drop?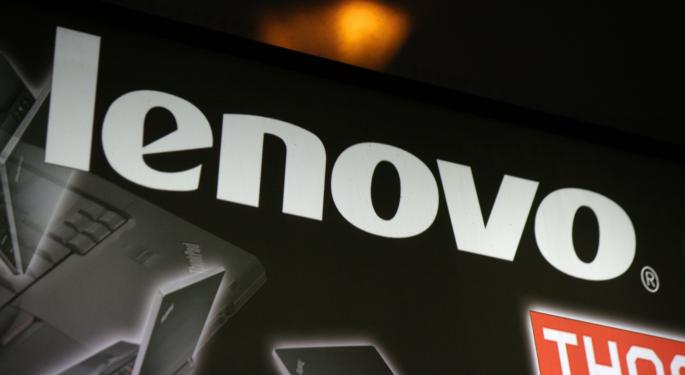 Shares of Lenovo Group (OTC: LNVGY) fell more than eight percent after Google (NASDAQ: GOOG) announced that it was selling its Motorola Mobility unit to the company for $2.91 billion.
According to Google's press release, the deal includes a payment to Google of $1.41 million in cash and Lenovo stock at the close of the deal and a three-year promissory note for the final $1.5 billion.
Lenovo will take control of the Motorola Mobility line of products but Google will maintain ownership of most of the patent portfolio.
Lenovo will receive a license to the patents and other intellectual property including more than 2,000 patent assets.
Google CEO Larry Page said, "But the smartphone market is super competitive, and to thrive it helps to be all-in when it comes to making mobile devices." Page continues, "It's why we believe that Motorola will be better served by Lenovo—which has a rapidly growing smartphone business and is the largest (and fastest-growing) PC manufacturer in the world."
Google's reason for selling the company is clear but Lenovo's reason for buying it isn't winning the praise of investors.
For Lenovo, it's part of its plan to take the business in a direction that doesn't rely on the PC. PC sales are declining at an alarming pace if your business makes most of its money in that space. Lenovo is rapidly trying to build a brand that relies far less on the PC going forward.
Related: Lenovo Buys IBM x86 Server Business for $2.3 Billion
Recently, Lenovo acquired IBM's low-end x86 server unit for $2.3 billion. The company wanted a piece of the enterprise market, an area not so much affected by the dwindling PC numbers. According to Lenovo CEO Yang Yuanqing, the Motorola acquisition will accomplish a similar goal.
"Before, we only had PCs as a core business. Now, we've built two pillars: the first is enterprise, and the second is this mobile business."
But the problem is one that everybody understands. There is arguably no more of a cut-throat business than the cell phone business. If you're not Apple or Samsung, you have an extraordinarily small piece of the market with little chance of gaining ground any time soon.
Other brands hold their own in the space but Motorola is regarded as one of those brands that represents what "cellular" phones once were.
Investors bid the stock sharply lower because of fears that Lenovo is depleting its cash reserves for a company that will be difficult to rekindle.
However, Motorola has a history of reviving struggling brands. When the company purchased IBM's PC business in 2005, it executed an impressive turnaround of a struggling brand. Value phones in emerging markets isn't such a bad bet.
CNNMoney's Paul LaMonica shared his thoughts on the deal with a tweet Thursday morning:
Worth remembering on $GOOG/Motorola. $GOOG previously sold Motorola Home to $ARRS for $2.35B. So it got more than just $2.9B from Lenovo.

— Paul R. La Monica (@LaMonicaBuzz) January 30, 2014
Disclosure: At the time of this writing, Tim Parker had no position in the companies mentioned.
Posted-In: Google larry page Lenovo motorola mobilityNews M&A Tech Best of Benzinga
View Comments and Join the Discussion!