Will Apple Or Google Bring The Augmented Reality Revolution?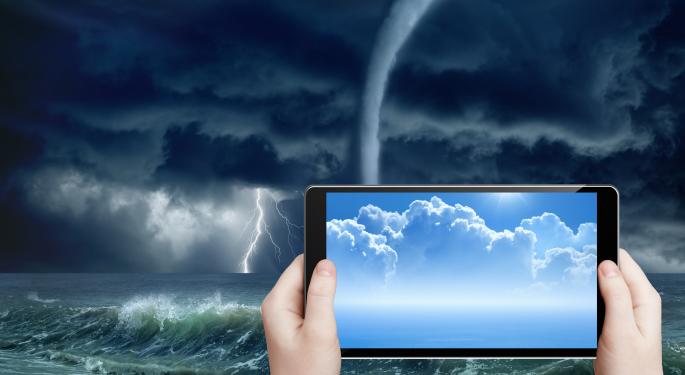 Augmented reality has expanded tremendously over the last few years, thanks to a collection of gimmicky smartphone apps.
But the next generation of AR is around the corner -- and it could come from one of the biggest players in technology.
"I think Google Glass has undoubtedly shaken the industry and brought to the attention of people that could do more [for] healthcare and [other industries]," David Marimon, CEO of Catchoom, an image recognition and augmented reality company, told Benzinga.
"Another thing that can happen in the next five years is that a big player, like Google or Apple, finds a compelling case for consumers. If this happens…then end consumers will adopt it even faster than the industry [professionals]."
With Project Glass, Google (NASDAQ: GOOG) has been trying to bring a new kind of wearable, informative and life-changing device to consumers. Apple (NYSE: AAPL) has yet to do the same, but it is possible that the company is experimenting with augmented reality behind the scenes.
Related: Infinity AR CEO: Google Glass Will Rule Augmented Reality Market At Launch
Marimon acknowledged that another big player in technology, Sony, has already dabbled in consumer AR applications through the use of its latest handheld game system, PS Vita. Nintendo has done the same with the Nintendo 3DS, but neither company has introduced an AR headset that can drastically alter a real-world environment.
Thus far, one of the most promising AR glasses has come from Meta, a small startup in Silicon Valley. The company promises to deliver an immersive, holographic experience, but it comes at a price. While the developer edition (which must be tethered to a PC) will retail for $667 when it ships in July, the sleek Pro edition has a price tag of $3,650. That price includes a pocket computer with a 1.5Ghz Intel i5 processor, 4GB RAM, 128GB SSD and an unspecified GPU. By using the pocket computer, the Meta Pro will be much more portable than the developer edition.
Instead of developing AR glasses of its own, Catchoom has focused on developing actionable software to enhance the experience. The company's latest project is CraftAR, which Catchoom describes as being the "ultimate AR toolbox."
"Actionable augmented reality means that we put the user at the center and we provide value to the user," Marimon explained. "Whatever experience that this creates for the user, we provide valuable feedback and valuable outcome. If the user is looking for some information on a product, the outcome of that experience [is] not simply a 'wow' effect that the user is impressed by."
Disclosure: At the time of this writing, Louis Bedigian had no position in the equities mentioned in this report.
Posted-In: Apple Catchoom CraftAR David MarimonNews Startups Tech Interview Best of Benzinga
View Comments and Join the Discussion!