Market Wrap For January 27: China Concerns, Declining Home Sales, Tomorrow's Fed Meeting and Obama's Speech Keep Markets Lower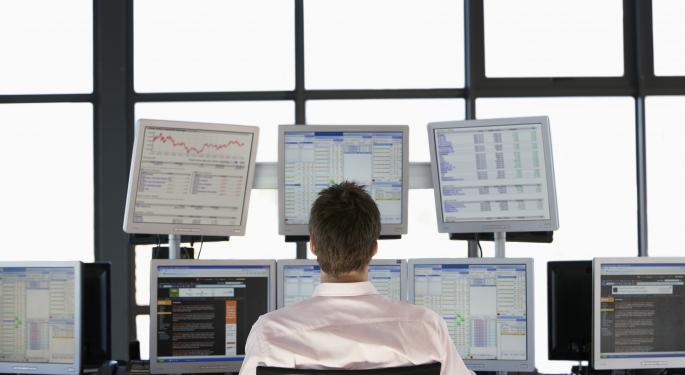 U.S. stocks picked up where they left off on Friday and declined today as investors have plenty on their mind.
With earnings being a mixed bag, investors are looking at emerging markets and economic data to support a bullish case for equities.
On the emerging market front, investors remain worried that the Chinese economy is slowing down. Currency concerns in Argentina and Turkey are certainly not reassuring investors.
On the economic front, the Commerce Department reported new home sales totaled 414,000 in December, lower than the 458,000 estimate.
Related: Will the Worries Stick?
The Dow lost 0.26 percent, closing at 15,837.88.
The S&P 500 lost 0.49 percent, closing at 1,781.56.
The Nasdaq lost 1.08 percent, closing at 4,083.61.
Gold lost 0.70 percent, trading at $1,255.40 an ounce.
Oil lost 0.79 percent, trading at $95.88 an ounce.
Silver lost 0.76 percent, trading at $19.61 an ounce.
News of Note
December New Home Sales came in at 414K, lower than the 450K expected.
January Dallas Fed Manufacturing Outlook read +3.8, lower than the 5.0 expected.
President Obama is expected to say in his State of the Union speech tomorrow evening that he will increase his use of executive authority to implement several economic proposals.
Japan's trade deficit almost doubled to a new high of 11.5 trillion yen (approximately $113 billion) due to a weak yen and higher energy imports.
The Argentian government said that it could end a two-year-old ban on its citizens buying foreign currency. The currency has already dropped more than 20 percent over recent days.
Equities-Specific News of Note
Analysts at Janney Capital downgraded Lululemon Athletica (NASDAQ: LULU) to Neutral from Buy with a price target lowered to $49 from a previous $61. The analysts noted that the company is still recovering from recent PR and product issues. Additionally, the company is facing increasing threats from competitors, specifically The Gap (NYSE: GPS) with its Athleta line of products. The analysts wrote that The Gap is "positioning their stores close to Lululemon stores and mimicking the relationship with the yoga community and 'healthy lifestyle' positioning." Shares of Lululemon hit new 52 week lows of $45.54 before closing the day at $46.26, down 2.86 percent. The Gap lost 0.56 percent, closing at $37.00.
Analysts at Goldman Sachs (NYSE: GS) upgraded RetailMeNot (NASDAQ: SALE) to Buy from Neutral with a price target raised to $40 from a previous $32. The analysts noted "Retailers are coming out of a tougher-than- expected 2013 andmobile usage is now a real catalyst for retailers to increase marketing sophistication. RetailMeNot has invested for this opportunity, developing a mobile experience that connects online and in-store, that per our checks is gaining traction faster than expected."
Analysts at JPMorgan (NYSE: JPM) downgraded Cisco (NASDAQ: CSCO) to Underweight from Neutral with a price target lowered to $17 from a previous $21. The analysts noted that the company is "caught between a rock and a hard place" given trends in emerging markets and the rise of software-defined networking which could replace traditional network routers and switches with cheaper equipment. Shares lost 0.90 percent, closing at $22.00.
Analysts at JPMorgan initiated coverage of Foot Locker (NYSE: FL) with an Overweight rating and a $47 price target. The analysts noted that the company's "total return algorithm should approach mid-teens the next three years driven by mid-single-digit top-line growth and ~100bps of EBIT margin expansion equating to low-double-digit EPS growth combined with a ~2% dividend yield." Shares gained 1.47 percent, closing at $38.02.
Analysts at Barclays issued a report on the homebuilding sector. The analysts favor D.R. Horton (NYSE: DHI), Lennar Corp (NYSE: LEN) and Meritage Homes (NYSE: MTH) as potential Outperformers. The analysts are bearish on KB Home (NYSE: KB) and Toll Brothers (NYSE: TOL). Shares of D.R. Horton gained 0.29 percent, closing at $20.94, Lennar Corp lost 0.32 percent, closing at $36.91 and Meritage Homes lost 1.01 percent, closing at $44.93. KB Home lost 2.72 percent, closing at $17.55 and Toll Brothers lost 1.60 percent, closing at $35.00.
Related: Cautious Analyst Note from Barclays & New Sales Data Drag Homebuilders Lower
Analysts at JMP Securities upgraded E-Trade (NASDAQ: ETFC) to Outperform from Market Perform with a price target of $26. The analyst noted that shares offer a compelling value and still reflect a "multi-year transformation." Despite the positive nod, shares lost 4.29 percent, closing at $20.07.
Analysts at Morgan Stanley (NYSE: MS) upgraded Merck (NYSE: MRK) to Overweight from Underweight with a $60 pricetarget. The analysts noted that the company's prospects for a new cancer drug could bring in more than $6 billion in annual sales by 2020. Shares hit new 52 week highs of $54.10 before closing the day at $52.53, up 1.06 percent.
Analysts at Canaccord Genuity said that the severe cold weather is a positive for companies like Deckers Outdoor (NASDAQ: DECK) and Under Armour (NYSE: UA). The analysts noted "the talk out of the Winter Outdoor Retailer show was the Polar Vortex's frigid temperatures and its positive impact on sales of weather-sensitive footwear and apparel." Shares of Deckers gained 2.36 percent, closing at $76.45 while Under Armour lost 0.67 percent, closing at $82.93.
Analysts at Deustche Bank (NYSE: DB) downgraded football franchise Manchester United (NYSE: MANU) to Hold from Buy with a price target lowered to $16 from a previous $21. The analysts noted "we now believe were too conservative in our player cost outlook and have lowered our estimates. We still see compelling growth over the next several years as ManU continues to unlock brand value, though valuation appropriately reflects this in our view." Shares lost 1.60 percent, closing at $14.78.
The Wall Street Journal reported that Apple (NASDAQ: AAPL) is planning to develop a mobile payment service. Naturally, this poses a threat to PayPal and its parent company, eBay (NASDAQ: EBAY). Shares of Apple gained 0.81 percent, closing at $550.50 while eBay lost 2.74 percent, closing at $52.88.
Related: Why Icahn Is Wrong On Apple
A Pfizer (NYSE: PFE) drug named Dacomitinib has failed in two Phase III trials of patients with refractory advanced non-small cell lung cancer. A third trial is underway and set to be completed in 2015. Shares lost 1.43 percent, closing at $29.66.
Melco Crown (NASDAQ: MPEL) is set to invest an additional $680 million in its City of Dreams Manila casino in the Philippines, set to open later this year. Shares gained 0.81 percent, closing at $38.51.
In a letter to the London Stock Exchange, AT&T (NYSE: T) revealed it has no intention of making an offer for British based Vodafone (NYSE: VOD). Shares of AT&T gained 0.27 percent, closing at $33.51 while Vodafone lost 3.26 percent, closing at $36.80.
SodaStream (NASDAQ: SODA) had to alter its Superbowl commercial because its newly hired ambassador Scarlett Johansson said "Sorry Coke (NYSE: KO) and Pepsi. (NYSE: PEP). A company representative told CNN that it has removed the line which resulted in the commercial being originally banned and has since been approved to air during the Superbowl. Shares gained 1.80 percent, closing at $37.35.
Related: SodaStream Super Bowl Ad Banned, Again
Moody's cut its rating on Sony's (NYSE: SNE) debt to Junk on profit concerns. The rating agency said "of primary concern are the challenges facing the company's TV and PC businesses, both of which face intense global competition, rapid changes in technology, and product obsolescence." Shares lost 2.93 percent, closing at $16.23.
Winners of Note
In a 13G filing on Friday, Dan Loeb's Third Point showed no ownership in Herbalife (NYSE: HLF). Loeb once held an eight percent stake in the firm and exited the position 16 days later deciding to "take the money and run." Separately,DA Davidson's Tim Ramey (well known sell-side analyst and Hebalife "cheerleader") is joining Bill Stiritz to work as his "director of strategic ventures." Stiritz has repeatedly said that he is interested in taking part in a leverage buyout of Herbalife. Shares gained 6.66 percent, closing at $64.06.
Shanda Games (NASDAQ: GAME) has received a non-binding going-private proposal from Chinese investment firm Primavera Capital which values the company at $1.9 billion, or $6.90 a share. Primavera Capital already owns 76.2 percent of the would-be fully acquired firm. Shares closed the day at its new 52 week highs of $6.50, up 15.04 percent.
Media reports in Korea are saying that Samsung (OTC: SSNLF) is working on a product to compete against Google's (NASDAQ: GOOG) Glasses, tentatively named Galaxy Glass. Google Glass microdisplay supplier Himax (NASAQ: HIMX) rallied in response. Previously, Himax hinted that it is in the early stage of ramping microdisplay production for another client. Shares of Himax gained 7.31 percent, closing at $14.554 while Google lot 2.01 percent, closing at $1,101.23.
T-Mobile USA (NYSE: TMUS) said that its firm is open to merging with Sprint (NYSE: S). T-Mobile USA's CEO John Legere said ""We all need better scale and capability ... The question starts to be: How do you take the maverick and supercharge it? We either need more spectrum and capability and a lot more investment, or we need consolidation. Shares of Sprint gained 5.60 percent, closing at $8.87 while T-Mobile USA gained 0.44 percent, closing at $31.82.
Decliners of Note
Over the weekend, the New York Times published an article warning Twitter (NYSE: TWTR) may have "reached a turning point, a phase in which its contributors have stopped trying to make the service as useful as possible for the crowd, and are instead trying to distinguish themselves from one another" and that users could "feel calcified, slowed down by the weight of its own users, cumbersome, less exciting than exhausting." As Facebook (NASDAQ: FB) is set to reports its earnings tomorrow, investors were on edge today as Twitter lost 6.20 percent, closing at $57.91. LinkedIn also fell, losing 5.60 percent, closing at $205.22. Facebook's losses were smaller, giving up 1.65 percent, to close the day at $53.55.
Analysts at BMO Capital downgraded Xerox (NYSE: XRX) to Market Perform from Outperform with a price target maintained at $11.50. The analysts noted "we upgraded Xerox in January 2013, with valuation as a key catalyst, along with several others including improving services/technology mix, and FX/yen help. Not all of our views played out, but enough that the stock moved higher. However, we no longer see valuation as compelling." Shares lost 5.60 percent, closing at $10.61.
Sales of Tata Motors (NYSE: TTM) vehicles in India fell 42 percent year over year in December, and down 31 percent for the year as a whole. Also, the company's managing director Karl Slym fell to his death in a Bangkok. Shares lost 5.51 percent, closing at $27.25.
Earnings of Note
This morning, Caterpillar (NYSE: CAT) released its fourth quarter the results. The company announced an EPS of $1.54, beating the consensus estimate of $1.28. Revenue of $14.4 billion beat the consensus estimate of $13.61 billion. The company announced a new $10 billion buyback authorization that will expire at the end of 2018. The company is forecasting its 2014 revenues to be similar to 2013 "in a range of plus or minus five percent." The company also noted that it "sees some signs of improvement in the global economy." Shares gained 5.94 percent, closing at $91.29.
After the market closed, Apple released its first quarter results. The company announced an EPS of $14.50, beating the consensus estimate of $14.09. Revenue of $57.9 billion beat the consensus estimate of $57.55 billion. The company reported a gross margin of 37.9 percent, above guidance. Looking forward to the second quarter, the company expects revenue of $42 billion to $44 billion, below the consensus estimate of $46.05 billion. Shares traded lower by more than five percent at $522.10 going in to the company's post earnings conference call.
Quote of the Day
"Hiding behind their computers, both defendants are charged with knowingly contributing to and facilitating anonymous drug sales, earning substantial profits along the way." – DEA agent James Hunt following the arrest of Charlie Shrem, CEO of BitInstant. Shrem has allegedly sold more than $1 million worth of Bitcoin to Silk Road users.
View Comments and Join the Discussion!
Posted-In: Apple Mobile Payment Argentina Currency Athleta Barclays Bill Stiritz BitInstantNews After-Hours Center Best of Benzinga