Top Trending Tickers On StockTwits For January 23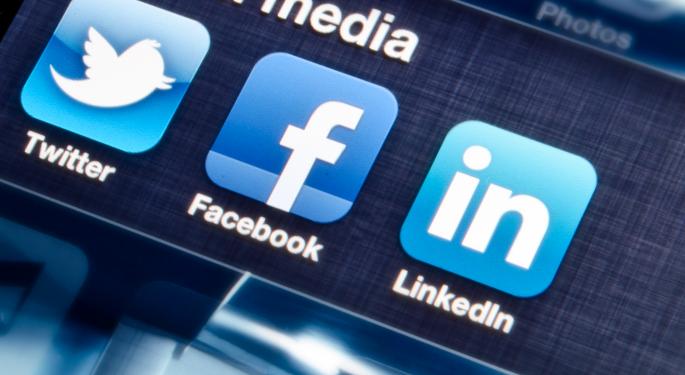 Here's a look at the top tickers trending on StockTwits.com
Netflix: Earnings season champion
After Wednesday's closing bell, Netflix (NASDAQ: NFLX) reported its fourth quarter earnings in which both EPS and revenue topped consensus estimates.
Investors were jittery going in to the company's results and wondered if the company can demonstrate it is sufficiently growing its subscriber base.
As if there was any doubt.
Netflix announced it had added 2.3 million additional subscribers, above the consensus estimates of 2.1 million. Domestic paid subscribers totaled 31.7 million, higher than HBO's estimated 29 million subscribers.
"We expect this momentum to continue in Q1 with net additions of 2.25 million to exceed the prior year by about 11 percent," the company said in a statement.
See also: Top Financial Tweets For January 23
Shares were trading higher by 16 percent in the pre-market session.
Ariad Pharmaceutical: market chatter of buyout rumor
StockTwits is blowing up with chatter that Ariad Pharmaceuticals (NASDAQ: ARIA) has been approached with a buyout offer with possible takeover candidates including GlaxoSmithkline (NYSE: GSK) and Eli Lilly (NYSE: LLY)
Shares were trading higher by 8 percent in the pre-market session on the strong rumors.
eBay: Strong quarter, Icahn, upgrades and downgrades
After the closing bell yesterday, eBay (NASDAQ: EBAY) reported its fourth quarter results which included a beat on both EPS and revenues.
Activist investor Carl Icahn made his intentions in eBay well known yesterday. Icahn wants eBay to spin-off its PayPal division which was acquired for $1.5 billion in 2002.
Not so fast according to eBay's chief executive John Donahoe who rejected Icahn's proposal.
"First, eBay accelerates PayPal's success. Second, eBay data makes PayPal smarter. And third, eBay funds PayPal's growth," Donahoe said during the post-results conference call.
This morning, analysts at Canaccord said that eBay's prospects and guidance are better than most feared. The analysts see shares trading at a reasonable valuation and placed a $64 price target on shares.
Analysts at Susquehanna and Stifel do not share Canaccord's bullish stance. The investment research houses have price targets of $62 and $59 target, respectively.
Shares were trading higher by 2.5 percent in the pre-market session.
Nokia: Mixed results; shares under pressure
After the bell yesterday, Nokia (NYSE: NOK) released its fourth quarter results. The company announced an EPS of 0.08 euros, above the consensus estimate of five cents euro. Revenue of 3.48 billion euros fell short of the consensus estimate by $930 million euros.
"The fourth quarter of 2013 was a watershed moment in Nokia's history," the company's interim CEO said in a statement. "We are diligently working towards defining Nokia's future direction."
Nokia's smartphones sales declined during the holiday season due to an increased competitive environment. The company blamed its difficult quarter on "strong momentum of competing smartphone platforms" and a difficult transition to Lumia from Symbian phones.
Shares were trading lower by more than 6.5 percent in the pre-market session.
NQ Mobile: Muddy Waters resurfaces
Muddy Waters, the vocal short-selling firm continues to accuse NQ Mobile (NYSE: NQ) of fraud, including illegal accounting practices.
Muddy Waters is urging the Chinese based auditors to take a second look at the company's books in a letter sent to NQ's auditor, PricewaterhouseCoopers.
"If NQ Mobile prevents PwC from obtaining sufficient appropriate evidence to evaluate whether illegal acts material to financial statements have (or are likely to have) occurred, PwC should probably disclaim an opinion on the NQ financial statements."
"If PwC is unable to determine whether the acts are illegal because NQ imposes limitations on its work or because PwC is unable to interpret applicable laws, regulations or surrounding facts, PwC may have to resign the NQ audit."
Shares were trading lower by more than 8 percent in the pre-market session.
View Comments and Join the Discussion!
Posted-In: Ariad Pharmaceutical Rumors Carl Icahn EBAY eli lilly GalxoSmithKline HBONews Short Sellers Best of Benzinga