Is Warren Buffett Betting On The NCAA Tournament?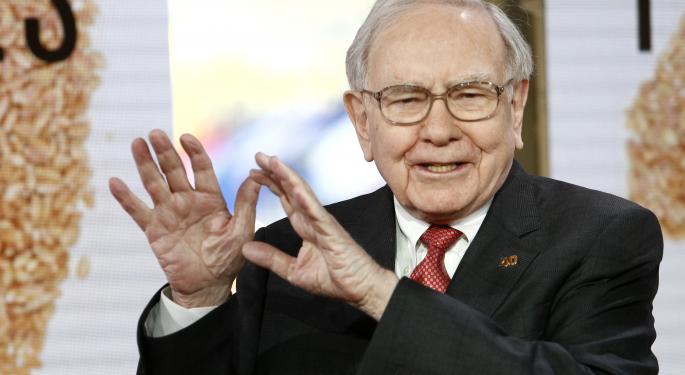 Warren Buffett's recent business deal has people talking again.
He's kind of the Tiger Woods of Wall Street making his every move scrutinized and this time it involves his bet on the NCAA tournament—or at least that's how the media is characterizing the move.
Sure, it's technically a bet but here's the actual story. Quicken Loans is offering $1 billion to anybody that can pick a perfect bracket for this year's NCAA basketball tournament. As most people know, when outlandish contests like these take place, the company—in this case, Intuit—isn't on the hook for $1 billion. Instead, it takes out an insurance policy in case the improbable happens.
For the potential $1 billion payday, Warren Buffett's Berkshire Hathaway (NYSE: BRK-B) is insuring the bet. If that means that Buffett is "betting $1 billion" on the tournament as some headlines suggest, than so be it but others say that it's nothing more than a normal activity of an insurance company.
Nobody knows the price tag on the insurance policy but Bloomberg ran a thoughtful piece on the subject. Read the article to see how the math works out but what it comes down to is that the odds of picking a perfect bracket don't favor somebody being $1 billion richer any time soon. They could, however, be as low a 1 in 4,000 which, according to the article, would imply a price of $250,000 for the policy without adding any profit for Berkshire.
But let's look at this from another angle. Sure, one could say that Berkshire is acting irresponsibly because no bank in its right mind would (be allowed to) risk $1 billion of its assets on what constitutes a game of chance. Another story worth mentioning is, at least so far, Quicken Loans is losing out on the PR it was looking for.
A quick Google search found headlines like, "$1 Billion for a Perfect N.C.A.A. Bracket, Courtesy of Warren Buffett" or "Buffett Backs $1 Billion NCAA Hoops Tournament Prize."
From the ton of news coverage this story is getting, Quicken Loans' name is only in the headlines of a small fraction of the stories. Buffett has hijacked this story and he's not the one paying the more than $250,000.
Sure, the marketing blitz that will come leading up to the tournament will have Quicken Loans plastered all over it but for now, the PR punch that ought to come from offering a $1 billion prize was stolen.
Disclosure: At the time of this writing, Tim Parker had no position in the companies mentioned.
Posted-In: Berkshire Hathaway Quicken Loans Warren BuffettNews Best of Benzinga
View Comments and Join the Discussion!