Benzinga's M&A Chatter for Tuesday January 21, 2014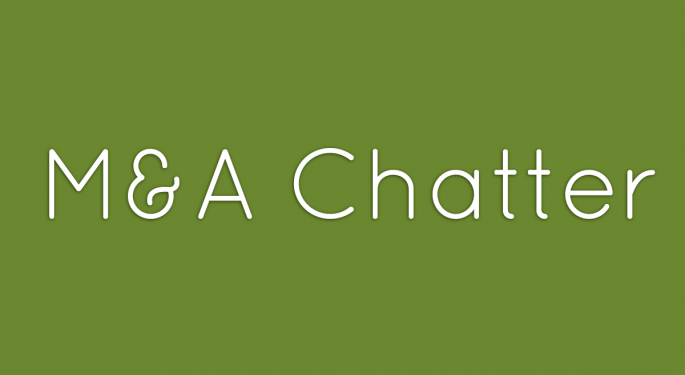 The following are the M&A deals, rumors and chatter circulating on Wall Street for Tuesday January 21, 2014:
Verizon to Acquire Intel Media Assets
The Deal:
Intel Corporation (NASDAQ: INTC) announced Tuesday, Verizon (NYSE: VZ) has agreed to purchase from Intel the assets of Intel Media. Terms were not disclosed.
The deal is expected to close early in Q1 2014.
Intel closed Monday at $25.59, a loss of 1%, while Verizon closed down more than 1% at $47.70 after-hours.
NuPathe Terminates Merger Agreement with Endo, Agrees to be Acquired by Teva
The Termination/Merger Agreement:
NuPathe (NASDAQ: PATH) announced Tuesday that it has terminated its merger agreement with Endo Health Solutions (NASDAQ: ENDP) and has entered into an agreement and plan of merger with Teva Pharmaceutical (NYSE: TEVA) under which Teva will acquire NuPathe for $3.65 per share in cash. NuPathe stockholders will also receive rights to receive additional cash payments of up to $3.15 per share, based on sales of NuPathe's migraine treatment, ZECUITY.
NuPathe closed Monday at $4.05, a loss of 7.5%.
Yahoo Acquires SPARQ
The Deal:
Mobile marketing company SPARQ reported Tuesday it had been acquired by Yahoo (NASDAQ: YHOO). The company says it will be terminating their current service. Terms were not disclosed.
Yahoo closed Monday at $39.52, a loss of 1%.
View Comments and Join the Discussion!