Top Trending Tickers On StockTwits For January 17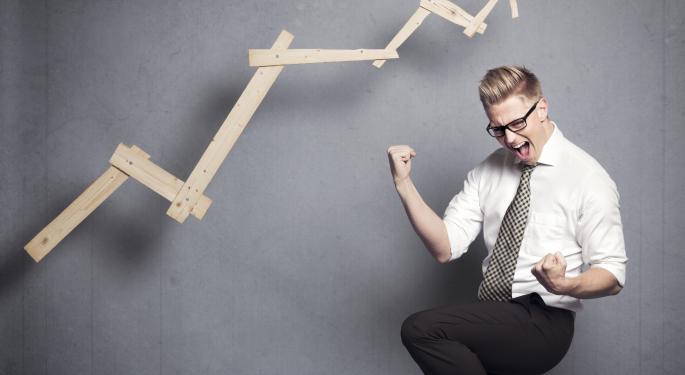 Here's a look at the top tickers trending on StockTwits.com.
Ariad Pharmaceuticals
On Friday morning, Ariad Pharmaceuticals (NASDAQ: ARIA) announced the commercial availability of Iclusig for adult patients with refractory chronic myeloid leukemia and Philadelphia-chromosome positive acute lymphoblastic leukemia in the United States.
Shares popped higher by more than nine percent in pre-market trading following the news announcement.
"We are please to again have Iclusig commercially available to patients in the United States," said Marty J. Duvall, the company's chief commercial officer in a press release. "Iclusig is now in our distribution channel with Biologics, and our dedicated sales force will begin promoting Iclusig immediately."
Galena Biopharma
Last night, Dr. Mark Ahn, CEO of Galena Biopharma (NASDAQ: GALE) was a guest on Jim Cramer's Mad Money show.
Cramer asked Dr. Ahn about the history of failures for drugs similar to its NeuVax that is currently undergoing studies.
Cramer referenced his colleague and biotech analyst Adam Feuerstein and stated "Adam has been adamant that you have - let's just say cherry picked the good news in the study."
Cramer's skepticism and tough questions are causing shares to drop by more than seven percent in pre-market trading.
Apple
China Mobile (NYSE: CHL) started selling Apple (NASDAQ: AAPL) iPhones for the first time today.
According to the New York Times the response by Chinese consumers was "muted."
"If the muted reception Friday, when customers were finally able to buy iPhones from China Mobile, is any indication, the companies may have to work harder to whip up enthusiasm."
Tim Cook's recent trip to Beijing was an indication of how important a successful relationship with China Mobile is for Apple. Apple's share of the mobile market is estimated to only be in the single digits.
Shares of Apple were trading lower by around half a percent in pre-market trading.
Skyworks Solution
Last night, Skyworks Solutions (NASDAQ: SWKS) announced its first quarter results which beat consensus estimates.
The company reported an EPS of $0.67, good for a penny beat. revenue of $505 million came in higher than estimates by $4.99 million.
In addition to beating estimates, the company is guiding its second quarter revenue of $470 million and EPS of $0.59, higher than the consensus estimates of $460.50 million and $0.57.
Shares were trading higher by more than 11 percent in pre-market trading.
UPS
On Friday morning, UPS (NYSE: UPS) released downside guidance for its fourth quarter results.
The company now estimates it will earn an EPS of $1.25, lower than the consensus estimate of $1.43. The company also lowered its full year 2013 EPS to $4.57 from a previous guidance of $4.65 to $4.85.
"U.S. results were negatively impacted by the challenges of the compressed peak season coupled with an unprecedented level of online shopping that included a surge of last-minute orders," the company said in a press release. "In an effort to maintain service standards and commitments, UPS took extraordinary measures deploying additional equipment and people."
Shares were trading lower by three percent in pre-market trading following the news announcement.
View Comments and Join the Discussion!
Posted-In: Adam Feuerstein ARIAD Pharmaceuticals Biologics china mobile Galena Biopharma Iclusig iPhone ChinaNews Best of Benzinga