Is Now The Time To Short The Wind Power Industry?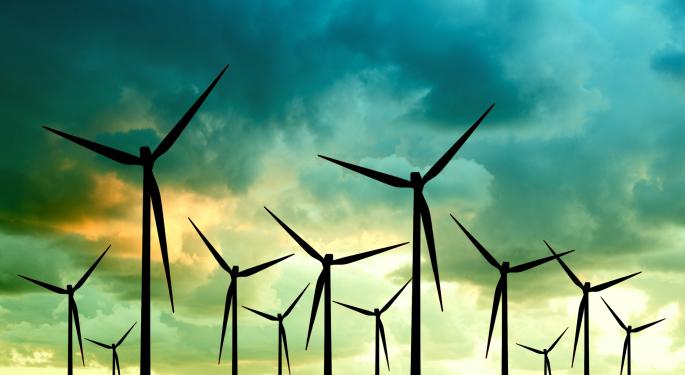 One thing a bull market does is set up a lot of lucrative short opportunities.
This was detailed in previously about Bon-Ton Stores (NASDAQ: BONT). Those who established a short position based on that article have done well as the stock is down more than 30 percent for the last month of market action. A similar opportunity appears to be developing in the wind power industry with its exchange traded fund, First Trust Global Wind Energy (NYSE: FAN), and stocks in the sector, such as Federal Mogul (NASDAQ: FDML), which makes ball bearings for the equipment.
The bull market of 2013 was generous to those long on First Trust Global Wind Energy and Federal Mogul.
Related: Will Greater Global Car Sales Help Investors Benefit From Alcoa?
For 2013, First Trust Global Wind Energy soared more than 60 percent. Over that same period, PowerShares Global Wind Energy rose over twice that, skying higher by more than 130 percent. But support from the American taxpayer is ending, which will definitely have the wind in the face of investors.
But what should be even more of a concern is the falling price of oil and coal.
Wind now supplies less than four percent of the electricity in the United States. Most of the electricity still comes from coal. More is coming from natural gas, though. Fracking has made natural gas and oil much more viable fuel sources in the United States.
At present, natural gas is high due to the polar vortex.
But it will be falling soon. Even with the price higher due to the record weather in the United States, the exchange traded fund for natural gas, United States Natural Gas (NYSE: UNG), is nearly 12 percent below its 52-week high. The exchange traded fund for oil, United States Oil (NYSE: USO), is down around 4.4 percent for 2013. Market Vectors Coal (NYSE: KOL), the exchange traded fund for coal, is off by more than 26 percent for the last year of market action.
Between the falling prices for more efficient fossil fuels and the loss of support from the American taxpayer, securities in the wind power sector could be running out of energy in 2014.
Posted-In: News Sector ETFs Short Ideas Small Cap Analysis Politics Events Economics Trading Ideas Best of Benzinga
View Comments and Join the Discussion!