Toyota Executive Defends Hydrogen Fuel Cells and Dismisses Naysayers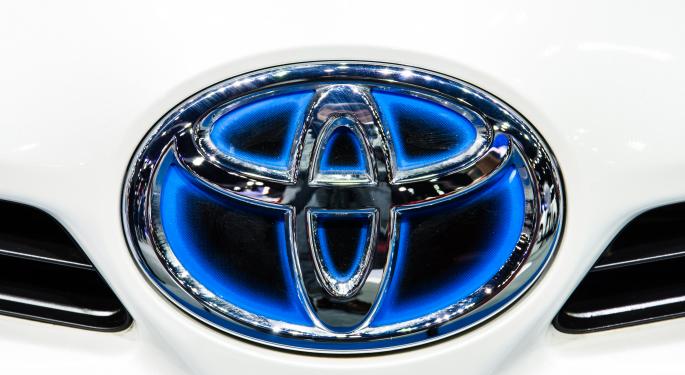 Saying, "Personally, I don't care what Elon, Carlos or Jonathan say about fuel cells," Toyota (NYSE: TM) executive, Bob Carter maintained that his company's focus on hydrogen fuel cell vehicles was the right move.
Carter was referring to criticism sounded by Tesla's (NASDAQ: TSLA) Elon Musk and others in the industry whose comments about fuel cells have ranged from dismissive to downright snarky. In an interview in May, Musk said, "Fuel cells should be renamed 'fool cells,' they are so stupid."
For his part, Carter said, "I realize there is no shortage of naysayers regarding the viability of this technology and the infrastructure to support it." He added, "(So) competitors who dismiss fuel cells out of hand do so at their own peril."
Toyota showed off its hydrogen fuel cell vehicle at CES 2014 in Las Vegas last week. The company has not said much else except that it planned to bring a production version of the vehicle to market in 2015.
Related: Elon Musk: $35,000 Tesla Coming In Three Years
Carter compared the new vehicle to the first Prius saying, "We've been working on this technology since 1992." He then said, "Fuel cell vehicles offer several advantages. They drive like electric cars but can be refueled like gasoline cars."
In many ways, fuel cell vehicles face the same problems as those faced by all-electric vehicles, namely high cost and a lack of a refueling infrastructure. Critics of fuel cell technology point to the fact that an electric outlet is easier to find than a source of hydrogen fuel.
On the other hand, with recent battery-related fires in the news, Carter pointed to the relative safety of hydrogen fuel tanks. "They're safe," he said. "In testing, we fired small-caliber bullets at the hydrogen tank and they just bounced off it. It took a 50-caliber armor-piercing bullet to penetrate the shell. And, even then, it just left a hole and the hydrogen simply leaked out."
Addressing hydrogen fuel cell availability Carter said, "In California where we'll initially market our sedan, it will only take about 68 station sites to regularly re-fuel about 10,000 hydrogen fuel cell vehicles. Another way to look at it is if every vehicle in California ran on hydrogen, we could meet refueling logistics with only 15 percent of the nearly 10,000 gasoline stations currently operating in the state."
The back and forth sniping has helped emphasize just how important it is to win the race to establish the next generation green car.
Fuel cell cars create electricity by converting hydrogen. The process results in an emission of water vapor and since the range is similar to gasoline-powered vehicles, Toyota believes it is the best technology to succeed hybrid vehicles.
"Ten years from now," Carter said, "I have a hunch our fuel cell vehicle will be viewed in similar terms (as the Prius). We truly believe it has the same potential."
At the time of this writing, Jim Probasco had no position in any mentioned securities.
Posted-In: Bob Carter California CES 2014 Elon Musk hydrogen fuel cellNews Events Media Best of Benzinga
View Comments and Join the Discussion!