Best Buy Shares Plunge On Disappointing Holiday Sales Data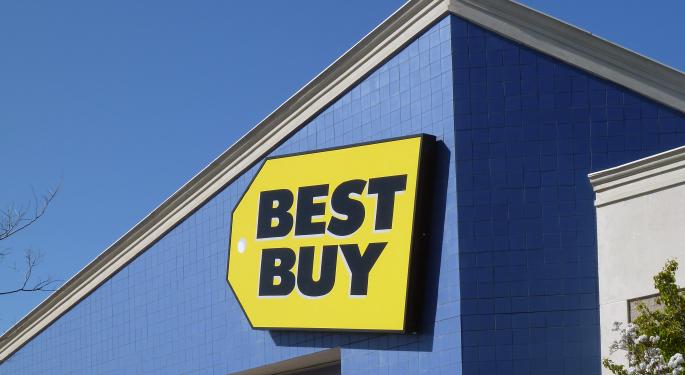 On Thursday morning, Best Buy (NYSE: BBY) announced holiday results that were disappointing.
The company reported revenue of $11.45 billion during the nine week period that ended January 4. The company collected $11.75 billion during the same period last year.
Holiday sales were hurt by a period of slow customer traffic, disappointing mobile phone sales and a limited supply of certain products that were in high demand, such as the Xbox One and PlayStation 4.
Domestic same store sales fell 0.9 percent.
The company expects its fourth quarter operating margin to be 175 to 185 basis points lower than the same period last year.
Online sales was one of the bright points. The company reported domestic online sales of $1.32 billion, a 23.5 percent increase from last year's $1.1 billion.
"When we entered the holiday season, we said that price competitiveness was table stakes and an intensely promotional holiday season is what unfolded," Hubert Joly, Best Buy's Chief Executive Officer said in a statement. "The promotional intensity that began with Black Friday continued throughout the period, which led us and our competitors to answer one question: Do we make the incremental investment necessary to be price competitive and defend our market share? For us, there was only one answer."
Shares of Best Buy were trading lower by more than 30 percent in pre-market trading.
Analyst Reactions
Several analysts offered their take following the company's announcement.
Goldman Sachs: disappointing sales
After crunching up the numbers, Matthew Fassler, analyst at Goldman Sachs determined that the company's announcement implies a fourth quarter EPS in the $1.05, below the Street's consensus estimates of $1.61 and Goldman Sachs' estimate of $1.63. In the same quarter last year the company reported an EPS of $1.64.
There were however some positive takeaways.
"Best Buy worked to hold share, and appeared to do so successfully, but with painful implications for profitability. Price transparency is weighing on sector profitability," Fassler wrote in a research note on January 16 following Best Buy's holiday update. "This was aggravated over the holiday, but is clearly a secular issue."
Fassler noted that his analyst team is currently reviewing their estimates and rating on the stock.
Piper Jaffray: Terrible holiday, but short-term in nature
Peter Keith, senior research analyst at Piper Jaffray is un-phased by Best Buy's report for five key reasons.
1. The heavy promotional environment is likely to subside.
2. Best Buy gained share over the holiday.
3. Best Buy is seeing improvement in online sales.
4. Best Buy still has positive catalysts in 2014.
5. A pullback in shares coupled with Best Buy's strong free cash flow increases the probability of the company buying back shares.
Keith believes that the company will report a fourth quarter EPS in the range of $1.08 to $1.10
"Clearly, today's results call into question the entire turnaround effort of new management, but we see the turnaround as a multi-year effort that can still reward shareholders in 2014," Keith wrote in a research report following Best Buy's holiday update.
Shares were re-iterated Outperform and maintained a $53.00 price target.
Stifel: Best Buy's report likely re-stoke investor fears
David Schick, analyst at Stifel believes that Best Buy's holiday update may spook some investors.
"Shares will likely be under intense pressure as 4Q miss occurred in the "money" quarter. This lack of holiday follow-through is likely to re-stoke fears of permanent operating margin pressures to the business," Shick wrote in a research report following Best Buy's holiday update. "Our biggest concern stems from our belief 4Q13 had to go well to continue the virtuous cycle of vendors re-investing int he consumer electronics specialty model - the lackluster sales, then, are perhaps a deterrent."
Schick expects management to continue with its cost cutting initiatives, but noted that it is hard to see multiple expansion opportunities "as robust as prior" and "if there is no path to gross profit margin growth, the odds of any multiple expansion are not good, in our opinion."
Schick is modeling Best Buy's fiscal 2013 EPS of $1.78 (versus $2.43 prior estimate), fiscal 2014 EPS of $2.04 (versus $2.64 prior estimate) and fiscal 2015 EPS of $2.19 (versus $3.18 prior estimate)
Shares Buy rated with a price target lowered to $30.00 from a previous $48.00.
Posted-In: best buy David Schick Goldman Sachs holiday shopping Hubert Joly Matthew FasslerNews Movers Best of Benzinga
View Comments and Join the Discussion!