Benzinga's M&A Chatter for Wednesday January 15, 2014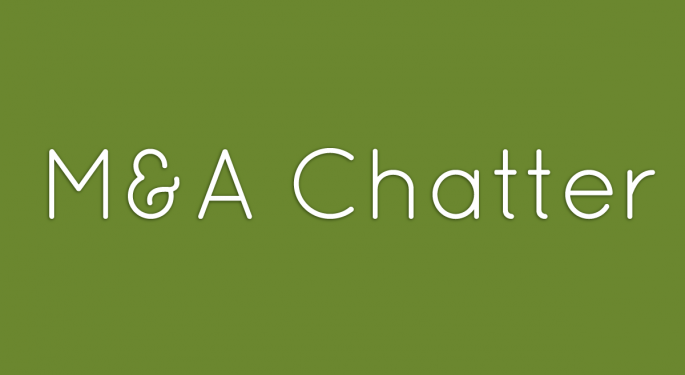 The following are the M&A deals, rumors and chatter circulating on Wall Street for Wednesday January 15, 2014:
Renewed Talk of Dish Interest in T-Mobile Acquisition
The Rumor:
Shares of T-Mobile US (NYSE: TMUS) spiked higher Wednesday on a tweet from Fox Business' Charlie Gasparino that there is renewed banker talk of Charlie Ergen's Dish Network (NASDAQ: DISH) acquiring T-Mobile sometime this year.
In December, Nikkei reported that Sprint (NYSE: S) majority owner Softbank (OTC: SFTBY), could purchase T-Mobile in Q2, financing a deal through the U.S. bond market.
T-Mobile closed Wednesday at $32.53, a loss of 1%.
Riverbed Reject's Elliott's $19/Share Bid
The Rejection:
Riverbed Technology (NASDAQ: RVBD) announced Wednesday that its Board of Directors, after careful consideration, has decided not to accept the offer from shareholder Elliott Management of $19.00 per share. The Board feels the offer undervalues the company and is not in the best interests of shareholders.
Analysts have said that a bidding war for the company could drive the purchase price to $25.00.
Riverbed Technology closed Wednesday at $20.11, a gain of 1.5%.
Zoom Technologies to Acquire Tinho
The Deal:
On January 13, 2014, Zoom Technologies, (NASDAQ: ZOOM) entered into an LOI with Tinho Union Holding Group to acquire all the outstanding shares of Tinho, by issuing approximately 9.4 million new shares of the Company's common stock at a valuation of $8.6505 per share to the shareholders of Tinho.
Upon closing of the Transaction, Tinho shareholders would own approximately 75% of Zoom's ownership interest. Tinho has agreed to make good provisions of after tax net income of $8.2 million and $11.1 million, for the years ended December 31, 2013 and 2014, respectively, on half of the consideration shares. The LOI calls for the Company to have $27 million of cash in its accounts at the time of closing, and provides for the Company to use the cash for initiatives if such initiatives are approved by a majority of the independent directors.
Zoom Technologies closed Wednesday at $4.30, and gained more than 50% after-hours, trading as high as $7.50.
Brown & Brown to Acquire Wright Insurance Group $602.5M in Cash
The Deal:
Brown & Brown (NYSE: BRO) has agreed to acquire The Wright Insurance Group for $602.5 million, including cash payments of $587.5 million for the Programs Business, $7.5 million for Wright National Flood Insurance Company and $7.5 million for WNFIC statutory surplus.
The deal is expected to close in April of 2014
Brown & Brown closed Wednesday at $31.56.
View Comments and Join the Discussion!
Posted-In: M&A News Rumors Management Insider Trades Movers