USD/JPY Falls To 3 Week Low After Soft Jobs Data Calls Tapering Into Question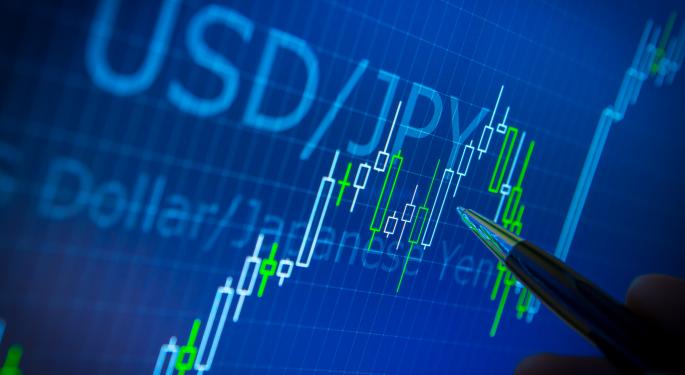 The U.S. dollar fell to its lowest levels since December 18 against the Japanese yen after the U.S. employment report raised investor concerns over the health of the U.S. economy.
On Friday, the U.S. Bureau of Labor Statistics reported a gain of 74K nonfarm jobs, the smallest increase in three years. The figure missed analyst expectations of 196K by a wide margin.
News that the December U.S. unemployment rate fell to 6.7 percent from 7.0 percent in the prior month was dampened by the decline in labor force participation. The civilian labor force participation rate declined by 0.2 percent to 62.8 percent in December, equaling November's figure which was the lowest since 1978.
See also: Weekly Preview - All Eyes on Bank Earnings
The Fed announced in December that starting in January, it will taper its monthly bond buying to $75-billion from the $85-billion pace started in September 2012, citing 'meaningful' progress in the jobs market. However, the weaker aspects of Friday's employment report have prompted speculation over how the data may affect the Federal Reserve's plans to taper stimulus in the coming months.
Speaking at the news conference following December's announcement, Fed Chairman Ben Bernanke emphasized that Fed policy would remain data dependent, "On the first issue of $10 billion, again we say we are going to take further modest steps subsequently so that would be the general range but again I want to emphasize that we are going to be data dependent. We could stop purchases if the economy disappoints, we could pick them up somewhat if the economy is stronger."
USD/JPY surged higher during 2013 amid the diverging policies of the Federal Reserve and Bank of Japan. While the Fed moved towards reducing stimulus in 2013, making the first taper in December, the Bank of Japan ramped up their large scale bond-buying program geared to boost the Japanese economy and prevent deflation.
USD/JPY Daily Chart
Looking at the USD/JPY daily chart we can see that starting in early December, while price was rising, momentum as measured by the oscillator RSI was declining. Price/oscillator divergence is viewed as an indicator of a potential change in price trend.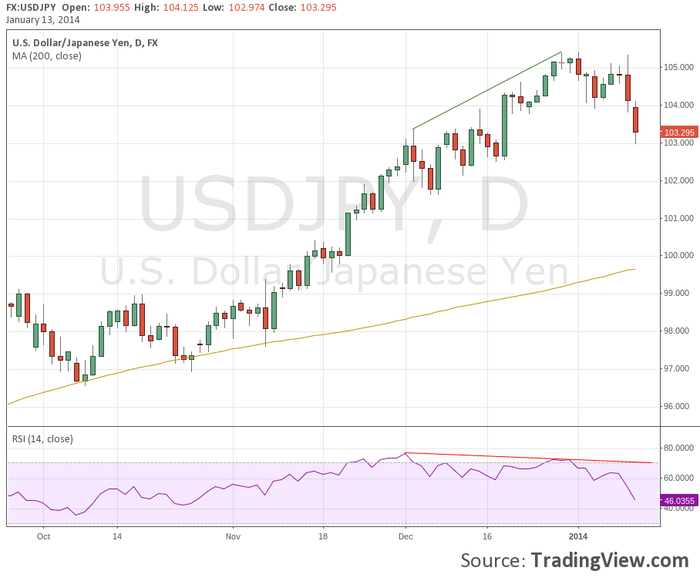 Posted-In: Bank of Japan Ben BernankeNews Forex Economics Federal Reserve Markets Best of Benzinga
View Comments and Join the Discussion!