Benzinga's Weekend M&A Chatter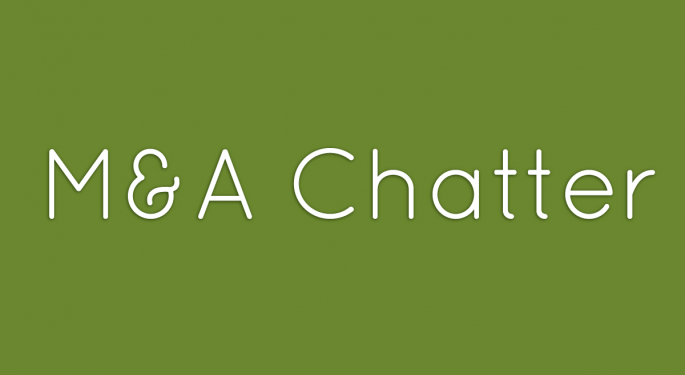 The following are the M&A deals, rumors and chatter circulating on Wall Street for Friday Janaury 10 through Sunday January 12 2014.
American Pacific Corporation to be Acquired By HIG Capital for $46.50 in Cash
The Deal:
American Pacific Corporation (NASDAQ: APFC) announced that Friday it has agreed to be acquired by investment funds managed by private investment firm H.I.G. Capital for $46.50 per share in a transaction valued at $392M. Affiliates of H.I.G. will commence a tender offer no later than January 24, 2014.
American Pacific Corporation closed Friday at $72.24, a gain of almost 19%.
Intuit to Acquire Prestwick Services
The Deal:
Intuit (Nasdaq: INTU) announced Sunday, it has signed an agreement to acquire workers' comp payment solutions provider, Prestwick Services, a subsidiary of Prestwick Holdings.
Financial terms were not disclosed.
The transaction is expected to close during Q2 of FY 2014.
Intuit closed Friday at $76.24, a loss of $0.39.
Hilltop Holdings Bids to Acquire SWS Group for $7.00/Share in Cash, Stock
The Offer:
Hilltop Holdings (NYSE: HTH) announced Friday, it had submitted a written proposal to the SWS Group (NYSE: SWS) Board of Directors to acquire all outstanding shares of SWS that it does not already own for $7.00 per share, consisting of 50% cash and 50% in Hilltop common stock.
SWS Group's Board confirmed receipt of the offer and will review the proposal. The SWS Board advised shareholders to take no action at this time, and make its recommendation in due course.
SWS Group closed Friday at $7.29, a gain of 20% on 16 times average volume.
View Comments and Join the Discussion!