Best Buy or HH Gregg: Which is the Better Bet?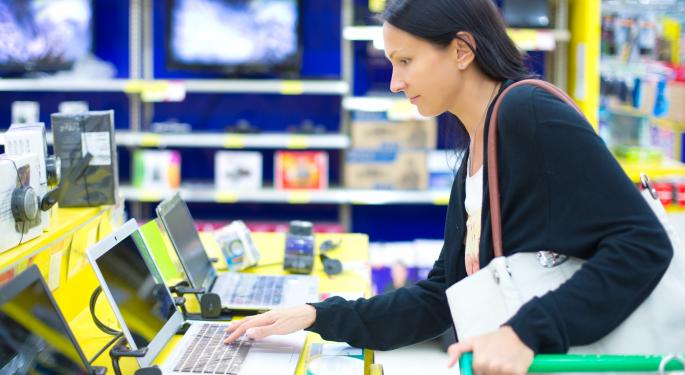 Just over a year ago, many analysts were writing off electronics mega-retailer Best Buy (NYSE: BBY) for dead.
The company, like many retailers, faced increasing pressure from online retailer Amazon.com and auction site Ebay.com. Things seemed dismal, despite the fact Best Buy's main rival, Circuit City, had gone out of business several years before.
It seemed Best Buy had failed to capitalize on the opportunity, and the former Circuit City stores were quickly purchased and converted by rival electronics retailer HH Gregg (NYSE: HGG). 2013 saw an ailing Best Buy go head-to-head to with HH Gregg -- to see which would survive as the country's premiere electronics retailer.
And 2013 may also be looked on as the year Best Buy completed a turn around. Written off as practically dead in 2012, analysts harped on the company's lack of competitiveness with Amazon.com, lackluster customer service and overall underperformance.
A share of Best Buy stock cost just $12 at the beginning of 2013. The 2013 chart for the company, however, is the stuff of investors' dreams -- offering the kind of returns which put the 30 percent S&P return to shame. Investors who held on to the stock until the end of the year saw the stock price shoot to a high of over $44.00 in the autumn, and close over $37.00 for the year.
In other words, Best Buy paid better than 300 percent for 2013.
HH Gregg started 2013 at $7.25 and saw a steady increase in stock price through much of the year. The high for the year, $20.46, which the company saw in September, represented a 280 percent increase from the year's opening price. However, the stock underwent a significant sell-off, closing out the year in the range of $14.00 -- putting the total yearly return in the range of 90 percent.
While competitors Best Buy and HH Gregg are not exactly the same kind of company, they do both occupy the big box electronics niche. The amazing turnaround for Best Buy is still a relatively new phenomenon, and has not yet stood the test of time.
Still, the company has done what few analysts had predicted, and investors were rewarded handsomely for having stuck with them. One of the things which sets the companies apart is the fact that while HH Gregg entered 2014 on a significant downswing, falling nearly 100 percent from its September high, Best Buy stock continues its strong trading position, and has maintained its value.
Posted-In: Circuit City consumer electronics electronics retail salesNews Retail Sales Markets Tech Best of Benzinga
View Comments and Join the Discussion!