Samsung Wants To Take Over Your Car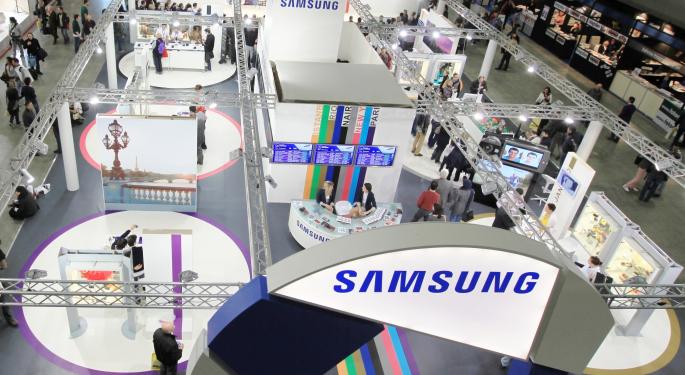 Despite some indication that Samsung's (OTC: SSNLF) stated mission at the Consumer Electronics Show in Las Vegas is eventually to "take over your home," the fact is the Korean electronics giant also wants to take over your car – or at least the entertainment and navigation portion, according to Bloomberg.
At a CES news conference Monday, Samsung CEO BK Yoon extolled the virtues of a Samsung controlled home saying, "Imagine getting a health check from your doctor through your TV. Imagine your family watching a TV show in the living room while you cook. This is streamed directly to a screen on your kitchen appliance. Imagine taking a call from your refrigerator without picking up your smartphone. These are all glimpses into the home of the future."
Meanwhile, the company responsible for almost one out of every three smartphones sold in the world has come to realize that smartphone penetration is nearing saturation. That provides plenty of incentive for new sources of both growth and revenue.
One of them will clearly be home electronics. Another will be automotive navigation and entertainment systems. To that end Samsung has struck a partnership with Intel Corp. on open-source software called Tizen that can run, among other things, automotive systems. This, in turn, has attracted interest from Toyota Motors and others.
Mark Skarpness, of Intel's Open Source Technology Center said in November, "Tizen is all about building an open, skilled platform that can support a broad range of devices." Skarpness added that a focus of Tizen has been adapting the software to the "specific needs of automotive use."
From a big picture perspective, IBK Securities analyst, Lee Seung Woo, explained that in the past consumers used automobiles for getting from one place to another. Now, he said, they want entertainment and even Internet access. According to Lee, "It's like a gigantic smartphone on wheels."
Lee said he expects future developments to include windows made of transparent flat-panels that provide drivers with maps and other types of information. Sensors inside cars could monitor passenger health, automatically select music to match the mood of the driver, and, other sensors could analyze traffic and suggest alternate routes to avoid congestion.
Related: Nokia Announces HERE Connected Car System
Samsung has declined to elaborate on its automotive plans although President, Hong Won-Pyo told Bloomberg in October the company was "open to collaborations with automakers that could expand to include entertainment and navigation."
The potential market is enormous. According to Morgan Stanley, worldwide vehicle production will reach 82.4 million in 2014, up from 79.3 million in 2013.
Market researcher IHS indicated that in 2012 the average car contained more than $300 worth of semiconductors compared with $200 worth in 2002. By 2020, IHS said, there would be 152 million Internet-connected cars on the road.
At the time of this writing, Jim Probasco had no position in any mentioned securities.
Posted-In: BK Yoon CES Consumer Electronics Show Hong Won-Pyo IBK Securities IHSTech Media Best of Benzinga
View Comments and Join the Discussion!