Citi Unveils 2014 Global Gaming Outlook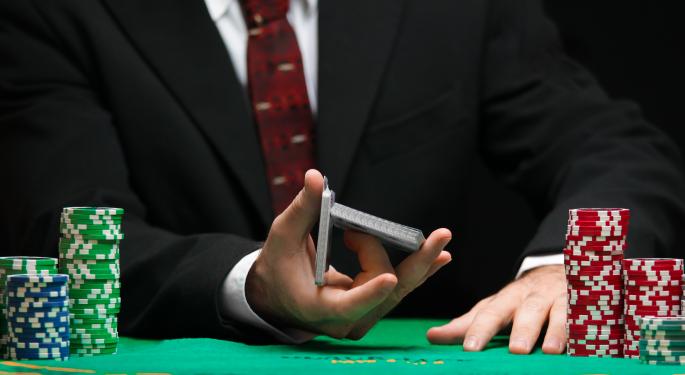 On Tuesday, a team of analysts led by Anil Daswani at Citigroup (NYSE: C) released an outlook for the global gaming market.
The analysts are bullish on the entire industry, using profound terms to describe 2014 as a "watershed year" for U.S. and Macau based gaming stocks.
Macau: still room to grow
The analysts are forecasting a growth rate of 20 percent in Macau, which is the highest on the street. Such high expectations are actually "conservative" based on the in-depth analysis performed. VIP growth is expected at 13 percent, while growth at mass is 35 percent.
The analysts noted that, "96 percent of growth will be shared by the existing properties translating to 142bps in margin expansion (vs 20-72 percent of growth being drained by new properties in 2009-13). The lack of significant opening until mid-2015 provides an 18 month runway."
The analysts are referring to Las Vegas Sands' (NYSE: LVS) fourth property in the Macau region. Sands Cotai is expected to open in 2015. MGM Resorts (NYSE: MGM) and Wynn Resorts (NYSE: WYNN) are expected to open their new properties in 2016 and 2017.
Related: Macau Gaming Market Seven Times Larger Than Las Vegas in 2013
Will Japan be the latest Asian country to legalize gambling?
Lawmakers in Japan are set to vote on a proposition to legalize gambling in the country, following in the footsteps of Singapore and now the Philippines.
Japan appears set to green light casino gambling as early as the second quarter of 2014, according to the analysts. The Japanese people already enjoy gambling in the form of pachinko, horse-racing and soccer betting.
"We expect a RFP process could start as early as late 2014, but we believe the partnerships are already close to being formed," Daswani said.
In a report dated August 20, Daswani believes that Japan could generate gross gaming revenues of $13.4 billion to $15.0 billion, ranking the market as the second largest in Asia, after Macau.
Viva Las Vegas?
Activity at Las Vegas casinos is directly correlated with the macro-economic environment. According to Robert V DiClemente, Citi's chief economist, the U.S. economy is in its fifth year of unemployment declining to less than 6 percent by late 2015.
The analysts noted that non-gaming activity in Las Vegas will see a boost from a recovery in the U.S. economy and consumer spending, thus play an even larger role in the Las Vegas gaming market.
According to DiClemente, GDP is expected to grow 2.7 percent and 3.1 percent in 2014 and 2015, respectively.
The increase in the U.S. GDP bodes well for MGM. Daswani and his team noted, among other factors, MGM is a top pick based on a strong correlation between U..S real GDP growth and the share performance of MGM in the past.
Wynn was also singled out as a top play for domestic casino operators by the analysts.
Related: Mayweather Cashes In Green Yet Again
Top global gaming pick
With the sector-wide call, Citi upgraded both shares of MGM and Wynn, but called shares of Melco Crown (NASDAQ: MPEL), a top global gaming pick due to its under-appreciated status in Macau and its international projects.
Melco Crown's Studio City property is the best located casino in Cotai, according to the analysts. The property is situated adjacent to the Lotus Bridge border with the best access to Hengqin.
From a fundamental point of view, Melco Crown is the cheapest name in the group, trading at approximately 12x Citi's 2015E EV/EBITDA.
"In our view, Melco Crown's share price is still not fully reflecting potential value enhancement from its Studio City, Phase 3 at CoD or its Philippines project."
Shares are Buy rated with a price target of $54.50.
Posted-In: Anil Daswani Cotai Gaming Outlook 2014 Hengqin Japan GamblingNews Events Economics Best of Benzinga
View Comments and Join the Discussion!