Following Chrysler Merger, Fiat Looks Globally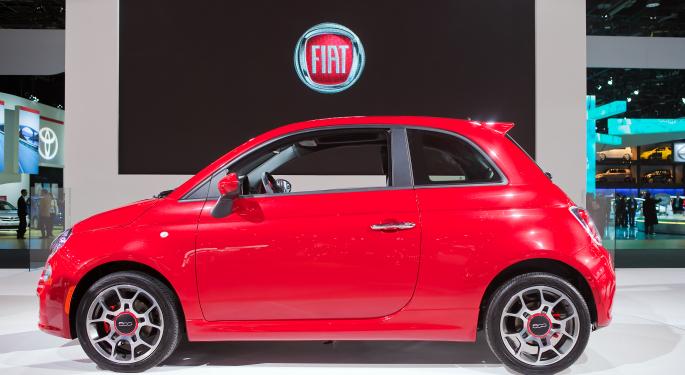 What's next for Chrysler?
The markets loved last week's news, that Fiat (OTC: FIATY) was acquiring the the remaining 41.5 percent of Chrysler still owned by the UAW Retiree Medical Benefits Trust. That transaction, according to Fiat, is expected to close on or before January 20.
The smallest of Detroit's Big Three automakers, Chrysler emerged from bankrupty in 2009. Its absorption into Fiat is expected to make the Turin, Italy-based company the world's seventh-largest car company – reportedly just above Honda (NYSE: HMC) in size.
In a press statement last week, Fiat CEO Sergio Marchionne – who's also Chairman and CEO of Chrysler Group LLC --said the deal would "now allow us to fully execute our vision of creating a global automaker that is truly unique in terms of mix of experience, perspective and know-how."
And analysts appear to agree with Marchionne's view of his company's future.
Barron's said the merger will not only improve Fiat's free cash flow but also "provide low-cost access to more efficient capital markets, including the U.S. credit market. A possible listing on the New York Stock Exchange could follow." Fiat shares, it adds, could double in value within the next several years.
See also: US Auto Companies Release Sales Data; Ford and Chrysler Grow, GM Declines
And Karl Brauer, senior analyst for Kelley Blue Book, says Fiat's purchase of Chrysler will allow Marchionne to fully focus on the business of building cars – after years of restructuring and ownership struggles.
"Marchionne oversaw the successful rebirth of Chrysler," Brauer tells Benzinga. "He transformed it from a faltering car company into a viable automaker with a four-year record of consecutive growth."
The financial turnaround, he adds, was built on a "solid string" of sucessful Chrysler product launches – including the updated Ram truck, the Durango SUV and the popular Jeep Cherokee crossover.
But the real test, says Brauer, will begin once the two companies are fully integrated. "And until the European car market recovers," he notes, "Fiat will have to rely on global markets to sustain growth, which made resolving the Chrysler ownership question a critical step in the company's long-term plan."
Marchionne, meanwhile, has reportedly assured the Italian government that Fiat will keep a strong presence in its home country, while investing in Italian plants and facilities.
View Comments and Join the Discussion!
Posted-In: automakers Big Three carsNews Travel IPOs Media General Best of Benzinga