Benzinga's Weekend M&A Chatter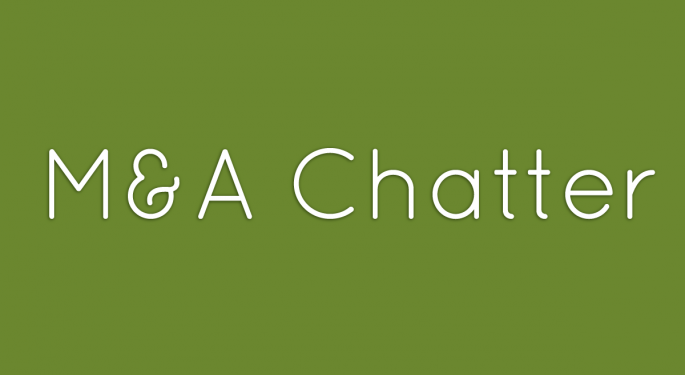 The following are the M&A deals, rumors and chatter circulating on Wall Street for Friday January 3 through Sunday January 5, 2014.
Liberty Media Proposes to Acquire All SiriusXM Shares
The Offer:
SiriusXM's (NASDAQ: SIRI) Board of Directors announced Friday, receipt of a non-binding letter from Liberty Media (NASDAQ: LMCA) proposing to convert all outstanding shares of the common stock of SiriusXM not owned by Liberty, into the right to receive 0.0760 of a new share of Liberty Series C common stock. Immediately prior to such conversion, Liberty intends to distribute, on a 2:1 basis, shares of Liberty's Series C common stock to all holders of record of Liberty's Series A and B common stock. Upon completion of the proposed deal, Liberty said it expects that SiriusXM's shareholders would own approximately 39% of Liberty's then-outstanding common stock.
SiriusXM's Board of Directors announced the formation of a Special Committee to consider the proposal.
SiriusXM closed Friday at $3.57, and traded at $3.70 after-hours.
Apple Acquires Snappy Labs
The Deal:
Apple (NASDAQ: AAPL) confirmed late Saturday the acquisition of Snappy Labs, a company founded by John Papandriopoulos, who received his electrical engineering PhD from the University Of Melbourne. Papandriopoulos created SnappyCam, an app that allows the iPhone's to camera to take 20, high-quality photos per second. Terms were not disclosed.
Apple closed Friday at $540.98, a loss of 2%.
Report Telefonica Preparing Offer for TIM Brasil with America Movil, Oi
The Rumor:
Telefonica (NYSE: TEF) is reportedly working on a deal to acquire TIM Participacoes (NYSE: TSU) and break up the local wireless unit of Telecom Italia (NYSE: TI), known as TIM Brasil, according to Reuters>, citing Il Sole 24 Ore. The Italian publication said Telefonica is looking to set up a joint offer with America Movil (NYSE: AMV), controlled by Carlos Slim and Brazil's Oi (NYSE: OIBR).

TIM Participacoes closed Friday at $28.27, a gain of more than 11%.
View Comments and Join the Discussion!