Pirates Stole $3 Million Worth of Beyonce Albums, But Should She Care?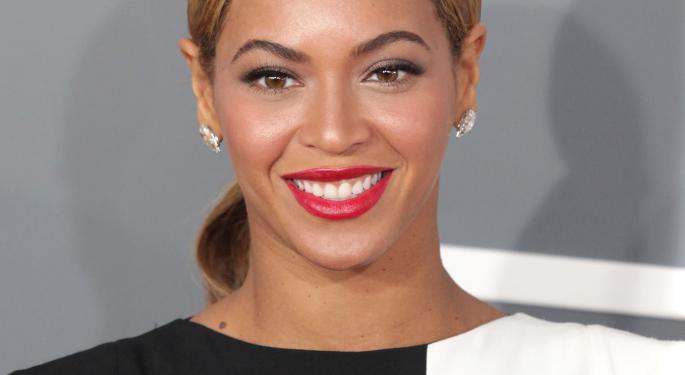 Piracy is a massive problem in America and all over the world.
In 2013, more than eight million people downloaded illegal copies of The Hobbit: An Unexpected Journey, making it the most pirated film of the year.
With an average ticket price of $8.16 in the United States, it seems that pirates stole $68.5 million ($8.16 x 8.4 million downloads = $68,544,000) from the film.
Game of Thrones turned out to be the most pirated TV show in 2013, garnering 5.9 million illegal downloads. This actually exceeded the number of people who watched the show legitimately (5.5 million) on HBO.
Beyonce's newest album was illegally shared by 240,000 individuals during its first week of availability.
The so-called "visual album" (which includes 14 tracks and 17 videos) was unexpectedly released on the iTunes Store in December. The album sold more than 800,000 digital copies in three days, setting a new record for iTunes music sales.
Unlike most recording artists, Beyonce did not provide a release date before the album became available.
While her initial sales exceeded the number of illegal shares, the pirated copies are estimated to be worth $3.8 million.
Related: Mixed Anti-Piracy Results Send the Wrong Message
Global piracy is frequently attributed to international release dates, mainly because an album may not arrive in all markets at the same time. But Beyonce's new album was available in at least 104 countries when it debuted in December.
Big Piracy, Small Losses?
Critics argue that piracy doesn't hurt the film industry, but there's little doubt that it has hurt music sales.
Gregory Mead, the CEO of Semetric (a data insight and analytics company that focuses on music, video games, movies and TV), told Benzinga that Beyonce's rate of piracy is "not that bad."
"The general trend line is a big spike on release and then it just goes down," said Mead, adding that music sales follow a similar trend. "I have a very strong feeling that the number of shares will gradually decline over time. It'll decay. That's the common trend we see with all major releases. I wouldn't say it will peak any higher."
Related: Turntable.fm: Brilliant Pandora-Killer, Piracy Promoter, or Silly Startup Destined to Die?
Comparatively, Mead said that TV shows are among the items that experience the "highest rate of piracy."
"The new Breaking Bad episodes [were] pirated enormously -- immediately after they aired," said Mead.
This is greatly enhanced by the delay between global and domestic airings of American TV shows. International viewers may have to wait several months for new episodes to arrive, while Americans get to watch them shortly after they are filmed.
Some Retailers Won't Sell Beyonce's CD
After Beyonce chose to launch her album exclusively on iTunes, Target and Amazon announced that they will not sell physical copies of the disc. Third-party sellers can still offer it on Amazon, but the retailer won't actually stock the CD.
"I'm pretty sure that must have had some kind of impact [on sales]," said Mead. "Exactly what kind of impact is very, very hard to quantify. But if it's not available in your local store and you're not someone who readily buys stuff on the Internet…then I suppose yeah, obviously, logic says that that translates to lost sales. Whether or not they downloaded it illegally is almost irrelevant because they can't buy it."
Securing New Sales
Mead said that it is very difficult to convert music pirates to paying customers, especially in the global market where downloads are mostly anonymous.
"They could look at the global, geographic heat map of where downloads are happening all over the world," Mead speculated. "Maybe target those markets based on that."
That could work for individual records, but if the music industry wants to cut down on its overall piracy problem, it should encourage Spotify to enter new territories.
"One thing that Spotify has impacted is the rate of piracy," said Mead. "That's measurable. When Spotify rolls out to new territories, the impact on piracy is really [significant]. Piracy is a downward trend anyway in most countries -- except Brazil and a few others."
Disclosure: At the time of this writing, Louis Bedigian had no position in the equities mentioned in this report.
Posted-In: Amazon Apple Beyonce Breaking BadNews Retail Sales Success Stories Tech Best of Benzinga
View Comments and Join the Discussion!