Market Wrap For January 2: Markets Begin 2014 on Negative Note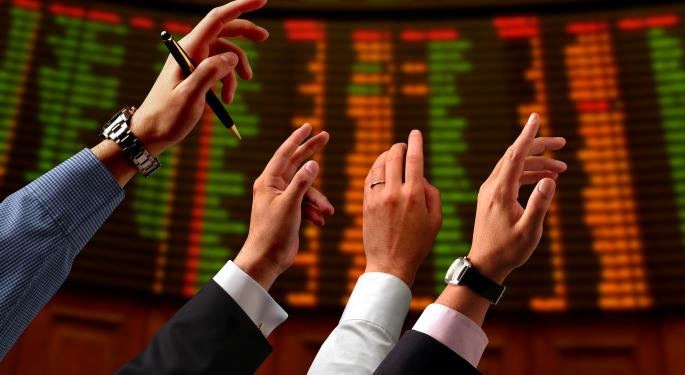 Major indices saw plenty of red during the first trading session of 2014. There were no fundamental reasons for the Dow to suffer a triple digit point loss, along with the S&P 500 and Nasdaq indices ending the day lower.
"People are taking profits and seeking bargains," according to Jim McDonald, chief investment strategist at Chicago-based Northern Trust Global Investments.
The Dow lost 0.82 percent, closing at 16,441.35. The S&P 500 lost 0.89 percent, closing at 1,831.97. The Nasdaq lost 0.80 percent, closing at 4,143.07. Gold gained 1.65 percent, trading at $1,222.10 an ounce. Oil lost 2.88 percent, trading at $95.59 a barrel. Silver gained 3.15 percent, trading at $19.98 an ounce.
News of Note
Initial Jobless Claims fell 2K to 339K, slightly higher than the 338.5K consensus estimate.
U.S. December PMI Manufacturing Index came in at 55.0, higher than the consensus estimate of 54.5 and the previous reading of 54.7.
The Bloomberg Consumer Comfort Index ended 2013 at -28.7, falling from a previous reading of -27.4.
December ISM Manufacturing Index came in at 57.0, in-line with expectations with a prior reading of 57.3.
Construction spending rose 1.0 percent in November, in-line with expectations with a prior reading of a 0.9 percent gain.
Russian officials said that its oil output for 2013 rose to 10.5 million barrels per day, reaching a record high in the post-Soviet era.
French manufacturing PMI declined to a seven-month low of 47 in December from 48.4 in November. Meanwhile, German flash manufacturing PMI has climbed to a 30-month high of 54.3 in December from 52.7 in November. U.K. manufacturing PMI fell to 57.3 in December from 58.1 in November. As a whole, the Eurozone manufacturing PMI rose to 52.7 in December marking a 31-month high.
Related: 2014 To Be A Year Of Change For The Eurozone
Equities-Specific News of Note
Analysts at Wells Fargo (NYSE: WFM) downgraded Apple (NASDAQ: AAPL) to Hold with a price target in a $536 to $581 range. The analysts noted "while we still have conviction in the gross margin thesis (and the potential for iPad/iPhone unit upside), we believe this may be largely embedded into the valuation." Separately, in a battle of bears versus bulls, analysts at Cantor named Apple as a 2014 top large-cap pick. The analysts at Cantor noted that Apple's new product innovations will help the company return to growth. Additionally, shares will be attractive as the company will likely return more cash to shareholders in 2014. Shares lost 1.40 percent, closing at $553.15.
Analysts at Evercore noted that online video advertising revenues will grow to $8.1 billion by 2016, a 37 percent compound annual growth rate. As such, the analysts noted that Google (NASDAQ: GOOG) Twitter (NYSE: TWTR) and Facebook (NASDAQ: FB) are best positioned to benefit. Twitter was singled out as the analysts noted, "What places Twitter in such strong company is the combination of its immediacy and the support that it is received from the traditional TV industry." Google lost 0.68 percent, closing at $1,113.12, Twitter gained 5.87 percent, closing at $67.39 and Facebook gained 0.11 percent, closing at $54.71.
Analysts at Keybanc upgraded Papa John's (NASDAQ: PZZA) from Buy to Hold with a $53 price target. The analysts noted that the pizza making chain will benefit from improving commodity prices, market share gains in the domestic market and better international unit economics. Shares hit new 52-week highs of $46.51 before erasing gains and losing 0.18 percent, closing at $45.32.
Related: Will Coffee Prices Continue to Tumble in 2014?
Analysts at Keybank upgraded U.S. Steel (NYSE: X) from Buy to Hold with a $37 price target. The analysts noted the company will benefit from an improving raw material cost environment and low expectations the Street currently has. The analysts believe the company could post a full year 2014 EPS of $2.05, substantially higher than the Street's $1.21 consensus estimate. Shares hit new 52-week highs of $31.15 before closing the day at $30.29, up 2.68 percent.
Analysts at Needham reiterated a Buy rating on 3D Systems (NYSE: DDD) while hiking its price target to $100 from a previous $81. The analysts noted that the company could roll out new consumer and prosumer 3D printers at the upcoming CES event January 7-10. Shares gained 1.32 percent, closing at $94.16.
Analysts at D.A. Davidson labeled Herbalife (NYSE: HLF) as its "Single Best Idea" for 2014 based on the company's 19 consecutive "beat and raise" EPS quarters. The analysts are also bullish on the company's prospects in China and shares can benefit from buybacks in 2014. The analysts have a $115 short-term price target with a long-term price target of $150. Shares gained 1.45 percent, closing at $79.84.
Warren Buffett's Berkshire Hathaway (NYSE: BRK-A) doubled its holdings in USG (NYSE: USG) following a conversion of notes on Thursday. Shares of Berkshire Hathaway class A fell 0.93 percent, closing at $176,250.00, while USG gained 0.11 percent, closing at $28.41.
Related: Berkshire Hathaway Now Owns 27% of USG
Teva Pharmaceuticals (NASDAQ: TEVA) is set to appoint Erez Vigodman as its CEO. Vigodman is considered to be a "turn around expert" based on his prior experiences. Seperately, Teva and Mylan (NYSE: MYL) are rumored to be "possible suitors" to acquire Jazz Pharmaceuticals (NASDAQ: JAZZ) whose domicile is in Ireland, according to Real M&A. Shares of Teva gained 0.47 percent, closing at $40.27 while Mylan lost 1.87 percent, closing at $42.59. Jazz gained 0.17 percent, closing at $126.78.
Macy's (NYSE: M) and Martha Stewart Living have settled their legal dispute today. While terms weren't disclosed, executives at Macy's noted that the settlement will not have a material impact on the company's bottom lines. The related case against J.C. Penney (NYSE: JCP) is still alive, however. Shares of Macy's lost 0.02 percent, closing at $53.39 while J.C. Penney lost 2.95 percent, closing at $8.88.
Ford (NYSE: F) is set to unveil a solar powered concept car next week during the Consumer Electronics Show in Las Vegas. Shares gained 0.06 percent, closing at $15.44.
Fiat has worked out a deal to gain full control of Chrysler in a deal valued at $4.35 billion.
Macau casino revenue generated close to seven times more than the Vegas strip collected in 2013.
Related: Macau Gaming Market Seven Times Larger Than Las Vegas in 2013
Winners of Note
Analysts at D.A. Davidson named Molycorp (NYSE: MCP) as its Best Pick for 2014. The company is positioned to become "the most prominent, vertically integrated, low-cost supplier of rare earth materials outside of China." Shares are Buy rated with an increased price target of $8 from a previous $6. Shares gained 11.92 percent, closing at $6.29.
Yingli Green Energy (NASDAQ: YGE) announced it will be forming a joint venture with a unit of Datong Coal Mine to build solar power plants in Shuouzhou, China. Yingli gained 24.16 percent, closing at $6.27.
Ariad Pharmaceuticals (NASDAQ: ARIA) surged today as the company announced it will "provide an overview of the company's business" at the annual JPMorgan Healthcare Conference later this month. Shares gained 6.45 percent, closing at $7.26.
Decliners of Note
Top Trial Firm Cohen, Placitella & Roth, PC is investigating Angie's List (NASDAQ: ANGI) for potential violations of securities laws Involving misrepresentations about its core subscription business. Shares tumbled 10.36 percent, closing at $13.58.
Quote of the Day
"The object of a New Year is not that we should have a new year. It is that we should have a new soul and a new nose; new feet, a new backbone, new ears, and new eyes. Unless a particular man made New Year resolutions, he would make no resolutions. Unless a man starts afresh about things, he will certainly do nothing effective," – G.K. Chesterton, English poet and writer
View Comments and Join the Discussion!
Posted-In: 3D printers 3D Systems Apple Downgrade Apple Upgrade ARIAD Pharmaceuticals Berkshire HathawayNews After-Hours Center Best of Benzinga