Nike vs. Under Armour - Which is the Better Bet?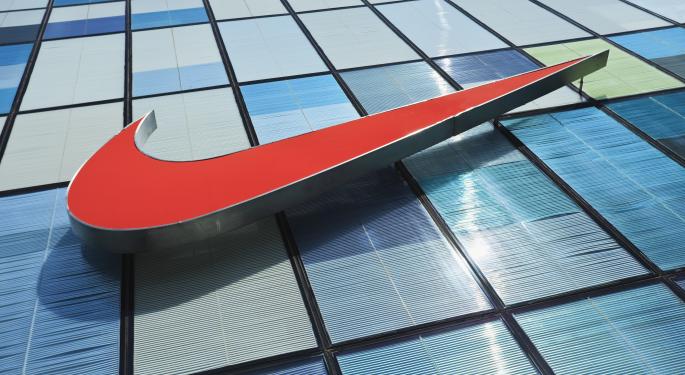 Not too long ago we did a "Which Would You Rather" about two of the biggest names in the sports apparel business, Nike and Adidas. Since that particular industry is as globally massive as it is, it stands to reason that there are more than just two major players therein.
But Nike is unquestionably the worldwide leader on many levels when it comes to sporting goods and apparel, so much so that it has become more or less a household name. Others like Reebok and the aforementioned Adidas have achieved similar acclaim in the market but they, like Nike, have been around for decades.
Reebok and Adidas have been around for the better part of the last century, with the former having been founded in 1895.
Nike may be the youngest of the three, but it is also the most successful. So rather than compare apples with apples, we decided to compare one of the oldest with one of the youngest, the latter being Under Armour.
So which stock would you rather add to your portfolio, Nike (NYSE: NKE) or Under Armour (NYSE: UA)?
Related: Hasbro vs. Mattel: Which is the Better Bet?
Under Armour was founded in 1996 and has quickly built itself up into quite the contender in the athletic apparel game. The founders have admitted that when they started the company they had its sights set on its primary competitor, Nike. Under Armor's goal was not to become a clone or copycat of the long-reigning industry leader and not to achieve its level of success -- but to surpass it.
Fast forward to 2013 where both Nike and Under Armour are blowing the rest of the industry competitors out of the water. Its respective stocks have exceeded the 17 percent return that the S&P 500 offered, while the near and distant future looks bright for both companies.
Under Armour has been the underdog since its inception, but it almost seems as though they have relished that distinction, or at least they haven't let it bother them. Over the last five years Under Armour has seen its stock nearly quadruple, which has put its market cap in the $9 billion range and brought the company into much more competitive market territory.
One of Under Armour's initial goals was to establish and maintain 20= percent growth over the long-term. Over the last three years, the company's year-over-year revenue has grown by no less than 20 percent every quarter. Its revenue generated from footwear sales rose more than 40 percent in the first quarter of 2013 from the previous year and hasn't slowed down.
Nike, on the other hand, remains the juggernaut it has always been, enjoying a market cap of nearly $70 billion and an enviable net-profit margin of just over 10 percent; Under Armour's NPM is just over 6 percent. Nike also has cash and assets in excess of $4 billion with shareholders happily collecting a dividend yield of 1.3 percent.
Ultimately, it might be easy to want to choose the proven leader as your preferred stock pick and no one would blame you for doing so. But considering Under Armour's meteoric rise to near the top of the athletic apparel charts and its long-term outlook, choosing between the two may come down to deciding if you want your cake now (with Nike) or later (with Under Armour).
Posted-In: Adidas ReebokNews Psychology Retail Sales Markets Trading Ideas General Best of Benzinga
View Comments and Join the Discussion!