Market Wrap For December 31: Markets End The Year On A Positive Note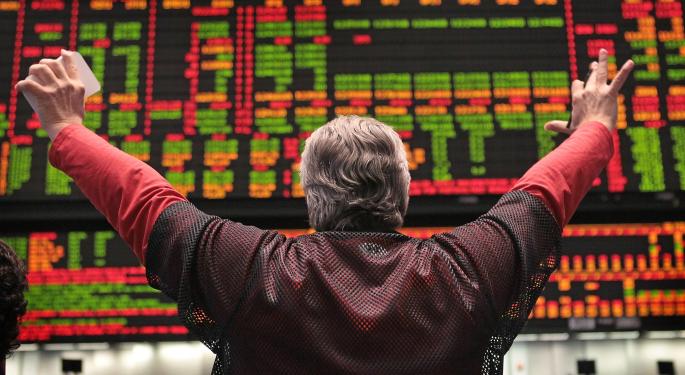 As markets completed its final trading day of 2013, investors and traders can look back at what turned out to be a spectacular year for equities. U.S. stocks had its best year in over a decade fueled by an improving economy and the Fed's easy money policies.
Commodities on the other hand have not seen a similar fate. Gold is down around 30 percent in 2013, marking its worst performance in 32 years.
Major indices were boosted by a strong consumer confidence reading while equity specific news was rather light today.
The markets will take a breather tomorrow with trading to resume on Thursday. Happy New Years!
The Dow gained 0.44 percent, closing at 16,576.73.
The S&P 500 gained 0.40 percent, closing at 1,848.35.
The Nasdaq gained 0.54 percent, closing at 4,176.59.
Gold lost 0.19 percent, trading at $1,202.20 an ounce.
Oil lost 0.67 percent, trading at $98.62 a barrel.
Silver lost 1.10 percent, trading at $19.40 an ounce.
News of Note
ICSC Retail Store Sales grew 1.0 percent week over weak, compared to 1.4 percent last week. Year over Year sales are up 3.0 percent, compared to 2.7 percent last week.
Redbook Chain Store Sales rose 4.5 percent year over year compared to 3.9 percent last week.
S&P Case-Shiller Home Price Index rose 1.0 percent month over month, in line with expectations and matching the previous reading.
December Chicago PMI came in at 59.1, lower than the 61.3 consensus and lower than the previous reading of 63.0.
December Consumer Confidence rose to 78.1, higher than 76.8 consensus and higher than November's reading of 72.0.
IHS Automotive forecast that 9 percent of all cars sold in 2035 will be self-driving.
Related: The Future Of Self-Driving Cars
Latvia is set to become the 18th country to join the eurozone as of midnight.
Related: Euro Strong Heading Into 2014
Equities-Specific News of Note
Despite lingering fears of slumping oil prices in 2014, analysts at Deutsche Bank issued a positive note on the sector for next year. The analysts favors companies with specific events and catalysts for 2014. Notable companies on the list includes Baker Hughes (NYSE: BHI) with an $86 price target, Halliburton (NYSE: HAL) with an $84 price target and Schlumberger (NYSE: SLB) with a $124 price target. Baker Hughes gained 1.49 percent, closing at $55.26, Halliburton gained 0.71 percent, closing at $50.76 and Schlumberger gained 1.04 percent, closing at $90.10.
Analysts at Bank of America maintained a Neutral rating on Myriad Genetics (NASDAQ: MYGN) with a lowered price target of $25, down from a previous $31. The analyst noted a series of risk factors that can hinder the company in the coming year including intellectual property litigation and lower reimbursement for the company's tests. Shares gained 0.96 percent, closing at $20.99.
Nasdaq OMX (NASDAQ: NDAQ) is set to take a 5 percent equity stake in the Turkish exchange, Borsa Istanbul. Nasdaq OMX lost 0.08 percent, closing at $39.80.
Qihoo (NASDAQ: QIHU) has formed a partnership with Apple (NASDAQ: AAPL) related to its mobile security apps. Qihoo 360 gained 1.27 percent, closing at $82.05 while Apple gained 1.20 percent, closing at $561.16.
Analysts at Wells Fargo (NYSE: WFM) noted that revenue growth rate in the Macau gaming market will slow to around 10 percent next year. Shares to watch: Las Vegas Sands (NYSE: LVS) gained 0.35 percent, closing at $78.86, Wynn Resorts (NASDAQ: WYNN) hit new 52 week highs of $194.52 before closing the day at $194.11, up 0.42 percent. MGM Resorts (NYSE: MGM) also traded at new 52 week highs of $23.65 before closing the day at $23.51, up 0.56 percent.
Sony (NYSE: SNE) may launch a Windows Phone as soon as mid-2014 according to The Information. Shares lost 0.97 percent, closing at $17.29.
Ford Motors (NYSE: F) is set to retain the title of North America's best selling car manufacturer for 2013. Shares gained 0.92 percent, closing at $15.42.
Related: Ford Retains Title of North America's Best Selling Car Manufacturer
Boeing (NYSE: BA) has received a $750 million services contract for work on the Air Force's B-1 bombers. Shares gained 0.42 percent, closing at $136.49.
Winners of Note
On no fundamental or market moving news, Twitter (NYSE: TWTR) gained 5.21 percent, closing at $63.67.
Related: Chowdhry: Twitter Needs a Subscription Model to Survive
Hertz Global (NYSE: HTZ) rose to new 52 week highs on heavy volume. CNBC's David Faber took to Twitter to speculate this is the works of an activist investor. "@davidfaber Activist in $HTZ likely to be one of the big guys. Likely to argue for split of equip. leasing and higher leverage to fund big buyback. CNBC tweeted later on that Dan Loeb's Third Point has assumed a position in the company of less than 5 percent. Shares hit new 52 week highs of $28.90 before closing at $28.62, up 10.46 percent.
AMAG Pharmaceuticals (NASDAQ: AMAG) was listed as one of Summer Street's top picks for the coming year. The analyst noted a very high probability of the FDA approving the company's Feraheme therapy in January. The analysts have a $43 price target. Shares gained 5.39 percent, closing at $24.28.
Decliners of Note
Last night UniPixel's (NASDAQ: UNXL) CEO Reed Killion has resigned to "pursue other interests." The company has received its fair share of attention including negative Muddy Water reports and SEC investigations. Shares are down sharply from its April highs of $41.42 and hit new 52 week lows today of $9.42 before closing the day at $10.01, down 15.10 percent.
Quote of the Day
"Be always at war with your vices, at peace with your neighbors, and let each new year find you a better man," – Benjamin Franklin
Posted-In: AMAG Pharmaceuticals B-1 Bomber Baker Hughes Boeing Borsa Istanbul Chicago PMINews After-Hours Center Best of Benzinga
View Comments and Join the Discussion!