Will UPS Delivery Glitches Hasten Arrival Of Amazon Drones & Google Robot Cars?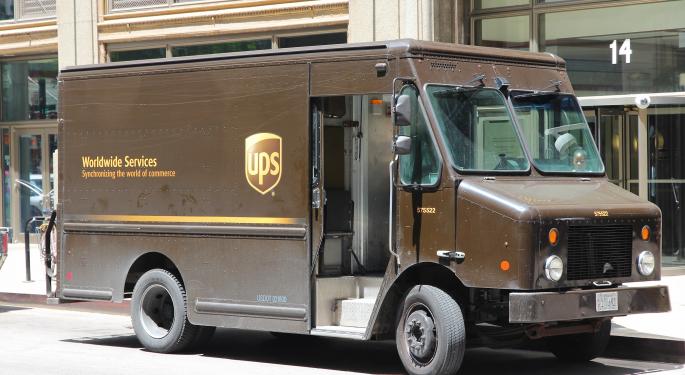 As United Parcel Service (NYSE: UPS) finishes up delivery of packages it failed to deliver for Christmas, some analysts were already talking about opportunities for competitors to "fill the breach."
Following criticism on social media, senior airfreight and logistics analyst, Anthony Gallo, with Wells Fargo Securities LLC said, "I do think it creates an opportunity for companies other than UPS and FedEx to make some inroads here. There's no downside to the retailers at this point to have more competition on the delivery side."
Blaming a combination of bad weather, a shorter shopping season, and a rise in online buying, UPS spokeswoman, Natalie Black said Wednesday that only a small number of packages were affected. Black added that the backlog would be taken care of by Friday.
Regional carrier, Eastern Connection, while admitting recent UPS woes would not likely result in a groundswell of new business, none-the-less said a recent trend of retailers using regional providers could see some benefit.
Speaking about the use of regional carriers, Eastern Connection chairman, Ted Kauffman, said, "We're beginning to see more and more of that around the country. I don't know if this incident opens that up, but it doesn't hurt."
UPS as well as smaller rival FedEx were not the only ones needing to launch recovery actions to counter the cries of disappointed consumers. Amazon.com (NASDAQ: AMZN) spokeswoman Mary Osako, in an email, blamed the breakdown on the delivery companies but said despite that, shipping charges would be refunded and affected shoppers would receive $20 gift cards.
Related: Amazon's Jeff Bezos: Drone Delivery is Coming
Meanwhile, recent stories in the news showed Amazon has been investigating the use of pilotless drones for local delivery of small packages at some point in the future. At the same time Google has shown interest in developing a self-driving car equipped with a delivery robot that could, in theory, pull into your driveway and drop off packages without any human intervention whatsoever.
Although most observers see either scenario as more "futuristic" than immediately practical, it is worth considering just how many holiday shopping seasons filled with missed deliveries it would take before these kinds of projects are moved to the front burner at Amazon, Google, or even UPS or FedEx.
As e-commerce volume continues to grow, especially if the problems experienced by UPS and FedEx this year become more commonplace, investors would be wise to gauge the net effect on the profitability and value of those two companies. Not to mention opportunities created for would be competitors.
At the time of this writing, Jim Probasco had no position in any mentioned securities.
Posted-In: Amazon Anthony Gallo Christmas drones Eastern ConnectionNews Events Media Best of Benzinga
View Comments and Join the Discussion!