China Lunar Probe Launches New Discussion Of Private Space Companies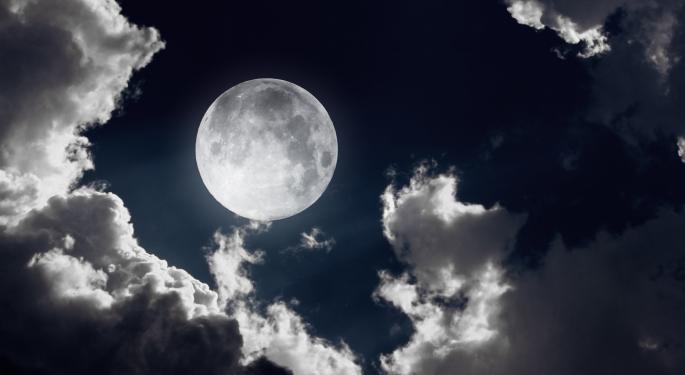 For the first time in nearly four decades, a man-made device has once again landed on the moon.
The Yutu lunar probe is a source of great national pride in China. It's also sparked some international discussion about the role of private business in future space endeavors.
During the Cold War, the Soviet Union and the U.S. spent huge amounts in their race to put a man on the moon – but that competition was more about ideological superiority than space exploration.
According to the Los Angeles Times, funding for NASA made up more than four percent of the federal budget in the 1960s. But, the space agency's proposed budget for 2014 is projected at around $18 billion, or less than one-half of one percent of the overall U.S. budget.
Even with its pared-down funding, NASA has recently reached some historic milestones – most notably the Curiosity robitic rover that successfully landed on Mars in 2012 and continues to explore the Red Planet.
Russia, meanwhile, reportedly doubled its space budget over the past three years to reach over $5 billion for 2013. But its post-Soviet space program has been plagued by inefficiency, corruption and expensive failures.
See also: IBM Creates Nanotechnology To Battle Fungal Infections
And as Reuters points out, those launch failures not only cause long delays in getting new satellites on-line, they also drive up insurance costs.
And this is where new, commercial space companies are stepping in, to fill the void. This past September, Orbital Sciences Corporation (NYSE: ORB) became the second U.S. firm to send an unmanned cargo rocket to the International Space Station.
Earlier in the year, a Dragon cargo ship belonging to Elon Musk's Space Exploration Technologies, or SpaceX, also docked at the space station. And in December 2013, a SpaceX rocket put its first commercial satellite into orbit – making what Reuters called a "potentially game-changing claim in a gloal industry workth nearly $190 billion a year."
There are also ventures like Richard Branson's Virgin Galactic – that is hoping to start commercial and very expensive space tourism flights out of its New Mexico facility in 2014.
Frank Slazer, with the Aerospace Industries Association trade group, tells the L.A. Times the U.S. government has helped many of these commercial space ventures get off the ground. But he notes more funding is needed for new technologies and to inspire an new generation of space adventurers.
"We have great aspirations, but we're not adequately funding programs," Slazer said. "If we're not careful, we could take our leadership in space for granted."
View Comments and Join the Discussion!
Posted-In: ChinaNews Travel Economics Tech Media Press Releases General Best of Benzinga