China Expected To Have 7.5% Growth Goal In 2014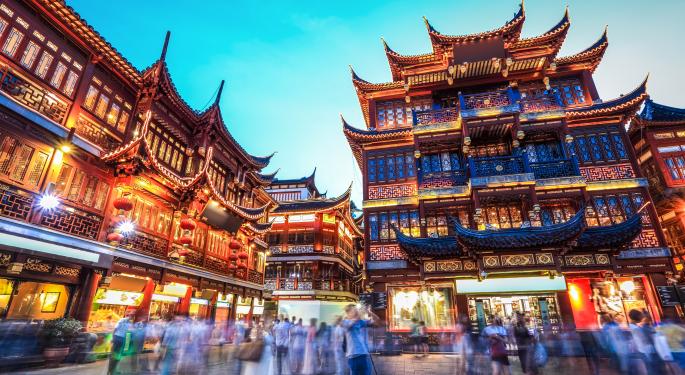 2014 could be a challenging year for China's economy.
Earlier this month, top Communist Party leaders gathered for the nation's annual China Economic Work Conference (CEWC), and announced they would adopt measures to ensure "stable and relatively fast" economic growth next year.
And while the government's economic goals won't be officially announced until March, experts tell Reuters China is most likely looking at a target of 7.5 percent growth in 2014 – as the leadership tries to balance basic economic reforms with efforts to keep the overall economy on track.
The Wall Street Journal notes a major part of that equation will involve strengthening several weak links in the Chinese economy, "by curbing the growth of domestic debt and slashing industrial overcapacity, while trying not to tank growth in 2014."
See also: Apple Still Has China Mobile Problems To Solve
The state-run China Daily says the Chinese government expects to launch policies that will improve macroeconomic regulation, support the country's agricultural sector and rural communities, and keep overall employment figures healthy. It also looks to further develop the nation's real estate sector and capital market; given that China's "major stock indices have slumped by more than two thirds since late last year and real estate sales have dropped dramatically."
Economists are also looking at other warning signs. The Journal, quoting data from Fitch Ratings, notes China's domestic debt has risen to 216 percent of its GDP since 2008 – and that number could continue to rise if corrections aren't implemented.
A big contributor to that mountain of debt is China's SOEs, the state-run enterprises that have been models of inefficiency even as they continue to over-produce steel, shipping, coal and other heavy-industry products. And as the economy has lost steam, the WSJ notes, many of these SOEs "are finding there isn't enough demand to keep all their production lines running or their workers employed. Often with the political support of local government, the firms have borrowed to avoid major layoffs."
The latest round of SOE reforms are reportedly underway, but observers say it remains to be see if China can get those state-run enterprises to function like their private counterparts.
"If they can really level the playing field, it will have a huge impact on the balance between the state sector and the private sector," David Cui, a strategist with Bank of America Merrill Lynch in Shanghai, told the Financial Times. "It will depend on whether the government can actually implement the reforms."
View Comments and Join the Discussion!
Posted-In: News Emerging Markets Rumors Global Economics Markets Media Interview Best of Benzinga