Top Stories of 2013, Part 1: Tesla Motors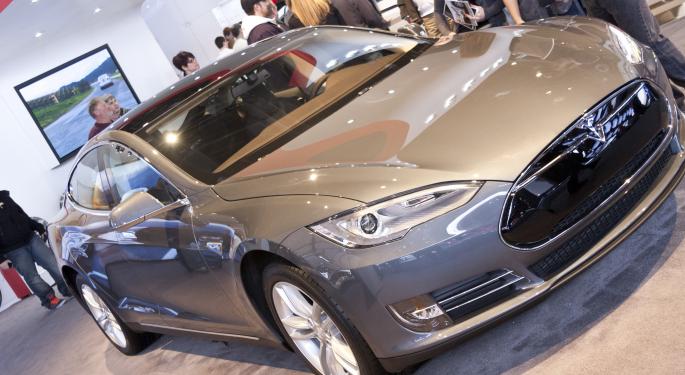 As 2013 rapidly comes to an end, Benzinga is taking a look back at some of the top stories in 2013.
Hype, 450 Percent Returns and Fires
On this year's first trading day, shares of Tesla (NASDAQ: TSLA) were trading in the mid $30 range. Throughout 2013 shares surged well in to the triple digits, hitting 52-week highs of $194.50.
There were ups and downs for the company -- led by its co-founder and CEO Elon Musk, who was named Fortune's businessperson of the year.
In the first quarter, Tesla reported a profit which set the early stages for what turned out to be one of the most painful short trades of the year -- as institutional and retail investors began to notice the company and looked to "get in."
The company effectively eliminated "range anxiety" among potential buyers and shareholders that worried over the cars ability to travel long distances.
Poaching the Luxury Car Market
Tesla committed to build 200 high-speed Supercharger stations, that will be as close as 100 miles apart, along all the major highways in the United States and Canada. For those that don't want to wait the approximate 20 minute charging time, Tesla demonstrated a "recharge" technology that can swap batteries in 90 seconds.
Tesla also proved that its cars are among the safest in the world, as it achieved a "5.4 stars" out of 5 star rating by the NHTSA.
As summer came along it appeared there was nothing that would be able to slow down Tesla shares. The company paid back the Department of Energy loan it received in 2010, a full nine years early.
Shares of Tesla began flirting with a triple-digit price tag, as various news reports began to surface that Tesla cars were taking away market share from BMW, Porsche and Mercedes.
A Red-Hot Video
Tesla's "fire" year continued in the autumn, but this time the "fire" was not a metaphor.
On October 1st, a video was uploaded to Youtube, showing the front of a Model S engulfed in flames. As the video made its way across news outlets, social media and trading desks, shares of Tesla began to fall from its October 1st daily high of $194.23 a share.
By October 3rd, shares traded as low as $168.00 per share.
Related: Tesla Charging System May Be Culprit Of Fires, Says California Fire Dept.
Two more cars caught on fire over the following weeks, prompting Elon Musk to do some damage control.
"You are more than four and a half times more likely to experience a fire in a gasoline car than a Model S!" he blogged "Considering the odds in the absolute, you are more likely to be struck by lightning in your lifetime than experience even a non-injurious fire in a Tesla."
As the company continued to defend its safety records, new issues surfaced -- which placed further pressure on shares.
Battery Issues
Tesla's original deal with Panasonic (OTC: PCRFF) wouldn't supply the company with enough electric battery cells to build the number of Model S sedans and Model X SUVs it claims to be able to sell. But Tesla entered into a new agreement with Panasonic -- that should allow the company to increase production approximately five-fold, to 100,000 cars annually.
Tesla also revealed it will showcase its much anticipated "Gen III" car at the 2015 Detroit auto show. That vehicle is anticipated to come with a more "affordable" price tag, in the $30,000 to $40,000 range.
The Gen III isn't expected to hit the market until 2017, but the company is laying the groundwork now -- by creating a "Giga Factory," which Musk described as "something comparable to all lithium ion production in the world, in one factory."
The "Giga Factory" is intended to support the company's long term goal of building 500,000 vehicles annually.
Tesla also faces a mounting legal battle, as the company has no franchised dealers -- which in some states is specifically banned. Many states have introduced "Anti-Tesla bills" which would prohibit the company from selling its cars within the state.
2014: A Pivotal Year?
As 2013 comes to an end, many Tesla shareholders are likely to debate how to proceed in the coming year.
For investors that got in early enough, profits are likely to be in the triple-digit percentage range. At its peak, shares of Tesla were up over 450 percent since January 1st, and are currently up around 300 percent.
2014 will be a pivotal year for the company as it is set to introduce its Model X sometime late in the year.
The company will also need to further re-assure shareholders that its long-term, ambitious strategies remain intact -- and that it can continue to tackle the legal hurdles and began selling its cars in more states.
Posted-In: Alternative Energy comments electric car batteriesNews Travel Tech Media General Best of Benzinga
View Comments and Join the Discussion!