General Motors to Focus on Bolstering its Struggling Opel Brand in Europe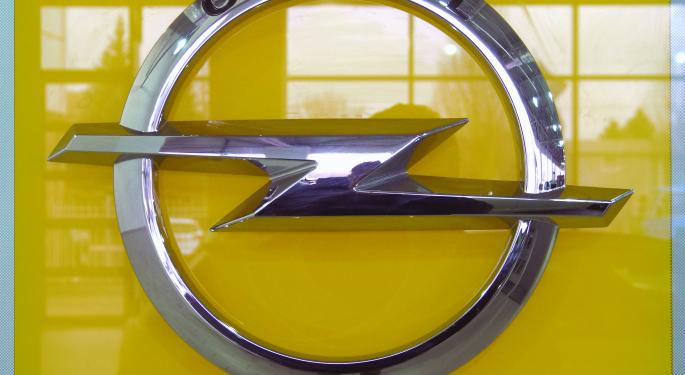 More changes on tap for General Motors (NYSE: GM), as the auto-maker wraps up an historic month.
The company appointed Juergen Keller as executive director for sales and marketing at GM's European subsidiary, Adam Opel AG. Keller, most recently Opel's director of international operations, will succeed Matthias Seidl.
The news is the latest headline-maker for GM – which recently emerged from U.S. government bailout and appointed its first female CEO. The company also announced a major shake-up in its European operations – selling off its stake in France's PSA Peugeot Citroen while ending the sale of the Chevrolet brand in Europe, to bolster GM's Opel and Vauxhall brands there.
Related: FDA Delays Decision on Amarin's Vascepa Drug
All these changes, however, are reportedly making executives at Opel very uneasy. According to a Reuters report, Opel was relying on GM's partnership with Peugeot "to develop a common platform to help revamp its range of small cars...and drive its market share back above six percent in Europe, compared with a high of more than 10 percent a decade ago."
Motor Authority reports that Opel lost $1.8 billion last year – and has lost more than $18 billion over the past 15 years. The website notes that, earlier this year, GM committed $5.2 billion to help Opel develop new powertrains and models – and is working on Opel's expansion into the growing Russian car market. German supermodel Claudia Schiffer has also been signed up for a new Opel ad campaign.
But analysts say it will take some time to revamp both Opel's image and its aging line of products.
"If you have a weak brand, your cars need to be twice as compelling to persuade clients to switch and to grow sales," Metzler Bank auto analyst Juergen Pieper told Reuters. "Merely developing cars which are 'as good' is not enough. Clients will stick with the brand they already like."
Posted-In: News Eurozone Travel Economics Markets Analyst Ratings Media Interview Best of Benzinga
View Comments and Join the Discussion!