Tesla Charging System May Be Culprit Of Fires, Says California Fire Dept.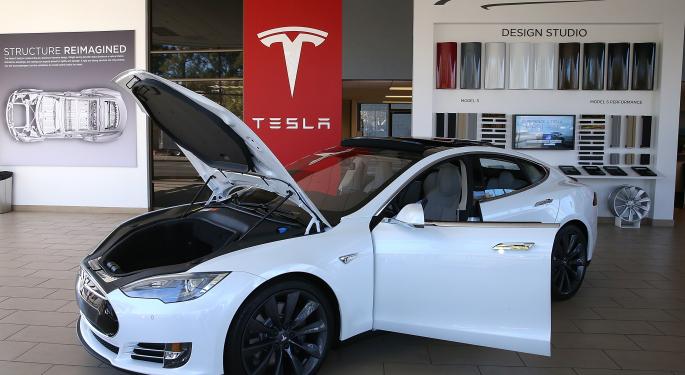 The terms Tesla Motors (NASDAQ: TSLA) and "fire" have certainly been featured together in recent headlines.
On December 18, Reuters reported yet another instance of a fire caused by a Tesla's fully electric Model S Sedan. This time, a garage fire may have been caused by the Tesla supplied charging system.
According to Reuters, the owner of the Model S parked the car in the garage on the evening of November 14, plugged the cord from the vehicle into the 240-volt wall socket, and set a timer to begin the flow of electricity to the car's on board batteries at midnight.
The owner of the car noticed a fire just before 3:00 am before calling for help. The fire caused $25,000 of damage with no injuries reported.
"The fire occurred as a result of an electrical failure in the charging system for an electric vehicle," said a report by the fire authority obtained by Reuters.
The report emphasized the fact that the cause of the fire is unclear, but the report hypothesized what it believes to be a very likely cause.
"The most probably cause of this fire is a high resistance connection at the wall socket or the Universal Mobile Connector from the Tesla charging system," the report added.
Tesla has historically gone on the defensive to defend what it believes to be a superior track record of safety for its model S.
In November, Tesla's CEO Elon Musk wrote in a blog post "Considering the odds in the absolute, you are more likely to be struck by lightning in your lifetime than experience even a non-injurious fire in a Tesla."
The latest garage fire incident in California has drawn strong denials of responsibility from a company spokesperson.
"we looked into the incident," said Tesla spokeswoman Liz Jarvis-Shean. "We can say it absolutely was not the car, the battery or the charging electronics."
"The cable was fine on the vehicle side. All the damage was on the wall side," she added before concluding "a review of the car's logs showed that the battery had been charging normally, and there were no fluctuations in temperature or malfunctions within the battery or the charge electronics."
View Comments and Join the Discussion!
Posted-In: Elon Musk Liz Jarvis-Shean Model S Tesla Tesla California Fire Tesla fireNews Best of Benzinga