Market Wrap For December 18: Markets Surge Following the Fed's Taper Announcement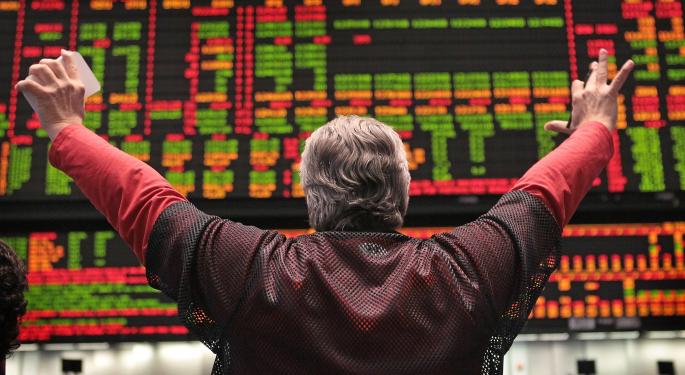 After much anticipation and heavily speculation the Federal Reserve announced a $10 billion per month taper.
Treasury purchases will be cut to $40 billion per month with MBS purchases cut to $35 billion per month. The Fed's move shouldn't come as a surprise as recent economic data and employment figures pointed to the Fed tapering sooner rather than later.
"The Committee sees the improvement in economic activity and labor market conditions… as consistent with growing underlying strength in the broader economy," the FOMC said. The central bank's decision to scale back its bond buying program is based on "the cumulative progress toward maximum employment and the improvement in the outlook for labor market conditions."
Related: Fed Tapers, ETFs On The Move (SPY, GLD, TLT, UUP)
Major indices rallied as investors appeared to be bullish on the Fed's (somewhat anticipated) decision.
The Dow gained 1.85 percent, closing at 16,168.80.
The S&P 500 gained 1.67 percent, closing at 1,810.75.
The Nasdaq gained 1.15 percent, closing at 4,070.06.
Gold lost 1.18 percent, trading at $1,215.60 an ounce.
Oil gained 0.56 percent, trading at $98.02 an ounce.
Silver lost 0.76 percent, trading at $19.69.
News of Note
MBA Mortgage Applications declined 5.5 percent on the week, compared to a previous reading of 1.0 percent gain last week.
November Housing Starts rose 22.7 percent to 1.09 million, higher than an expected 952K and previous reading of 889K. Permits totaled 1.00 million, higher than an expected 995K and lower than the previous reading of 1.04 million in October.
The U.S. Senate has voted 67-33 to restrict the debate on the bipartisan budget bill. The bill almost ensures that the Democrat-led chamber will approve the budget legislation, which sets spending at just above $1 trillion over two years.
The Bank of England's voted unanimously to keep interest rates at 0.5 percent with unemployment remaining above the 7 percent threshold for raising rates. U.K unemployment fell to its lowest level since 2009 at 7.4 percent.
Bank of Japan policy makers believe that the BOJ has "significant scope" to increase the rate of its bond purchases to meet its 2 percent inflation target. The central bank is set to meet for a two day policy meeting tomorrow. The Yen has weakened to its lowest level versus the Dollar since October 2008.
In a somewhat surprise move, the Reserve Bank of India has held its repurchase interest rate unchanged in an environment of rising inflation. The central bank noted that food costs, a main component of inflation, could ease in the near term.
Bitcoin plunged to below $500 after BTC China, (the largest Bitcoin exchange in the country) announced it will no longer accept taking yuan deposits.
Equities-Specific News of Note
Analysts at Credit Suisse noted that the bad news in The Coca-Cola Company (NYSE: KO) is already priced into shares. The analyst is referring to health concerns within the industry, FX exposure, poor category dynamics, to name but a few. The analysts maintained its Outperform rating and $48.00 price target. "After a long period of underperformance vs S&P 500 and peers, these concerns are more than reflected in the share price." Shares gained 2.33 percent, closing at $40.01.
Analysts at ITG Research noted that they believe that LinkedIn (NASDAQ: LNKD) has seen "unexpected deceleration in order volume." The analysts noted that they have revised down its fourth quarter sales estimate for the social media networking site to a range of $437 million to $442 million, down from a previous estimate of $442 million to $447 million. Shares lost 3.65 percent, closing at $215.42.
Analysts at KeyBanc initiated coverage of Restoration Hardware (NYSE: RH) with a Buy rating and an $80 price target. The analysts noted that an improving trend in consumer spending and housing bodes well for the company which is in its "early innings" of a growth story. Shares gained 2.28 percent, closing at $65.04.
Analysts at Imperial Capital believes that American Airlines Group (NYSE: AAL) will benefit from the recent high profiled airline merger at a higher standard than many investors would come to expect. The analysts placed a $36 price target on shares. Shares gained 0.50 percent, closing at $26.23.
Fitch Ratings forecasted gaming revenues in Macau will grow 12 percent year over year in 2014 as demand stays strong in the region. Las Vegas Sands (NYSE: LVS), one of the dominant players in the Macau market hit new 52 week highs of $78.12 before closing at $78.05, up 0.92 percent. Wynn Resorts Ltd. (NASDAQ: WYNN) also hit new 52 week highs of $186.96 before closing at $186.71, up 2.32 percent. MGM Resorts International (NYSE: MGM) hit new 52 week highs as well at $22.66 before closing the day a penny lower at $22.65, up 1.94 percent.
China Mobile Ltd. (NYSE: CHL) said it is still in talks with Apple (NASDAQ: AAPL) to sell iPhones within China. This goes contrary to previous reports that the deal has been concluded with an official announcement coming today. Xi Guohua, China Mobile's chairman, said that his company has no announcements to make on any deal. Shares of China Mobile gained 1.54 percent, closing at $52.60, while shares of Apple lost 0.82 percent, closing at $550.44.
Related: Four Apple Headlines From Tuesday You Might Have Missed
Shares of Exxon Mobil Corporation (NYSE: XOM) flirted with the $100.00 level today as some of the company's top executives are cashing in. Mark Albers, a senior vice president and leading candidate to bcome the company's next CEO sold 8 percent of his shares for $5 million. Shares gained 3.17 percent, closing at $99.82.
3D Systems Corp (NYSE: DDD) acquired a Xerox Corporation (NYSE: XRX) group focused on solid ink engineering and product design for $32.5 million. 3D System's CEO noted "This bold step is consistent with our belief that we must act quickly and decisively to extend and cement our marketplace leadership position by taking full advantage of the window of unprecedented opportunity in front of us." Shares of 3D Systems gained 0.75 percent, closing at $81.99, while Xerox hit new 52 week highs of $11.76 before closing the day lower by a penny at $11.75, up 2.26 percent.
Kraft Foods Group, Inc. (NASDAQ: KRFT) announced that the board had authorized a $3 billion stock repurchase program. The company also announced it will begin paying a quarterly dividend of 52.5 cents a share on January 17. Shares gained 1.73 percent, closing at $53.34.
CVS Caremark Corporation (NYSE: CVS) adjusted its fiscal 2014 outlook. The company sees adjusted EPS in a range of $4.36 to $4.50 which represents a year over year growth of 10.25 percent to 13.75 percent. The company plans to complete $4 billion in share buybacks and approved a new $6 billion share buyback program. Shares closed at its 52 week highs of $69.69, up 4.31 percent.
Amazon.com Inc. (NASDAQ: AMZN) is set to expand its Amazon Web Services to China with a "limited preview" for its cloud infrastructure (IaaS) services in early 2014. Shares gained 2.14 percent, closing at $395.96.
Gilead Sciences Inc. (NASDAQ: GILD) released positive data from its sofosbuvir/ledipasvir HCV trials. The results "demonstrate that a simple, safe and short course of therapy with a single tablet regimen of sofosbuvir/ledipasvir can provide high cure rates among patients with genotype 1 HCV infection, while eliminating the need for both interferon and ribavirin." Shares gained 5.01 percent, closing at $73.59.
Toyota Motor Corporation (NYSE: TM) has secured a 60 second spot for the upcoming Super Bowl for its 2014 Highlander. The redesigned car is a big part of the company's U.S. strategy to gain market share in the SUV segment. Shares gained 2.03 percent, closing at $121.04.
TransCanada Corp (NYSE: TRP) could develop a rail bridge to Nebraska if the Keystone XL pipeline's approval continues to be held up by the Obama administration. Shares gained 1.35 percent, closing at $44.62.
New Residential Investment Corp (NYSE: NRZ) announced that it has agreed to acquire $3.2 billion of servicing advances from Nationstar Mortgage (NYSE: NSM). New Residential's CEO noted "The servicing advances acquired through this acquisition are highly complementary to our current stable of servicing related assets." Shares of New Residential Investment gained 4.65 percent, closing at $6.75 while Nationstar Mortgage gained 1.10 percent, closing at $41.28.
BP plc (NYSE: BP) announced it has made a significant oil discovery at its Gila prospect in the U.S. Gulf of Mexico. Seperately, an ex-employee has been found guilty the company for "obstructing the efforts of law enforcement during the investigation of the largest environmental disaster in U.S. history." Shares gained 1.54 percent, closing at $46.22.
Related: Big Oil Sees Big Opportunity in Mexico Oil Deregulation
Winners of Note
Harland Clarke Holdings has acquired Valassis Communications (NYSE: VCI) for $34.08 a share in an $1.84 billion deal. Shares previously closed at $28.30, representing an approximate 20 percent premium for shareholders. Valassis Communications gained 22.26 percent, closing above the buyout price at $34.60.
Analysts at Maxim raised its price target on Fluidigm (NASDAQ: FLDM) to $42 from a previous $33 following positive meetings with the company management. The analysts are confident the company can deliver 20 percent plus growth in 2014 through 2016. Shares hit new 52 week highs of $36.20 before closing the day at $36.06, up 14.04 percent.
21Vianet Group, Inc, (NASAQ: VNET) a Chinese based data center services company is set to partner with International Business Machines Corporation. (NYSE: IBM) Big Blue will manage private clouds for clients while leveraging 21Vianet's facilities. Shares of 21Vianet Group gained 6.69 percent, closing at $21.85 while IBM gained 1.67 percent, closing at $178.70.
Decliners of Note
All eyes were on Ford Motor Co. (NYSE: F) today. The company's CFO provided an update on 2013 which is set to be one of the company's best years ever. 2014 on the other hand will fall short. The company noted that 2014's profit will come in shy of the 2013 numbers. Separately, comments stemming from Ford's CFO and analysts are suggesting that current CEO Alan Mulally won't be booking a one way ticket from Detroit to Washington State anytime soon. Shares lost 6.29 percent, closing at $15.65.
Related: Mulally's Absence Strengthens Speculation CEO Will Be Leaving Ford
Jabil Circuit Inc. (NYSE: JBL) released their first quarter results last night which included a miss on EPS and revenues. The company stated it saw unexpected demand changes from a DMS customer. The company designs and manufacturers electronics for OEMs and receives around 20 percent of its sales from Apple Inc. Jabil guided for a 25 percent year over year sales drop for the segment that provides iPhone casings. Shares of Jabil hit new 52 week lows of $15.30 before closing the day at $15.67, down 20.54 percent.
SK Hynix plans to build a new South Korean multi billion dollar DRAM factory to keep up with demand. The move is being seen as a negative for its competitor, Micron Technology (NASDAQ: MU). Shares lost 4.84 percent, closing at $21.81 but traded as low as $20.81 in the morning.
Related: Shares of Micron Technology Fall Following Reports Of Competitor Investing In New Factory
Gogo Inc. (NASDAQ: GOGO) announced that a private equity firm Ripplewood Holdings is distributing all 27.6 million shares representing a 32.8 percent it owns to its limited partners. All three Ripplewood directors on the company's board are resigning. Shares lost 15.70 percent, closing at $25.91.
Aegion Corporation (NASDAQ: AEGN) revised its fiscal 2013 outlook and see its full year non-GAAP EPS in a $1.27 to $1.32 range. This is considerably lower from the company's previous guidance of $1.53 to $1.60 range with a consensus estimate of $1.42. Shares hit new 52 week lows at $19.67 before closing the day at $20.37, down 7.23 percent.
Earnings of Note
General Mills, Inc. (NYSE: GIS) reported its second quarter results this morning. The company's EPS of $0.83 came in short of the $0.88 consensus. Revenue of $4.88 billion came in short of the $4.95 billion consensus. The company adjusted its full year 2014 outlook and expects its 2014 EPS to come in at a $2.87 to $2.90 range. The current consensus is at $2.90 a share. Shares gained 0.30 percent, closing at $49.73.
Lennar Corp (NYSE: LEN) reported its fourth quarter results this morning. The company's EPS of $0.73 came in above the consensus of $0.62. Revenue of $1.92 billion came in above the $1.88 billion consensus. The company noted that deliveries of homes increased by 27 percent to 5,650. Shares gained 6.34 percent, closing at $37.43.
FedEx (NYSE: FDX) announced its second quarter results this morning. The company's EPS of $1.57 came in below the consensus of $1.64. Revenue of $11.4 billion came in below the $11.43 billion consensus. The company raised its full year EPS outlook and expects EPS growth of 8 percent to 14 percent, from a prior guidance for a gain of 7 percent to 13 percent. Despite the miss, investors kept their cool as shares gained 0.45 percent, closing at $139.72.
Oracle Corporation (NYSE: ORCL) has come off three straight quarters of revenue misses and announced its second quarter results after the closing bell. The company's EPS of $0.69 beat the consensus of $0.67. Revenue of $9.28 billion came ahead of the consensus of $9.19 billion. Shares were trading lower by around 1.3 percent in after hours at $34.12.
Related: Source: Oracle Reorganizing Sales Force, Patching Relations with Hewlett-Packard
Quote of the Day
"To support continued progress toward maximum employment and price stability, the Committee today reaffirmed its view that a highly accommodative stance of monetary policy will remain appropriate for a considerable time after the asset purchase program ends and the economic recovery strengthens." - Fed's statement on the taper released today.
View Comments and Join the Discussion!
Posted-In: 2014 Highlander 21Vianet Group 3D Systems Aegion Corporation Alan Mulally Amazon ChinaNews Federal Reserve Best of Benzinga