Generic Version Of Viagra To Launch In 2017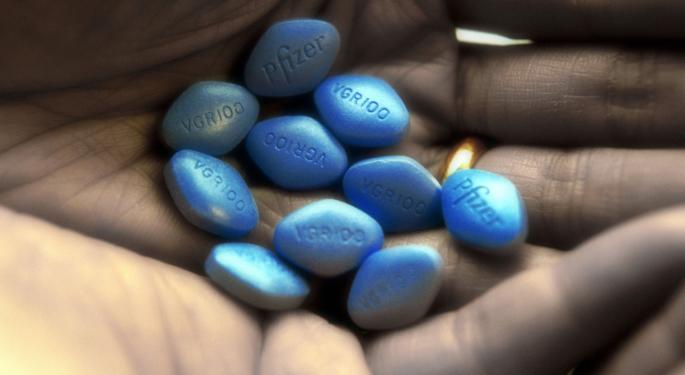 Pfizer (NYSE: PFE) has come to a settlement with Israel's Teva Pharmaceutical Industries (NYSE: TEVA), that will allow Teva to to launch a generic version of the anti-impotency drug Viagra in late 2017.
While most of the agreement's terms remain confidential, Pfizer says Teva will pay a royalty to license the generic version of the drug.
A Teva press release, meanwhile, says the U.S. Food and Drug Administration has already granted tentative approval to the company's generic version of Viagra – which, according to IMS sales data quoted by Teva, had yearly sales of around $1.2 billion in the U.S. Viagra's annual global sales, however, are reportedly in the $2 billion range.
See also: Wedbush's Michael Pachter Says Best Buy Could Be Gone In Six Years
In 2010, Pfizer sued Teva to halt plans for the generic version of Viagra. As Reuters reported, Pfizer's Viagra patent is scheduled to expire in 2020, which suggests Teva will be able to bring its generic version to market well before other generic pharmaceutical companies.
Those cheaper generics, according to the wire service, had already begun to surface in Europe earlier this year.
And, as The Associated Press noted, the Viagra battle is just the latest in a series of holding actions pharmaceutical companies are fighting, as patents expire on some of their best-selling products. U.S. sales of Pfizer's cholesterol drug Lipitor, for example, fell from $5 billion in 2011 to just over $900,000 last year, after its patent expired.
Meanwhile the patent for Cialis, the erectile dysfunction drug produced by Eli Lilly & Co. is also set to expire in 2017.
The so-called "patent cliff," meanwhile, is expected to take its toll on a large assortment of brand-name drugs over the next several years.
Casey Research, quoting data from the IMS Institute for Healthcare Informatics' annual survey, notes overall spending on generic drugs grew by $8 billion last year – with generics accounting for 84 percent of all "dispensed scripts."
The number of patent expirations is also expected to remain high next year and balloon again in 2015.
"Initially the figures do look depressing, but I don't think people should be running for the hills just yet," Lisa Urquhart, editor EP Vantage, which monitors the pharmaceutical industry, told Casey Research. "The efforts the industry has put in to change business models, which have included investing more in niche busters, mean this time round things might not be as bad."
Posted-In: Casey Research EP Vantage Lisa UrquhartNews Topics Legal Media General Best of Benzinga
View Comments and Join the Discussion!