Market Wrap For December 17: Markets Relatively Calm Before The Potential Storm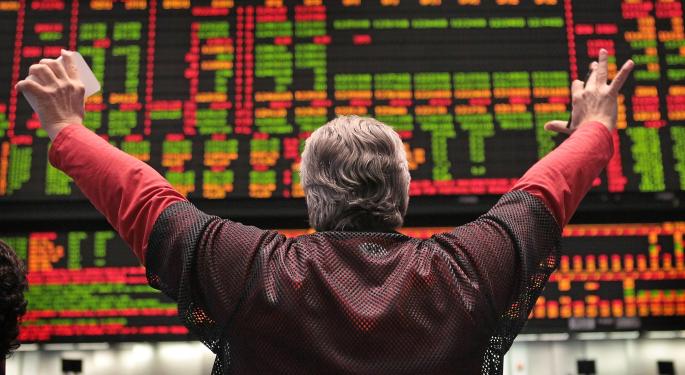 The main question going in to Tuesday's trading session was whethere the Fed will decide to scale back its $85 billion monthly bond buying program. A budget deal in Congress and solid economic data make the case that tapering will begin sooner rather than later.
Major indices were virtually flat for the day as investors likely held off trades before the results of the Fed policy meeting are revealed.
Related: FOMC Preview: Inflation Concerns Persist Amid Positive Economic Data
The Dow lost 0.06 percent, closing at 15,875.26.
The S&P 500 lost 0.31 percent, closing at 1,781.00.
The Nasdaq lost 0.14 percent, closing at 4,023.68.
Gold lost 1.13 percent, trading at $1,230.30 an ounce.
Oil lost 0.42 percent, trading at $97.07 a barrel.
News of Note
ICSC Retail Store Sales increased 4.8 percent week over week, compared to a decline of 1.6 percent last week. Year over year, retail store sales are up 2.0 percent, compared to a 1.5 percent gain last week.
Third Quarter Current account deficit was the smallest in four years. The current account gap, which measures the flow of goods, services and investments into and out of the country narrowed to -$94.8 billion from a -$96.6 billion in the second quarter.
Redbook Chain Store Sales increased 2.9 percent year over year compared to a gain of 2.6 percent last week.
The Federal Reserve intends to use its own version of a "Stress Test" on banks instead of relying on data from firms themselves.
NAHB Housing Market Index read 58.0, higher than the consensus of 55.0 with a prior reading of 54.0 in November.
IHS forecasted the global auto industry will increase 3.7 percent in 2014 and reach worldwide sales of 85 million.
United Kingdom CPI on year, dropped to a four year low of 2.1 percent last month, down from a 2.2 percent in October. The Bank of England has a target rate of 2 percent.
The German ZEW survey of investor confidence has risen to the highest level since 2006, surging to 62 from a previous reading of 54.6.
Eurozone CPI fell 0.1 percent on month in November. On year, inflation rose 0.9 percent, well below the ECB's target of just under 2 percent.
Equities-Specific News of Note
Analysts at Credit Suisse increased its price target on Amazon.com (NASDAQ: AMZN) to $449.00 from a previous $439.00. The analysts noted the potential success of the company's AmazonFresh delivery service which could reach 33 percent of the U.S. population over the next five years. Seperately, Amazon has acquired Gopago, a mobile payments startup, for an "ambitious" project. Shares lost 0.34 percent, closing at $387.65.
Facebook Inc. (NASDAQ: FB) is set to launch its much anticipated video advertisement that will be seen in users' newsfeeds as early as Thursday. Analysts at Susquehanna view this as a positive as analysts raised the company's rating to Positive from Neutral and increasing the price target to $68 from a previous $52. The analysts are also optimistic that Instagram is a "Greenfield" opportunity as the picture sharing platform is growing at 58 percent year over year. Shares gained 1.95 percent, closing at $54.86.
Analysts at JPMorgan Chase raised their rating on Hewlett-Packard Company (NYSE: HPQ) to Overweight from Neutral with a $35 price target. The analysts noted that the PC and printing markets are starting to improve despite a challenging environment. Shares gained 2.04 percent, closing at $27.45.
Analysts at Atlantic Securities downgraded Twitter, Inc. (NYSE: TWTR) to Neutral from Overweight. Despite the rating downgrade, the company increased its price target to $50 from a previous $34. Shares lost 0.28 percent, closing at $56.45.
Related: Expert Explains Monday's Twitter Downgrades, Talks Target Price
Analysts at SunTrust initiated coverage of Zillow, Inc. (NYSE: Z) with a Buy rating and a $95 target. The analyst noted that the company's three year compounded annual growth rate of approximately 53 percent coupled with its increasing market share and expanding its competitive moat should allow the company to double its margins over the coming years. Shares gained 1.19 percent, closing at $77.96.
Herbalife Ltd. (NYSE: HLF) climbed to new 52 week highs of $78.50 today as analysts at SunTrust Robinson Humphrey reiterated a Buy rating with an $85 price target following yesterday's re-audit news. Not everyone shared similar optimism as Herb Greenberg and Jim Cramer rightfully stated that yesterday's audit has nothing to do with Bill Ackman's alleged pyramid scheme claim. Shares gained 1.24 percent, closing at $75.76.
Despite J.C. Penney Company, Inc. (NYSE: JCP) receiving positive news in the form of better sales at department stores and the company faring positive in search analytics, shares were under pressure today. Shares lost 3.30 percent, closing at $8.20.
An activist war involving Barington Capital and Darden Resetaurants, Inc. (NYSE: DRI) is heating up. Barington Capital owns 2.8 percent of shares and released a lengthy presentation alluding to the fact that the company's "corporate centralization and resulting internal complexity have contributed to the company's declining financial performance and eroding competitive position." Barington Capital sees shares in the $71 to $80 range if the company is split up with the real estate assets divested. Shares gained 0.08 percent, closing at $52.33.
Whole Foods Market, Inc. (NYSE: WFM) reaffirmed its previous commitment to have 1,200 stores in the U.S. during an interview on CNBC. The company's expansion in to smaller markets has so far proven to be successful for the company. Taking a jab at Amazon, the co-CEOs noted that they are not convinced that AmazonFresh is a sound business. Shares gained 2.18 percent, closing at $57.31.
Related: Is The Fresh Market Rotten Or A Perfect Short?
Former Sears Canada CEO noted that Eddie Lampert has "essentially killed" Sears Holdings Corporation (NASDAQ: SHLD) and put the company in a "death spiral." The former Canadian boss, Mark Cohen made these remarks this morning on a CNBC segment. Despite the rather harsh commentary, shares of Sears gained 0.79 percent, closing at $44.45.
Cisco Systems Inc (NASDAQ: CSCO) has acquired Collaborate.com to complement its WebEx platform. Shares gained 1.16 percent, closing at $20.92.
Honeywell International Inc. (NYSE: HON) lowered its 2014 guidance. The company sees its EPS coming in at a $5.35 to $5.55 based on revenues of $40.3 billion to $40.7 billion. The consensus estimates are for an EPS of $5.55 and $41.1 billion in sales. shares lost 1.02 percent, closing at $86.48.
During a meeting with investors and analysts, 3M Company (NYSE: MMM) issued a solid guidance for 2014. The company reaffirmed its commitment of revenue target growth of 4 percent to 6 percent and an EPS outlook of 9 percent to 11 percent growth. The company envisions its 2014 EPS to be in a $7.30 to $7.55 range with the consensus estimate pegging the EPS at $7.40. The company also announced a 35 percent increase of its dividend to $0.8555 a share quarterly and a share buyback program valued at $17 billion to $22 billion. Shares gained 2.92 percent, closing at $131.39.
MetLife Inc. (NYSE: MET) is set to purchase a majority stake in AMMB Holdings life insurance units and hope to gain regulatory approval by the end of the year. Shares lost 1.11 percent, closing at $50.74.
MGM Resorts International (NYSE: MGM) hit new 52 week highs of $22.29 following the company's announcement that it has priced $500 million in 5.25 percent senior notes due in 2020. The company will use parts of the proceeds to pay off a higher-rate obligation. Shares gained 2.35 percent, closing at $22.22
Green Mountain Coffee Roasters, Inc. (NASDAQ: GMCR) appealed a case in federal court over infringement of its K-Cup patents by Rogers Family Coffee with its "OneCup" containers. The judge previously noted that the two products are dissimilar and customers have the right to chose which product they use. Shares gained 0.80 percent, closing at $74.72.
Starbucks Corporation (NASDAQ: SBUX) revealed what most people already suspected: It's gift cards are a hot ticket item, especially in the days immediately preceding Christmas. The company has seen $16 billion loaded on 450 million cards in 27 countries. In the U.S. one in ten Americans received a gift card last year. Shares lost 0.48 percent, closing at $76.09.
Tesla Motors, Inc. (NASDAQ: TSLA) is currently accepting preorders for its Model S sedan for Chinese customers following its Chinese website going live earlier this week. Shares gained 3.06 percent, closing at $152.46.
Related: Looking for the Next Big Market, Tesla Opens Shop in China
GlaxoSmithKline plc (NYSE: GSK) announced it will terminate an industry wide practice of paying doctors to promote the company's drugs and correlating its sales teams compensation with the number of prescriptions that doctors write. This move comes in the heal of a recent $3 billion fine the company paid to settle accusations that it had marketed drugs for unapproved uses. Shars lost 1.62 percent, closing at $51.05.
Noble Energy Inc. (NYSE: NBL) intents to spend $4.8 billion on capital investments in 2014, nearly $1 billion more than this year's target. The company will spend the majority on U.S. on shore development
Following yesterday's announcement with the country of Oman, BP plc (NYSE: BP) led a consortium and signed a $45 billion deal to expand a natural-gas project from the Caspian Sea to Italy via Turkey, Greece and Albania. The move could enable Europe to reduce its reliance on Russian oil. Shares lost 1.11 percent, closing at $45.52.
Related: U.S. Could See Crude-Oil Production Records By 2016
Winners of Note
Shares of Frontier Communications Corporation (NASDAQ: FTR) were halted in the pre-market with news pending. It was later revealed that the company had bought AT&T, Inc's (NYSE: T) wireline residential and business service for $2 billion in cash and related assets. Shares of Frontier Communications gained 8.64 percent, closing at $4.78 while AT&T lost 0.88 percent, closing at $33.85.
Related: Cable & Wireless Communications Seen as Takeover Target
Yingli Green Energy Holding Co. (NYSE: YGE) has won a 233MW worth of Algerian solar project contracts. Shares gained 11.81 percent, closing at $4.83.
Shareholders of KKR Financial Holdings LLC (NYSE: KFN) will receive 0.51 common units of Kohlberg Kravis Roberts & Co. L.P. (NYSE: KKR) for each share they hold. Last night, KKR announced it will purchase KKR Financial for $2.6 billion valuing shares at around $12.79. The boards of both companies have approved the merger. KKR Financial gained 30.58 percent, closing at $12.34, trading as high as $12.39.
iRobot (NASDAQ: IRBT) is benefiting from increased attention in the robotics sector according to analysts at Raymond James. The analysts upgraded shares to Strong Buy from Market Perform with a price target of $39 as the company's Braava floor-cleaning robots will sell well in 2014. In addition with Boston Dynamics being acquired by Google, Inc. (NASDAQ: GOOG) iRobot could see increased business in military contracts as Google has noted on many occasions it has no plans to become a military contractor. Shares of iRobot gained 17.28 percent, closing at $36.71.
Curtiss-Write Corporation (NYSE: CW) surged to new 52 week highs of $59.88 today following a Deustce Bank upgrade in which analysts upgraded shares to Buy from Hold while increasing the price target to $65 from a previous $50. The analysts left the company's investor day with a bullish attitude as the company's vision could lead it to a top player in the field. Shares gained 6.16 percent, closing at $59.30.
Puma Biotechnology, Inc. (NASDAQ: PBYI) surged to new 52 week highs of $105.00 following a Bank of America analyst report where the company's breast cancer research is "one of the most compelling buying opportunities in biotech." Shares have an increased price target of $118 from a previous $87. The analysts added that shares have a further $100 upside in a positive scenario and an additional $40 to $50 upside in the event data on Her2 mutant cancer is positive. Shares gained 11.98 percent, closing at $99.85.
Decliners of Note
Analysts at Brean released a negative note on Rockwell Medical, Inc. (NASDAQ: RMTI) projecting that the FDA will reject its Triferic therapy due to poor clinical trial design and questionable efficacy. The analyst issued a $4 price target on shares. Shares lost 19.82 percent, closing at $10.80.
CGG (NYSE: CGG) announced that it has revised fiscal 2013 guidance lower and plans to carry out a rebalancing of its asset portfolio to cust costs and boost margins. The company noted it is operating in a difficult market environment. Shares hit new 52 week lows of $16.54 before closing at $16.69, down 16.21 percent.
Earnings of Note
FuelCell Energy Inc. (NASDAQ: FCEL) reported its fourth quarter results this morning. The company's EPS of a five cent loss came in lower than the consensus of a three cent loss. Revenue of $55.2 million came in above the consensus of $44.83 million. Shares lost 24.19 percent, closing at $1.41.
Quote of the Day
"I served seven years as the chair of the Princeton economics department where I had responsibility for major policy decisions, such as whether to serve bagels or doughnuts at the department coffee hour." - Ben Bernanke
View Comments and Join the Discussion!
Posted-In: 2014 Auto Sales 3M Guidance Account Deficit AmazonPrime AMMB Holdings AT&TNews After-Hours Center Best of Benzinga