Tesla May Unveil Lower-Priced Sedan at 2015 Detroit Auto Show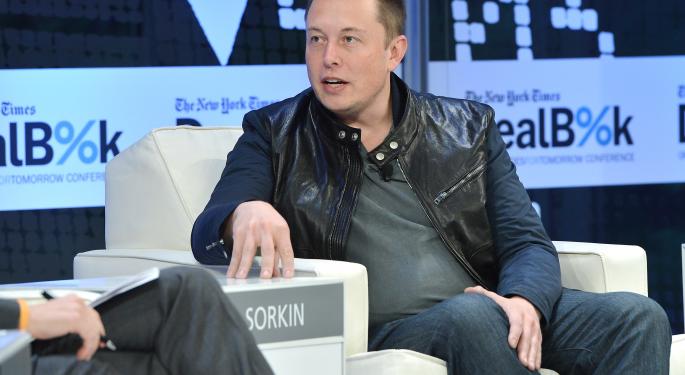 Several news outlets are reporting that Tesla Motors (NASDAQ: TSLA) is indeed planning to live up to founder Elon Musk's goal, of bringing "mass market electric cars to market as soon as possible."
While Tesla has made a name for itself with its Model S premium sedan, that vehicle's price tag – it starts at around $71,000 before you start deducting federal and state tax incentives – places it out of the reach of most drivers.
But last week, in an interview with the German magazine Auto Bild, Tesla chief designer Franz von Holzhauzen hinted the company might unveil its much-anticipated mid-sized sedan in early 2015, at the Detroit Auto Show.
See also: Tesla - Stay Away Or Buy The Big Dip?
Prices for what some observers are calling the Tesla Model E are expected to start at around $40,000 – a cost that the web site SlashGear says could be further reduced, after tax credits and depending on where you purchase the vehicle, to about $35,000 or even lower.
"This is hugely important for Tesla," Thilo Koslowski, an auto industry analyst at Gartner, told The Los Angeles Times. "This is ultimately the car that will make Tesla a household brand rather than just something in the premium segments. No car company can live off 20,000 to 30,000 sales a year and be profitable in the long term."
The Times says Tesla is expected to produce around 21,000 of its Model S cars this year – but hopes the Model X will help to double those figures in 2014.
Meanwhile, Von Holzhauen says Tesla's Model X SUV crossover is "almost ready" for its expected debut next year. The Model X, with its gull-wing doors and dual motor all-wheel drive, is expected to cost about as much as a Model S.
SlashGear says other planned Tesla products are a truck and an update to the company's first-generation vehicle – a two-seat roadster, no longer in production, which sold about 2,300 units globally.
Posted-In: Alternative EnergyNews Rumors Travel Tech Media Interview General Best of Benzinga
View Comments and Join the Discussion!