More Movies Than Usual to Open This Holiday Season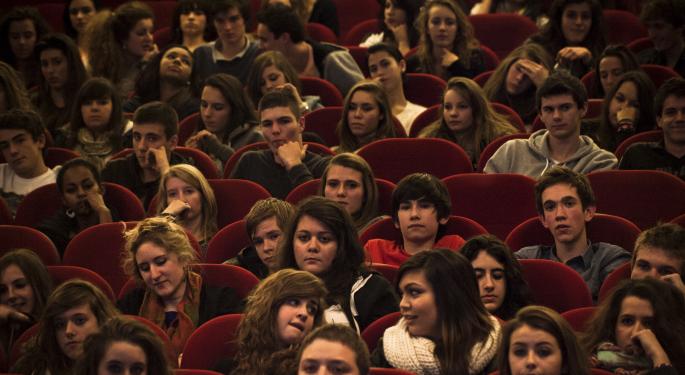 This coming holiday season, movie-goers will have plenty to chose from.
Over the past decade, the holiday seasons have delivered fewer than 10 new releases. Between December 12 and 25 of this year, however,there will be 12 new releases -- the highest number in recent time.
"I don't think there have ever been this many movies in wide release at Christmas," Michael Lynton, chairman of Sony Corporation's (NYSE: SNE) Sony Pictures Entertainment division, said in an interview last month.
The holiday season represents a period when people have the most free time in a very compact window -- and with this season's lineup of films, there is something for everyone.
Viacom Inc. (NASDAQ: VIAB)-owned Paramount Pictures is set to release Martin Scorcese's The Wolf of Wall Street, which details Jordan Belfort's memoirs and should appeal to the adult crowd. Another picture geared towards the adult crowd includes Sony Entertainment's Columbia Pictures production, American Hustle. 
Walt Disney (NYSE: DIS), meanwhile, is set to release its Saving Mr. Banks feature, about the making of Disney's 1964 blockbuster, Mary Poppins.
The field of family and kid-oriented films appears much less crowded, with the only major release coming from Twenty-First Century Fox (NASDAQ: FOXA). That film, Walking With Dinosaurs, is expected to appeal primarily to young children.
In this competitive environment, one movie is expected to stand out over the others. The Time Warner Inc. (NYSE: TWX)-owned New Line Cinema's release of The Hobbit: The Desolation of Smaug is expected to be a blockbuster. The film opened to $73.7 million during its opening weekend.
According to The Wall Street Journal, aside from The Hobbit, most movies are drawing only modest interest in pre-release surveys.
Shares of major studios are vulnerable to large price movements if a feature film doesn't live up to Wall Street's expectations.
On Nov. 25, shares of Lions Gate Entertainment (NYSE: LGF) plummeted more than 10 percent, after its Hunger Games film fell short of some analysts' expectations.
Posted-In: Columbia Pictures entertianment Hunger Games Leonardo DicaprioNews Wall Street Journal Media Reviews Best of Benzinga
View Comments and Join the Discussion!