Market Wrap For December 12: Dow Suffers Second Consecutive Day of Triple Point Loss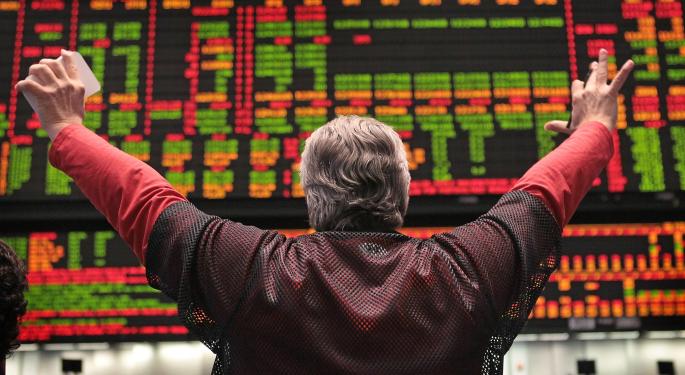 Major indices continued its decline from yesterday as the Dow suffered a triple digit point loss for the second consecutive day.
Positive retail sales data added to an otherwise already convincing case that the economy is strong enough for the Federal Reserve to begin tapering. The Fed's policy-setting committee is set to meet for the final time in 2013 as soon as next Tuesday.
The Dow lost 0.66 percent, closing at 15,739.43.
The S&P 500 lost 0.38 percent, closing at 1,775.50.
The Nasdaq lost 0.14 percent, closing at 3,998.40.
Gold lost 2.51 percent, trading at $1,225.60 an ounce.
Oil lost 0.01 percent, trading at $97.43 a barrel.
Silver lost 4.30 percent, trading at $19.48 an ounce.
News of Note
Initial Jobless Claims rose 68K to 368K, higher than the 325K consensus and higher than the 300K prior reading. Continuing claims rose 40K to 2.79 million.
November Retail Sales rose 0.7 percent, higher than the 0.6 percent expected and higher than the previous reading of 0.4 percent. The retail sales showed the biggest gain since June driven by automobile and housing-related categories. Grocery stores and clothing stores were drags during the month.
Related: Weakness in Retail ETFs a Buying Opportunity (XRT, RTH, AMZN)
October Import/Export Prices revealed that export prices rose 0.1 percent, higher than an expected decline of 0.3 percent and higher than the previous reading of a decline of 0.5 percent. Import prices declined 0.6 percent, lower than the expected 0.8 percent and lower than the 0.7 percent prior reading.
The Bloomberg Consumer Comfort Index rose to -30.9 from a previous reading of -31.3.
The IATA expects global airlines to show $12.9 billion worth of profits this year and soar to $19.7 billion in 2014.
Exxon Mobil Corporation (NYSE: XOM) noted in its annual energy outlook that the U.S. should lift domestic oil export restrictions.
Related: Brent Prices Steady As Budget Deal Is Put To A Vote
Jim Rogers noted that he would rather buy silver over gold, but he isn't buying either at the moment based on comments he said during a radio interview today.
The Eurozone's industrial production fell 1.1 percent in October missing the consensus of a 0.3 percent rise leading many to believe the Eurozone's recovery is still in question.
Equities-Specific News of Note
Analysts at Morgan Stanley (NYSE: MS) downgraded Oracle Corporation (NASDAQ: ORCL) to Equalweight from Overweight. The analyst noted that the company looks fairly valued at current price given the lack of conviction around forward catalysts. RBC Capital Market also downgraded shares to Sector Perform from Outperform with a $35 price target. The analyst cited mounting pressure from competitors, alternative data management solutions and spending concerns within China. Despite the positive nod, shares lost 2.81 percent, closing at $33.59.
Analysts at Nomura upgraded Intel Corporation (NASDAQ: INTC) to Neutral from Reduce with an increased price target of $24.00 from $20.00. The analyst noted that for the first time in years, the company has set reasonable expectations for the upcoming year, which should provide support for the stock. Shares gained 0.23 percent, closing at $24.48.
Analysts at Credit Suisse AG (NYSE: CS) reiterated an Outperform rating on The Walt Disney Company while upping the price target to $80.00 from $73.00. The analyst noted that the price increase was a valuation call based on the company's release of its 10k and its fiscal 2014 estimates. Despite the positive nod, shares lost 1.26 percent, closing at $69.63.
Analysts at Nomura upgraded Micron Technology Inc. (NASDAQ: MU) to Buy from Neutral with a raised price target of $30.00 from $16.00. The analyst noted the company has further upside as the DRAM industry post consolidation is proving to be more resilient than initially believed. Shares gained 0.13 percent, closing at $22.53.
Analysts at Deutsche Bank AG (NYSE: DB) maintained a positive outlook with a Buy rating and $70 price target on Whole Foods Market, Inc. (NASDAQ: WFM) The analyst however noted that new locations are opening up within a five mile radius of another store which could lead to short-term cannibalization. Shares lost 0.46 percent, closing at $55.92.
Analysts at Bank of America Corporation (NYSE: BAC) raised its rating on Southwest Airlines Co. (NYSE: LUV) to Buy from Neutral with a $23 price target. The analyst noted that small business and leisure flying are showing better momentum where Southwest is strong, than in large corporate travel. Shares gained 4.56 percent, closing at $18.79.
Analysts at Bank of America reiterated a Buy rating on Citigroup, Inc. (NYSE: C) with an increased price target of $61.00 from a previous $58.00. The analyst noted that Citigroup remains one of the most compelling investment ideas among large cap financials going in to 2014 based on the stock trading below tangible book. Shares gained 0.37 percent, closing at $50.90.
Danaher Corp (NYSE: DHR) reaffirmed its 2013 and 2014 EPS guidance during an investor meeting today. The company sees its EPS in the range of $3.37 to $3.42 compared to a consensus of $3.41. The company expects its fourth quarter EPS in the range of $0.91 to $0.96 compared to a consensus of $0.96. Next year the company expects its GAAP EPS to come in a $3.60 to $3.75 range, below the consensus of $3.81. Shares gained 0.43 percent, closing at $74.25.
J.C. Penney Company, Inc. (NYSE: JCP) announced that it will be eliminating some of its well known brands to promote its own private labels and older brands. Shares gained 0.77 percent, closing at $8.55.
During its year-end investor call, Metlife (NYSE: MET) sees its free cash flow as a percent of operating earnings in 2015 to 2016 to be in a 45 percent to 55 percent rage, higher than previous guidance of 35 percent to 45 percent from 2014 through 2016. Shares lost 0.45 percent, closing at $51.20.
Facbeook, Inc. (NASDAQ: FB) will be welcomed in to the S&P 500 and 100 indices this week. Shares gained 4.96 percent, closing at $51.83.
Related: Facebook To Be Included in S&P 500 and 100 Indices
Facebook owned Instagram revealed a new private messaging system that allows users to send photos and videos to up to 15 users, called Instagram Direct.
Buffalo Wild Wings Inc. (NASDAQ: BWLD) formed a new partnership with Pepsico, Inc. (NYSE: PEP) Pepsi has gained exposure to nearly 1,000 sports bars across the U.S. and Canada. Buffalow Wild Wings lost 1.45 percent, closing at $141.77 while Pepsi lost 1.68 percent, closing at $81.28.
NorthStar Realty Finance Corp. (NYSE: NRF) priced 50 million shares at $11.65 each. Just yesterday the company announced plans to spin off its asset management business.
John Chambers, CEO of Cisco Systems, Inc. (NASDAQ: CSCO) said that emerging markets remain "extremely challenged" during the company's annual analyst meeting. The company noted a 12 percent year over year drop in emerging market orders for October. Management guided down its revenue projection over the next three to five years. The company expects revenue to grow at 3 percent to 6 percent annually, down from a previously forecasted 5 percent to 7 percent. Shares lost 1.77 percent, closing at $20.51.
Cenovus Energy Inc. (NYSE: CVE) envisions a decrease of 13 percent in its capital budget for 2014. The company plans to spend $2.8 billion to $3.1 billion as it cuts back on exploration activations. The company is projecting a 9 percent drop in its operating cash flow to a range of $3 billion to $3.7 billion. Shares lost 1.47 percent, closing at $28.09.
Boston Scientific (NYSE: BSX) saw its Watchman device win the backing of an FDA advisory panel yesterday for use as a treatment to prevent strokes among individuals with irregular heartbeats. Shares gained 2.68 percent, closing at $11.48.
The board of directors at Ford Motor Co. (NYSE: F) are getting impatient at its CEO Alan Mulally regarding his future at the company. Shares lost 0.12 percent, closing at $16.39.
Related:Ford's Board Waiting to Hear About Mulally's Future Plans
General Motors Company (NYSE: GM) has sold its 8.5 percent stake in Ally Financial. The government remains the majority owner of Ally (formerly known as GMAC) Shares lost 0.27 percent, closing at $40.05.
Winners of Note
American International Group, Inc. (NYSE: AIG) is in talks to sell ILFC to AerCap Holdings N.V. (NYSE: AER) However, Bloomberg reported "AIG hasn't formally terminated its agreement with the Chinese group that last year said it would purchase a majority of International Lease Finance Corp. for about $4.2 billion, one person said, asking not to be identified as the information is private." Shares of AIG gained 1.48 percent, closing at $49.42 while AerCap hit new 52 week highs of $24.02 before closing at $23.93, up 11.72 percent.
Hilton Worldwide, Inc. (NYSE: HLT) began trading today. Shares opened at $21.30 after pricing its IPO at $20.00. Shares closed at $21.50, good for a 7.50 percent first day gain.
Aramark Holdings Corporation (NYSE: ARMK) began trading today. Shares opened at $20.25, after pricing its IPO at $20.00. Shares closed at $22.70, good for an 13.50 percent gain.
Sarepta Theurapeutics Inc. (NASDAQ: SRPT) received a positive not from the FDA's Janet Woodcock in support of the company's eteplirsen's regulatory timeline at the Duchenne Policy Forum from Parent Project Muscular Dystrophy. Shares gained 18.95 percent, closing at $20.71.
Israel has awarded Zion Oil & Gas, Inc. a petroleum exploration license to identify and submit a drilling prospect in the Megiddo-Jezreel acre. The company's Chief Operating Officer noted "This new area appears to have all of the geologic ingredients of an active petroleum system with good potential." Shares gained 36.69 percent, closing at $1.90.
Decliners of Note
IAMGold Corp. (NYSE: IAG) fell to new 52 week lows of $3.40 after the company suspended its dividends. The dividend yield climbed as high as 6.5 percent as shares of IAMGold consistently declined from its $12.00 peak back in January. Of note, the Market Vectors Gold Miners ETF (NYSE: GDX) also hit new 52 week lows of $20.51 today. Shares closed at $3.42, down 10.94 percent.
Shares of Xoma Corporation (NASDAQ: XOMA) tumbled in after hours trading after the company announced a shelf offering. Shares were trading lower by 9.36 percent at $5.13.
Earnings of Note
Premarket, Lululemon Athletica (NASDAQ: LULU) announced its third quarter results. EPS of $0.45 came in above consensus of $0.41 while revenue of $379.9 million beat the consensus of $376.2 million. The company offered fourth quarter guidance below expectations. The company estimates its EPS will be in a range of $0.78 to $0.80, below the $0.84 consensus. The company blamed the poor guidance on execution issues and offensive comments coming from the company's founder that damaged its reputation more than originally anticipated. Of note the company's outgoing CEO Christine Day was not part of the post earnings conference call. Shares lost 11.65 percent, closing at $60.39, not far off its 52 week lows of $59.60
Ciena (NASDAQ: CIEN) reported its fourth quarter results premarket. EPS of $0.16 fell below the consensus of $0.24. Revenue of $583.4 million came in above the $568.51 million consensus. Shares lost 6.94 percent, closing at $21.31.
Hovnanian Enterprises Inc. (NYSE: HOV) announced its fourth quarter results. The company reported an EPS of $0.21 above the $0.16 consensus. Revenues of $591.7 million topped the consensus of $582.89 million. Gross margin of 22.6 percent is up from 18.3 percent a year ago and 20.3 percent in the previous quarter. Shares gained 5.81 percent, closing at $5.28.
Quote of the Day
"I'm not buying either gold or silver...but if I had to buy one today, I'd buy silver because it certainly has gone down more than gold." - Jim Rogers, during an interview conducted today.
View Comments and Join the Discussion!
Posted-In: Alan Mulally Ally Bloomberg Consumer Comfort Index boston scientific Buffalo Wild Wings Pepsi agreementNews FDA After-Hours Center Best of Benzinga