Market Wrap For December 10: Fed Meeting One Week Away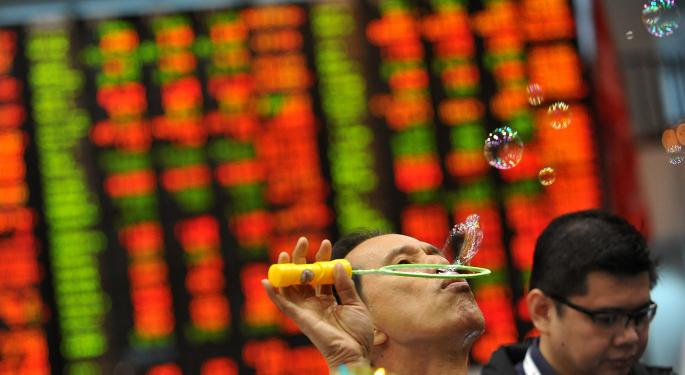 After starting the week hitting record closes yesterday, major indices slipped in today's trading session.
Investors are anxiously awaiting next week's Federal Reserve meeting which it is becoming more and more apparent that tapering is set to begin sooner, rather than later. The meetings will take place next Tuesday and Wednesday.
Not helping investor sentiment in an otherwise fragile and nervous environment were comments from MacNeil Curry, Head of Global Technical Strategy at Bank of America Curry revealed his bearish forecast for next year which is calling for as much as a 20 percent correction in the market.
The Dow lost 0.33 percent, closing at 15,973.13.
The S&P 500 lost 0.32 percent, closing at 1,802.62.
The Nasdaq lost 0.20 percent, closing at 4,060.49.
Gold gained 2.27 percent, trading at $1,262.20 an ounce.
Oil gained 1.07 percent, trading at $98.38 a barrel.
Silver gained 3.52 percent, trading at $20.40 an ounce.
Related: Gold Surges Higher as U.S. Dollar Softens
News of Note
NFIB Small Business Optimism Index came in at 92.5, higher than the consensus of 92.4 and higher than the previous reading of 91.6.
ICSC Retail Store Sales declined 1.6 percent week over week, compared to a decline of 2.8 percent last week. Year over year, the index is up 1.5 percent, compared to a gain of 2.5 percent last week.
Redbook Chain Store Sales increased 2.6 percent year over year compared to a gain of 4.9 percent last week.
October Wholesale Trade Inventories rose 1.4 percent, higher than the 0.4 percent consensus and higher than the previous reading of 0.4 percent in September.
China's industrial production slowed to a 10 percent annualized rate, down from 10.3 percent in October.
Industrial output in France fell 0.3 percent in October compared to a consensus of a 0.1 percent gain.
Industrial production in the United Kingdom rose 3.2 percent on year compared to a 2.2 percent rise in September.
Italy has exited a recession as its GDP stopped shrinking in the third quarter.
Related: Euro On A High As Global Economy Stabalizes
Analysts at Deustche Bank AG cut its 2014 WTI crude price target to $88.75 a barrel from a previous estimate of $98.75 a barrel. "We see the growing risk of an oil supply glut developing," the analysts noted.
Related: Brent Sinks Below $110 On Oversupply
The net worth of U.S. households and nonprofit organizations rose 2.6 percent in the third quarter to $77.3 trillion. Total mortgage debt rose 0.9 percent, while consumer debt rose 6 percent where debt as a proportion of income was 99 percent.
The International Air Transport Association forecasted that airlines will see an increase in the total number of passengers served by 31 percent by 2017. The biggest increase in demand will be in the Middle East and Asian Pacific markets.
Equities-Specific News of Note
United Rentals (NYSE: URI) hit new 52 week highs of $72.97 this morning. The company's shares were upgraded to Top Pick from Outperform at RBC Capital Markets with an $85 price target. The analysts noted that the company could benefit from a rebound in non-residential construction. The company also has an attractive balance sheet with strong free cash flow. Shares closed at $71.72, up 1.03 percent.
WhiteWave Foods (NASDAQ: WWAV) hit new 52 week highs of $23.64 this morning. Shares benefited as investors weighed in the positives of its recent $600 million acquisition of Earthbound Farm, the largest organic produce brand in North America. Analysts at Stifel Nicolaus sees the company gained $0.07 EPS accretion by 2014. Shares closed at $23.44, up 2.27 percent.
Analysts at Bank of America released a report noting that the Street's expectations are too high when it comes to the recently finalized China Mobile (NYSE: CHL) and Apple (NASDAQ: AAPL) agreement. Regardless, the analyst increased the price target of Apple to $600 from $530. Separately, China Mobile was downgraded to Equal Weight at Barclays based on the possibility that the stock's high price will underperform the market moving forward. Shares of Apple lost 0.14 percent, closing at $565.64 while China Mobile lost 1.74 percent, closing at $53.79.
Analysts at Credit Suisse upgraded Celgene (NYSE: CELG) to Outperform from Neutral with a $210 price target, up from a previous $165. The analysts noted that the company's compounded annual growth rate projections from 2013 through 2017 is 19 percent top-line, 28 percent bottom line. Shares gained 0.45 percent, closing at $170.77.
OSI Systems (NASDAQ: OSIS) plunged by as much as 40 percent yesterday, trading as low as $39.00 a share before paring some of its losses and closing the day at $47.38. Roth Capital defended the company this morning by speculating that a worst-case scenario is already priced in and shares could rally to $66 to $84 on a positive resolution. Shares gained 3.40 percent, closing at $48.99.
BHP Billiton (NYSE: BHP) indicated it will limit its annual spending to $15 billion, down from $21.7 billion the company spent in the recent financial year. Shares lost 0.77 percent, closing at $66.82.
Lululemon Athletica (NASDAQ: LULU) named Laurent Potdevin as the new CEO replacing Christine Day. Shares of Lululemon were trading higher by 3 percent in premarket but closed the day down 1.75 percent at $69.11.
Related: Laurent Potdevin To Replace Christine Day As CEO of Lululemon
General Motors (NYSE: GM) announced Mary Barra will replace Dan Akerson as the company's CEO. Barra has been in charge of product development since 2011. Shares lost 1.20 percent, closing at $40.41.
Related: General Motors Ends Government Bailout, Announces First Female CEO
ITG Majestic issued a warning that momentum at Starbucks Corporation (NASDAQ: SBUX) may have slowed down this quarter. ITG forecasted same-store-sales for the Americas region will be in a five percent to 6 percent range, missing the consensus estimate of a 6.6 percent gain. Shares lost 2.95 percent, closing at $77.38.
The Coca-Cola Company (NYSE: KO) hinted that single-serve beverage dispensers are an "opportunity" for the company. The heat is turning up as Green Mountain Coffee Roasters (NASDAQ: GMCR) continues to offer hints it will shortly enter the single serve cold beverage market. Coca-Cola lost 1.34 percent, closing at $39.86 while Green Mountain Coffee gained 1.59 percent, closing at $72.95.
Analysts at RBC Capital Market raised Yahoo! Inc (NASDAQ: YHOO) to Outperform with a $44 price target, from a previous $38. The analysts are bullish based on the company's Asian assets, most notably Alibaba Group. Yahoo! hit new 52 week highs of $40.25 in the afternoon before closing at $40.22, up 3.47 percent.
Shares of Baidu, Inc. (NASDAQ: BIDU) hit new 52 week highs of $180.89 this afternoon. Analysts at Pacific Crest noted that the company's fourth quarter trends are stable and the company's growth rate can keep up with the overall market. Shares closed at $179.93, up 4.67 percent.
Broadcom (NASDAQ: BRCM) increased its revenue guidance range for the quarter to $2 billion to $2.05 billion from a prior $1.975 billion based on "better than expected revenue in each reportable segment, particularly in Infrastructure and Networking." Shares gained 2.26 percent, closing at $28.51.
Rumours began to surface that a Muddy Waters partners accused Vipshop Holdings Limited (NYSE: VIPS) as being a fraud. Shares originally plunged by more than 6 percent but have since recovered most of the losses. Muddy Waters later tweeted that a "purported MW draft report on $VIPS is a complete hoax." Vipshop gained 0.19 percent, closing at $80.45, trading as low as $71.29 following the rumour.
Winners of Note
Twitter, Inc. (NYSE: TWTR) reached new all time highs of $52.58 as its momentum continues from yesterdays surge as rumors surfaced that Carl Icahn (who himself enjoys the occasional Tweet) has bought shares. Shares gained 5.80 percent, closing at $51.99.
GSV Capital Corp (NASDAQ: GSVC) rose as the investment company counts Twitter as one of its main holdings. The company estimated that Twitter accounts for 17.6 percent of the company's Net Asset Value at the end of the third quarter. Shares gained 7.71 percent, closing at $11.46.
Relypsa, Inc. (NASDAQ: RLYP) was initiated with an Outperform rating at Wedbush with a $34 price target. The analyst noted the company's hyperkalemia treatment "has shown a potentially best-in-class profile and can achieve peak annual sales of about $1.4 billion in the U.S." Shares gained 16.56 percent, closing at $23.30.
Analyst at Deutsche Bank noted that fears of Chinese policies relating to solar caps are overblown. saying it does not expect 2014 China demand to decline year-over-year and that Q1 industry shipments should be relatively flat sequentially. The analyst reiterated Buy ratings on Yingli Green Energy Holding Co. Ltd. (NYSE: YGE) and Trina Solar Limited (NYSE: TSL). Yingli gained 7.18 percent, closing at $4.48 while Trina Solar gained 5.70 percent, closing at $12.23.
Decliners of Note
Shares of Geron Corporation (NASDAQ: GERN) were trading higher by more than 10 percent premarket as the company was positively mentioned by several analyst firms. Piper Jaffray noted that the company's imtelstat data "appears strong in terms of differentiated efficacy," while Needham noted "we can now report that the robustness of these data exceed our expectations." Shares lost 6.70 percent, closing at $5.15.
Lumber Liquidators (NYSE: LL) increased its guidance for fiscal 2013 EPS to a range of $2.72 to $2.75, shy of the consensus estimate of $2.76. Piper Jaffray defended the company and reiterated an Overweight rating and $135 price target and noted that the company's "initial 2014 outlook is above consensus on a sales basis, with the company 'setting up for a beat and raise cadence.'" Despite the Piper defence, shares lost 13.66 percent, closing at $89.62. Shares were trading as high as $119.98 in mid November.
Earnings of Note
Toll Brothers (NYSE: TOL) announced its fourth quarter results before the market open. The company posted an EPS of $0.54, ahead of the $0.44 consensus. Revenues were pre announced over a month ago at $1.04 billion.
Quote of the Day
"Anyone that makes me a quarter of a billion dollars, I like." - Carl Icahn.
View Comments and Join the Discussion!
Posted-In: Alibaba Apple China Bank of America BHP Billiton broadcomNews Short Sellers After-Hours Center Best of Benzinga