Benzinga's M&A Chatter for Monday December 9, 2013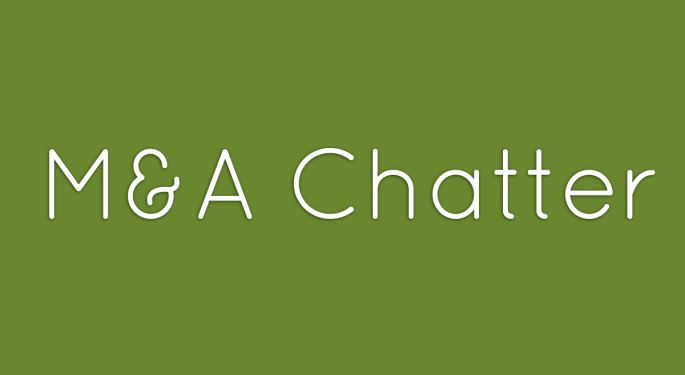 The following are the M&A deals, rumors and chatter circulating on Wall Street for Monday December 9, 2013
Verizon to Acquire EdgeCast Networks
The Deal:
Verizon announced Monday it will acquire content delivery company EdgeCast, an industry leader in content delivery networks. Terms were not disclosed.
Verizon hopes to finalize the deal in early 2014.
Verizon closed Monday at $49.57, a gain of $0.09.
Scripps Acquires Newsy for $35M in Cash
The Deal:The E.W. Scripps Company (NYSE: SSP) has acquired digital video news provider Newsy for $35 million in cash. The deal is expected to close January 1, 2014.
E.W. Scripps closed Monday at $19.48, a loss of $0.05.
Essex Property Trust Enters into Exclusive Negotiations with BRE Properties
The Offer and Strategic Review:
Essex Property Trust (NYSE: ESS) announced Monday that it has made a non-binding proposal to acquire BRE Properties (NYSE: BRE), under which each outstanding share of BRE common stock would be exchanged for 0.2971 shares of Essex common stock and $12.33 in cash. The companies are currently engaged in discussions and have agreed to an exclusivity period.
BRE Properties announced that its Board of Directors is in an ongoing process of exploring strategic alternatives to enhance shareholder value, which includes, a possible sale or merger. Wells Fargo Securities has been selected as financial advisor in connection with the review of strategic alternatives.
BRE Properties closed Monday at $59.99, a loss of more than 2%.
Covidien to Acquire Given Imaging for $30.00/Share
The Deal:
Covidien (NYSE: COV) and Given Imaging (NASDAQ: GIVN) announced Sunday an agreement under which Covidien will acquire Given Imaging for $30.00 per share in cash, or approximately $860 million. The deal is expected to be completed by March 31, 2014.
Given Imaging closed Monday at $30.06, a gain of 27%.
View Comments and Join the Discussion!