Chinese Yuan Rises to New Record High Against the U.S. Dollar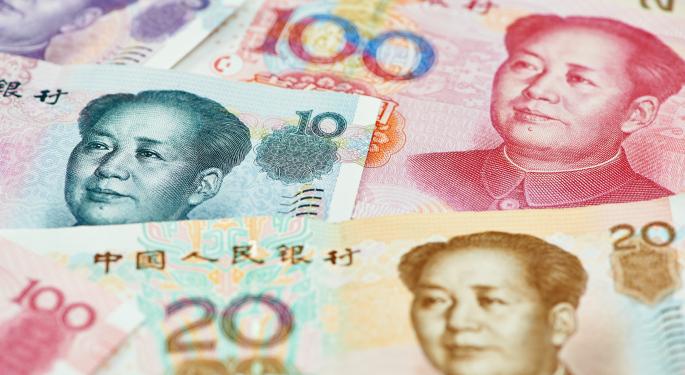 The Chinese yuan, also known as the Renminbi, rose to a record high against the U.S. dollar on Monday.
The move came after news that China's exports beat market expectations, inspiring the People's Bank of China (PBOC) to set the yuan at a fresh record high level.
Yuan Daily Midpoint
On Monday, the PBOC raised the daily midpoint (reference rate) by 0.17 percent to 6.1130 per U.S. Dollar, the highest level since a peg to the U.S. dollar ended in July 2005. The PBOC allows the yuan to move a maximum one percent on either side of the reference rate each trading day.
China Exports Beat Expectations
On Sunday, the National Bureau of Statistics reported that China posted its biggest trade surplus in almost five years in November, while import growth weakened. China's trade surplus expanded to $33.8 billion, from $31.1 billion in October.
PBOC Intervention
Last month, the People's Bank of China announced plans to gradually expand the yuan trading band.
PBOC Governor Zhou Xiaochuan stated in November, "We will increase the role of market exchange rates, and the central bank will basically exit from normal foreign-exchange market intervention."
See also: Barron's Recap - Top 10 Stocks for 2014
Zhou outlined that the central bank will "establish a managed floating exchange-rate system based upon market supply and demand."
U.S. Dollar
Meanwhile, the U.S. Dollar traded lower on Monday, despite better-than-expected U.S. employment data and increased speculation over possible tapering of the $85 billion-a-month bond buying program at the December FOMC meeting.
Australian Dollar
The Australian Dollar has a strong correlation with the Chinese Yuan due to the fact that China is Australia's largest trading partner. The Aussie traded higher on the news of the record fixing but is now trading modestly lower on the day.
Yuan as a Reserve Currency
The Paris-based Organisation for Economic Co-operation and Development (OECD) has said that by as early as 2016, China could overtake the U.S. as the world's largest economy. The yuan is viewed as a potential future reserve currency, meaning a currency that is held by governments and institutions as part of their foreign exchange reserves. However, the Chinese yuan cannot be used as a reserve currency while the Chinese government maintains capital controls on its conversion.
Posted-In: dollar National Bureau of Statistics People's Bank Of China yuanNews Forex Federal Reserve Markets Best of Benzinga
View Comments and Join the Discussion!