Dollar Indecisive After Positive U.S. Employment Report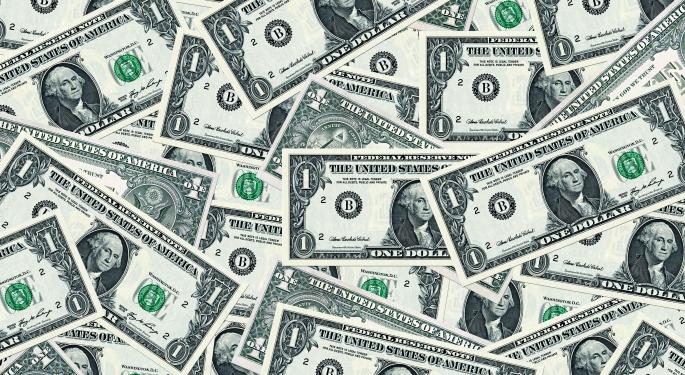 After spiking higher on the news of both non-farm payrolls and unemployment beating expectations, the greenback reversed lower during the New York trading session. U.S. stock indexes also rallied on the news initially and have been able to hold on to some of their gains. The Standard & Poor's 500 index has risen by over 25 percent in 2013.
U.S. Employment Report
The U.S. Bureau of Labor Statistics reported on Friday that payrolls increased by 203,000 in November, beating analyst expectations of 180,000. The figure came in modestly higher than October's upwardly revised reading of 200,000.
The November unemployment rate fell to 7 percent, its lowest level in five years, beating analyst expectations of 7.2 percent. The reading for the month of October was 7.3 percent.
The decline in unemployment to 7.0 percent from 7.3 percent was impacted considerably by the return of federal workers after the government shutdown in October.
Related: U.S. Dollar Indecisive After ADP, Trade Balance and ISM
The broader U-6 unemployment rate fell to 13.2 percent, from 13.8 percent. This measure also includes part-time workers who want to work full-time, marginally-attached workers and those who have stopped looking for work.
The Fed has stated that it won't raise interest rates until after the unemployment rate reaches a threshold of 6.5 percent or lower. However, Fed policymakers have also asserted that reaching 6.5 percent would not necessarily bring about immediate interest rate increases.
U.S. GDP
Yesterday, the Commerce Department reported that in the third quarter, the U.S. economy grew faster than initially estimated. Gross domestic product increased at a 3.6 percent annualized rate, revised higher from an initial estimate of 2.8 percent.
December FOMC Meeting
Analysts are pondering whether the recent positive economic data out of the U.S. is sufficient for the Fed to scale back their $85 billion-a-month bond buying program at the December 17-18 meeting.
While analysts are divided on whether the Fed will taper in December, the odds are likely to have increased after today's employment data. Speaking with Bloomberg TV in late November, James Bullard, president of the Federal Reserve Bank of St. Louis, said, "A strong jobs report, I think, would increase the probability some for a December taper."
ICE US Dollar Index Daily Chart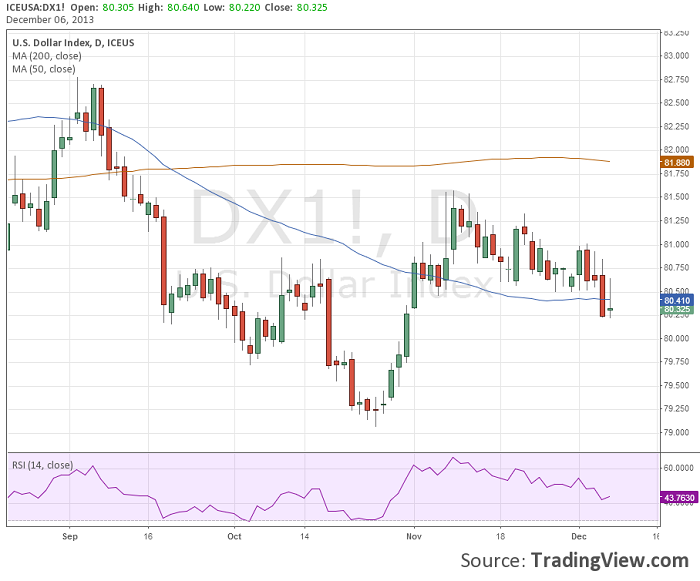 Posted-In: News Forex Economics Federal Reserve Markets Best of Benzinga
View Comments and Join the Discussion!