Electronics Retailers Score from Sales on Thanksgiving Day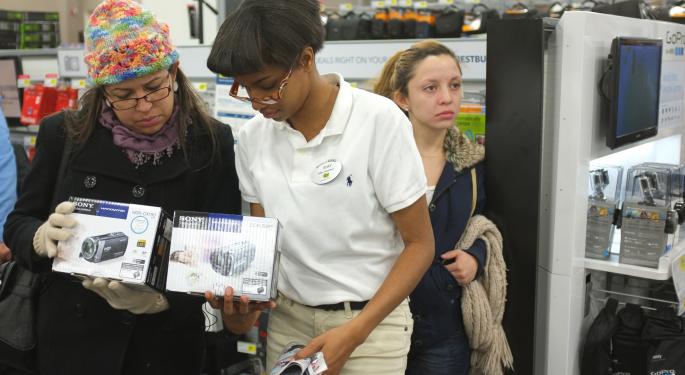 Yes, Black Friday retail sales were a bit of a disappointment. What wasn't clear is how much the Thanksgiving Day sales took sales away from Friday, especially at electronics stores.
But on Wednesday this week, MasterCard Advisors' SpendingPulse reported electronics sales on Thanksgiving Day grew by "triple digits" from a year ago. Presumably that's because so many more stores were open compared with 2012.
What buyers wanted was tablets, televisions and other electronics.
The temptation for the retailers was this: They know shoppers do 70 percent of their Black Friday spending at the first two stores visited.  
Those are "critical dollars," said Sarah Quinlan, senior vice president of market insights for the consulting arm of the credit-card processor. So it should be no surprise that retailers competed to open earlier and earlier. And for electronics retailers, the strategy worked.
Overall, sales on Thanksgiving Day jumped a whopping 23.7 percent from a year ago, SpendingPulse said. Black Friday sales were up 2.9 percent. Sales for the two days were up 8 percent from a year ago.
One more important point: Online shoppers were busy, too, on Thanksgiving Day. Online sales were up 19.4 percent from a year ago, and Black Friday sales were up 12 percent.
Apparel and jewelry sales were strong on Thanksgiving but declined on Friday. Luxury sales were up "double digits" on Thanksgiving and Black Friday.
One group of retailers did not fare well over the weekend: department stores. They've struggled against apparel retailers all year, and November sales overall were down year over year. 
MasterCard Advisors is expecting holiday sales to rise 3.9 percent overall in 2013 over 2012, according to Quinlan.
MasterCard (NYSE: MA) was up $4.36 to $752.13 on Thursday. The shares had hit an intraday peak of $765 on Friday and fell 2.2  percent to $748.17 at Wednesday's close. 
Rival Visa (NYSE: V) was off $1.01 to $201.73 and is off 0.8% from Friday's close of $203.46.
View Comments and Join the Discussion!
Posted-In: Black Friday Black friday salesNews Economics After-Hours Center Markets Tech Interview Best of Benzinga