SpareFoot Wants To Be The Hotels.com Of Self-Storage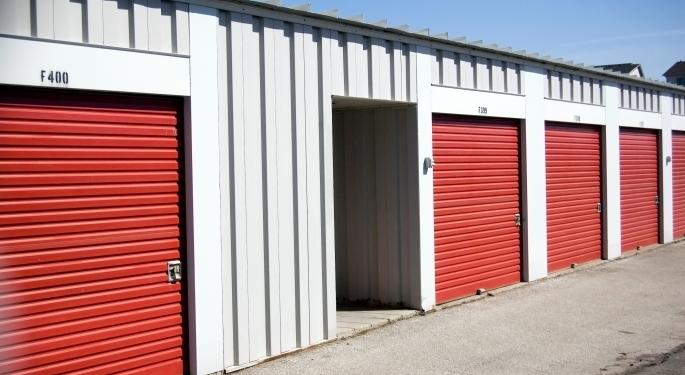 One of the best-ranked employers in Austin, Texas wants to become the Hotels.com of the self-storage industry.
SpareFoot, the largest online inventory of storage units, did not start out as a way to link consumers with storage facilities. The site was born when Chuck Gordon decided to study abroad.
"Storage in West Los Angeles, where I went to school, was very expensive," Gordon, SpareFoot's founder and CEO, told Benzinga. "I ended up having to put my stuff in my now co-founder Mario Feghali's attic, and my then girlfriend's garage, and had the idea that you could rent out the space in your personal property as storage instead of a storage facility."
When SpareFoot debuted, Gordon and Feghali noticed that a lot of mom and pop storage facilities began to sign up. This surprised the co-founders.
"After talking to them we realized that they were just desperate for new customers," said Gordon. "They were going really out of their way to try and find them."
Four or five years ago, consumers wouldn't find much if they searched for "Self Storage LA" on Google. Public Storage prices may have appeared, but there were several smaller storage facilities that listed nothing more than a phone number.
"It was really no different from the Yellow Pages," said Gordon. "We kind of said, 'Okay, we've been shopping for hotels online for 10 years. You seriously can't do this?' It just didn't exist. There were sites that listed storage facilities and their phone numbers, but there was no true price comparison booking engine."
Related: iQuantifi Targets Underserved Millennial Market, Aims To Raise $1 Million
This inspired SpareFoot to change its business model. The site had already encountered a number of issues in trying to allow everyday individuals to rent out their attics and garages. By moving to professional storage facilities, this was no longer a problem.
Hyper-Growth Mode
According to Gordon, SpareFoot has raised a "decent amount of venture capital," but he was reluctant to disclose how much.
"We have, over several rounds, raised from professional investors," said Gordon. "Originally we raised money from family and friends, so we were never really a bootstrapped company."
SpareFoot launched in 2008, but Gordon still thinks of the company as a startup.
"I would argue that you're a startup until you're permanently profitable for years and years or you're acquired or you go public," said Gordon.
He added that it may be better to think of a startup as a company that is still in "hyper-growth mode."
The storage industry has grown to $22 billion in the United States, paving the way for massive growth potential for SpareFoot. There are 52,500 self-storage facilities in the U.S., and one in every 10 households is estimated to have a storage unit.
Gordon said that the storage industry is tied to real estate transactions and moving, "because oftentimes people need to store [something] because their place isn't ready yet or they're downsizing or whatever."
Related: Former Goldman Sachs Exec Wants To Revolutionize An Industry Silicon Valley Ignored
Many startups dream of going global, but SpareFoot is focused on the domestic market. There are only 7,000 more self-storage facilities throughout the rest of the world. This makes the U.S. market much more attractive, especially since Americans tend to move more often (and buy more junk that needs to be stored).
Employee Perks
SpareFoot recently won Austin's best small-size employer in the Austin American-Statesman's Top Workplaces program.
The company previously received an award from the Austin Business Journal (SpareFoot was named the "Best Place to Work in Austin") and was one of Turnstone's 15 Best Young Startups to Work For in the U.S.
"We have a big focus on culture," said Gordon. "We really try to make SpareFoot a place where everyone is excited to get up and come to work every day. A lot of that is our perks. A lot of that is our transparency and our approach to treating people like people and not cogs in a machine."
SpareFoot's employee perks include a "No Policy Vacation Policy," which allows employees to take off as much time as they need so long as they do so responsibly.
"We've got a full-time chef who serves us lunch everyday," said Gordon.
"My approach is, most companies make decisions that are like, 'This will save me $10 here or $20 there,' or, 'We need to do it this way because that's standard.' I try to think about everything the opposite of that. We try to avoid doing things that make people's lives more difficult. We just try to make it so they can really focus on working and enjoy working.
"So things like keeping a quota on your vacation days and having to worry about going to pick up your kid who's sick -- all of that stuff that normally makes your life stressful we just remove."
To lure new talent, SpareFoot has published a recruiting mockumentary on YouTube:
Disclosure: At the time of this writing, Louis Bedigian had no position in the equities mentioned in this report.
Louis Bedigian is the Senior Tech Analyst and Features Writer of Benzinga. You can reach him at louis(at)benzingapro(dot)com. Follow him @LouisBedigianBZ
View Comments and Join the Discussion!
Posted-In: Chuck Gordon hotels.com Mario FeghaliNews Success Stories Startups Tech Interview Best of Benzinga