Market Wrap For December 3: Markets Finish In The Red For Third Straight Day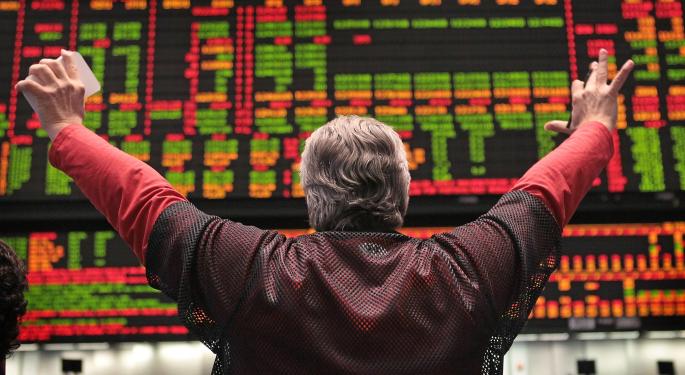 Investors appeared to be nervous going in to yesterday's close, a sentiment which continued at today's open.
With little encouraging data coming out of the holiday shopping figures, investors and traders nervously await Friday's Labor Department November jobgs report which could help determine for once and for all if and when the Fed will begin tapering its stimulus program.
The Dow lost 0.59 percent, closing at 15,914.62.
The S&P 500 lost 0.32 percent, closing at 1,795.15.
The Nasdaq lost 0.20 percent, closing at 4,037.20.
Gold gained 0.02 percent, trading at $1,222.20 an ounce.
Oil gained 2.45 percent, trading at $96.12 a barrel.
Silver lost 0.90 percent, trading at $19.11 an ounce.
News of Note
The ICSC Retail Store Sales came in lower by 2.8 percent weak over weak compared to a gain of 2.6 percent last week.
Redbook Chain Store Sales rose 4.9 percent year over year compared to a gain of 3.8 percent last week.
U.S. auto sales figures were reported today which showed strong sales data.
PIMCO's Bill Gross wrote in his monthly letter that "Investors are all playing the same dangerous game that depends on a near perpetual policy of cheap financing and artificially low interest rates in a desperate gamble to promote growth."
U.S. Bankruptcy Judge Steven Rhodes noted that Detroit is eligible for bankruptcy production.
Related: Following Along on Detroit's Bankruptcy Ruling, Now Officially Largest in U.S. History
In a report today, analysts at UBS AG (NYSE: UBS) cut its 2014 gold price forecast to $1,200 from $1,325 an ounce. Silver was also cut from $24 to $21 an ounce.
Related: Gold Hits Lowest Level Since June; but Is it a Bottom?
The number of banking institutions in the United States has fallen to below 7,000 for the first time since records were kept in 1934. There are 6,891 registered banks in the country. Smaller, community type banks are vital as they are more likely to lend money to small businesses.
The Chinese Yuan is now officially the second most used currency in global trade, overtaking the euro according to the Society for Worldwide Interbank Financial Telecommunication. (SWIFT) The U.S. dollar is still by far the world's leading currency, being used in 81.08 percent of global transactions. The Chinese currency had an 8.66 percent share in the global market with the euro occupying 6.64 percent.
Equities-Specific News of Note
Cyber Monday Internet sales rose 16 percent from last year to an estimated $2.29 billion. Amazon.com (NASDAQ: AMZN) grew sales by 44.3 percent year over year with eBay (NASDAQ: EBAY) increasing its sales by 32.1 percent over the same time period. Groupon (NASDAQ: GRPN) also reported strong weekend sales that increased 30 percent year over year. Wal-Mart (NYSE: WMT) noted that it had the best five day period for online sales ever and will continue its aggressive promotional stance this week. Shares of Amazon declined 1.95 percent, closing at $384.66, while eBay gained 1.13 percent, closing at $51.93. Groupon also showed gains for the day, rising 3.94 percent to close at $9.10. Wal-Mart finished flat, gaining 0.12 percent, closing at $81.21.
Related: Cyber Monday Was Record-Setting, Amazon & eBay Reign Supreme
Analysts at UBS AG (NYSE: UBS) upgraded Apple (NASDAQ: AAPL) to Buy from Neutral with a price target increased to $650 from $540. The analysts believe that shares will benefit in 2014 due to an imminent China Mobile (NYSE: CHL) deal, new product launches, an improving money flow and a potential migration of institutional buyers. Shares of Apple gained 2.74 percent, closing at $566.32. China Mobile was little changed, gaining 0.22 percent, closing at $53.74.
On the subject of Apple, while nothing is confirmed, speculation continues to mount that the company has finalized an agreement with China Mobile based on a Fortune report which apparently shows a subsidiary of China Mobile advertising iPhone 5S and iPhone 5C pre orders.
Related: iPhone Pre-Orders May Finally, Quietly Begin Taking Hold with China Mobile
Imax Corporation (NASDAQ: IMAX) fell today following a Goldman Sachs (NYSE: GS) downgrade of shares to Neutral from Buy with a $30 price target. Shares lost 3.40 percent, closing at $28.94.
Micron Technology Inc. (NASDAQ: MU) hit new 52 week highs of $21.90. Analysts at Needham began coverage of the company with a Buy rating and a $30 price target while noting the company is "at the cusp of multiple expansion." Shares closed slightly below its highs at $21.82, up 2.59 percent for the day.
Analysts at FBR Capital initiated coverage on 3D printers. 3D Systems (NYSE: DDD) was initiated with an Outperform rating and an $85 price target. Stratasys (NASDAQ: SSYS) was also given an Outperform rating and a $155 price target. 3D Systems gained 1.51 percent, closing at $78.05 while Stratasys gained 3.07 percent, closing at $122.49.
Whitney Tilson issued a bearish note on 3D Systems based on high valuations and deteriorating fundamentals and is "the best environment to find great shorts since March 2000 (even better than October 2007.
Pfizer (NYSE: PFE) fell today after Goldman Sachs removed the company from its "Conviction Buy list" and are now Buy rated with a $35 price target. AbbVie Inc. (NYSE: ABBV) replaced Pfizer in Goldman's "Conviction Buy list" with a $60 price target. Shares of Pfizer lost 1.95 percent, closing at $31.21 while AbbVie hit new 52 week highs of $50.26 before closing the day at $49.96, up 3.24 percent.
Fusion-io (NYSE: FIO) fell to new 52 week lows of $9.27 following a cut to Neutral by UBS with an $11 price target. Today the company announced the hiring of a new sales chief to help prevent stop the bleeding of orders from its top customers. Shares lost 3.70 percent, closing at $9.64.
Yum Brands (NYSE: YUM) fell 2.70 percent, closing at $75.16. Officials in Hong Kong confirmed the first case of a new bird flu virus, H7N9. As a result, Hong Kong has suspended imports of live chickens from mainland China.
In an interview with a Swiss media publication, Molycorp's (NYSE: MCP) CEO revealed the company is expected to be cash flow positive by the end of 2014 or early 2015. Shares gained 2.99 percent, closing at $5.13
Herbalife (NYSE: HLF) climbed to new 52 week highs of $76.82. Today, a Belgian appeals court reversed a previous decision that viewed the company as a pyramid scheme. Shares closed just off its highs at $76.65, up 6.68 percent.
Visa (NYSE: V) fell today following reports that the company will offer 8 million shares in a new offering. Shares closed the day lower by 1.56 percent at $201.92.
Abercrombie & Fitch (NYSE: ANF) rose after activist fund Engaged Capital urged the company's board to replace its current CEO as a "transition in leadership is not just needed, but absolutely required to restore investor confidence in the company's future." Shares gained 5.79 percent for the day, closing at $35.99.
Mondelez International (NASDAQ: MDLZ) increased its share buyback authorization to $7.7 billion from $6 billion through 2016. Shares closed higher by 1.38 percent at $33.90 before hitting new 52 week highs of $34.39.
Google (NASDAQ: GOOG) revealed that it has lowered its pricing for its compute Engine cloud services. Shares finished the day almost flat, down 0.12 percent at $1,053.26.
Rackspace Hosting, Inc. (NYSE: RAX) tumbled as much as 7 percent in the morning trading session as investors feared that Google's announcement would be a huge negative on the company. Analyasts at Cowen defended shares noting that the sell off is exaggerated. Shares closed lower by 5.28 percent at $35.52. Shares traded as low as $34.04, pennies above its 52 week lows of $33.91.
Related: Sell-Off in Rackspace Hosting Seems Highly Overdone, says Cowen Analysts
Winners of Note
Tesla Motors (NASDAQ: TSLA) soared following positive news out of Germany. The German Federal Motor Transport has cleared the company of any manufacturing-related defects for its Model S. Analysts at Morgan Stanley (NYSE: MS) noted that shares are a "buying opportunity" and the company is a top pick. Shares were re-eiterated with a $153 price target. Analysts at Jefferies have a $210 price target on the company based on the positive new from Germany and its own observations made from analyzing some VIN numbers at a Tesla store in California which indicates the company will meet its guidance of 6,000 deliveries in the fourth quarter. Shares gained 16.52 percent, closing at $144.68.
OncoMed Pharmaceuticals (NASDAQ: OMED) flew today following the company announcing a development and commercialization agreement with Celgene (NASDAQ: CELG) which includes up to six anti-cancer stem cell product candidates. Shares gained 95.71 percent, closing at $27.40.
Decliners of Note
Krispy Kreme (NYSE: KKD) continued its decline from yesterday after the company reported its earnings yesterday which failed to live up to expectations. Analysts at Janney Capital reiterated shares a Buy rating with a $30 price target, while analysts at Stephens raised its price target to $25. Shares closed lower by 20.16 percent at $19.60.
Universal Display (NASDAQ: OLED) fell as rumors began to surface that Muddy Waters is set to issue a bearish report on the company. Shares fell 6.54 percent, closing at $33.14.
Earnings of Note
Canadian based Bank of Montreal (NYSE: BMO announced a fourth quarter EPS of C$1.64, beating estimates of C$$1.60. At first glance this would be a positive, but shares fell 4.91 percent, closing at $65.85. Analysts dissected the result to reveal a C$0.19 tax security gain. This would put the EPS at C$1.45, well below consensus.
Quote of the Day
"Every once in a while, the market does something so stupid it takes your breath away." - Jim Cramer
View Comments and Join the Discussion!
Posted-In: 3D printers 3D Systems abercrombie & fitch Apple Bank of Montreal ICSC Retail Store SalesNews Short Sellers After-Hours Center Best of Benzinga