Gold Hits Lowest Level Since June; but Is it a Bottom?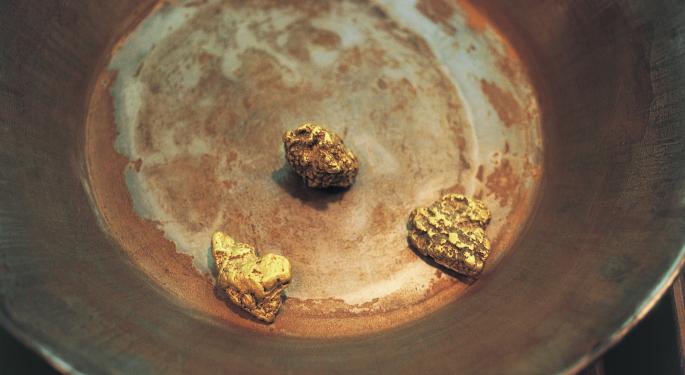 For most of the 21st century, you would have been totally foolish not to be in gold.
The price of the metal soared more than 550 percent between the end of 1999 and its peak in September 2011 at just below $1,900 an ounce.
But gold has been creamed ever since that 2011 peak, falling some 35 percent to $1,220.80 an ounce in New York on Tuesday. That was gold's lowest close since June 27. It's down 27 percent in 2013 alone. The SPDR Gold Shares (NYSE: GLD) exchange-traded fund is off 27 percent as well. The iShares Silver Trust (NYSE: SLV) ETF is off 37 percent.
Gold mining stocks are pretty much a disaster. Newmont Mining (NYSE: NEM) is down 50 percent in 2013. Agnico Eagle Mines (NYSE: AEM) is off 51 percent. The NYSE Arca Gold BUGS Index is down 56 percent.
So the question is: Is the metal is near a bottom and worth looking at again? UBS apparently thinks it's not worth looking at, yet. The brokerage sees gold holding at around $1,200 an ounce in 2014.
What the heck happened? Aren't there billions of investors convinced that wild inflation and financial Armageddon is just around the corner? There may be lots of small investors who hold that belief. There are also millions of Indians and Chinese gold enthusiasts who believe in gold as a great store of value.
But big money doesn't, and that's the problem.
Gold took off because of a huge bet by hedge funds and other money managers that inflation would be a continuing problem both in the United States and Europe. That hasn't occurred. The larger worry in Europe is about deflation. Economic growth in the United States isn't much more than two percent a year.
Meanwhile, U.S. stocks held their own and pushed higher. The Dow Jones industrials are up about 21 percent in 2013. The Standard & Poor's 500 Index is up more than 25 percent, despite a nasty pullback on Tuesday. 
So, after the 2011 peak (which came during the U.S. government debt crisis), gold started to come down, and it came down hard in 2013 -- as the hedge funds gave up on the inflation story.
According to the SPDR Gold Shares ETF annual report, investors redeemed so many shares in its 2013 fiscal year (which ended on Sept. 30) that its gold holdings fell 31.7 percent -- from 42.8 million ounces to 29.2 million ounces.
Gold is a commodity where it always pays to know its price history.
U.S. futures trading in gold began in January 1980, and gold jumped 43 percent in just three weeks to $825 an ounce. Gold then fell 28 percent through the end of the year. The market didn't see $825 again until 2007. 
So if it breaks badly, it can stay down for a long time. 
View Comments and Join the Discussion!
Posted-In: GoldNews Commodities Economics Hot After-Hours Center Markets ETFs Best of Benzinga