Following Along on Detroit's Bankruptcy Ruling, Now Officially Largest in U.S. History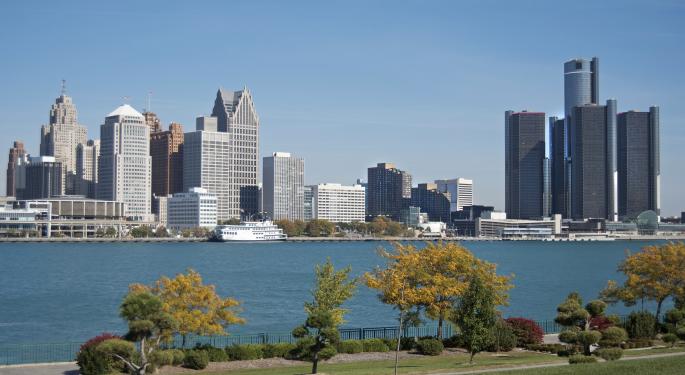 "The city no longer has the resources to provide it residents with basic services," U.S. Bankruptcy Judge Steven Rhodes said on Tuesday morning. The judge spoke at length about his ruling, noting how both sides on this case offered arguments that were "moving, passionate and thoughtful."
"It is indeed a momentous day. We have here a judicial finding that this once proud and prosperous city is insolvent," Rhodes said, officially declaring Detroit the largest municipality in U.S. history to enter Chapter 9 bankruptcy.
WXYZ's Ross Jones and Fox 2 reporter Ken Martinek provided live updates of the judge's ruling. Rhodes went on to say the Detroit people have the right understand what the decision entails, as he summarized the 140-page document. Rhodes said Detroit is rightfully known as the birth place of the auto industry and even though it once had a population of more than 1.8 million, the city no longer has the money to provide residents with basic safety needs.
Detroit has $18 billion in debt to more than 100,000 creditors.
Rhodes said early in his ruling that Detroit met the standard for insolvency, one of four requirements needed to declare Chapter 9 bankruptcy. Several national and Detroit-area reporters were on hand to give updates on the ruling, which lasted about 90 minutes. There were three overflow rooms for media members and others.
#Detroit bankruptcy judge says not impo now to determine level of pension underfunding, whether its less than $1 billion or over $3.5B

— Robert Snell (@RobertSnell_DN) December 3, 2013
#Detroit would have run out of cash in June had it not deferred $120M in payments, says Rhodes #detroitbankruptcy http://t.co/pYMgjDaBay

— MLive Detroit (@MLiveDetroit) December 3, 2013
About 20 minutes into his ruling, Rhodes pointed out that 38 percent of the city's revenue is currently being used to pay debt. He said that if nothing is done in the next five years, 65 percent would have to be used to service debt. The judge appeared to be very thorough in his explanation of the decision, speaking on both Detroit's recent and past money problems and even the decision's that led to bringing in an emergency manager. Bankruptcy attorney Kevyn Orr was appointed that role on March 18 by Michigan Gov. Rick Snyder.
Judge Rhodes rules against challenges to const. contracts clause: "This argument is rejected. Chapter 9 is a federal law, not a state law."

— Chad Livengood (@ChadLivengood) December 3, 2013
Rhodes said he will allow pension cuts, but did not necessarily say that they will be cut. As Detroit News reporter Chad Livengood noted, in regards to the judge's ruling on pensions: "Resolving the issue now will likely expedite the resolution of this bankruptcy case."
"No one should interpret this holding...to mean that this court will necessarily confirm any (plan that) includes (benefit) adjustments."

— Chad Halcom (@ChadHalcom) December 3, 2013
The pension issue has been a divisive one among current and former city employees, who have worried their time working for the city may not lead to the comfortable retirement they once planned. Rhodes spoke on arguments that pensions have state protection: "These prohibitions, however, do not apply in federal bankruptcy court." Rhodes says nothing distinguishes pension debts from other debts, despite state constitution.
MLive reporter Jason Smith commented on the pension rulings. "When your dad gave 33 years of his life to a city that horridly mismanaged his & 1000s of others retirements, kinda hard to think straight," he tweeted out during the ruling. The pension ruling clearly fueled some fires.
Outburst over pensions in my courtroom. Security staff threatens to remove someone.

— Amy Haimerl (@haimerlad) December 3, 2013
Rhodes said sale of city assets would not address the long-term financial imbalance. Orr said over the summer that the sale of the assets in the Detroit Institute of Arts could be a possibility.
Perhaps the biggest hurdle was good faith negotiations between the emergency manager and the city. Rhodes said the June 14 meeting of a proposal to creditors was not sufficient and not in good faith. He also said creditors cannot be faulted for failing to offer counter-proposals when they didn't have enough info from Orr in such a short time.
City has NOT established by preponderance of evidence that it has met good faith requirement, in the negotiation period leading to Chapter 9

— Chad Halcom (@ChadHalcom) December 3, 2013
Judge Rhodes: "There was simply not enough information for creditors to start meaningful negotiations." @MotownEM

— Chad Livengood (@ChadLivengood) December 3, 2013
The city filed for bankruptcy in good faith, but did not negotiate in good faith.
So even though Rhodes found the city did not negotiate in good faith, they meet the requirement because it was impractical to negotiate.

— Chad Livengood (@ChadLivengood) December 3, 2013
Rhodes said Detroit could have and should have filed for bankruptcy years before it did. Mayor Dave Bing said he '"absolutely agree" with that statement.
Rhodes asked objectors to file a motions quickly on whether to appeal his decision directly to the 6th Circuit Court of Appeals. At a press conference immediately following the ruling, Orr said he was pleased with Rhodes' decision and they will work to exit bankruptcy protection by the end of September in 2014.
Federal judge rules detroit is bankrupt. Pension cuts all but a surety. Sad day.

— Charlie LeDuff (@Charlieleduff) December 3, 2013
View Comments and Join the Discussion!
Posted-In: bankruptcy CrainsNews Legal Events Economics Media General Best of Benzinga