PC Sales Will Decline More Than 10 Percent by End of 2013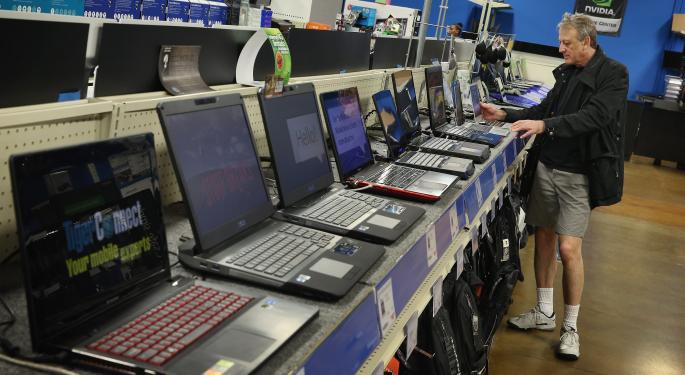 According to market research firm, IDC, by the end of 2013, worldwide PC sales will have fallen more than 10 percent over a year ago. IDC said it would turn out to be the worst year on record for PC sales.
Total sales this year, IDC said, would be about 314 million PCs, with most of those in the form of replacement equipment for existing units.
The news for 2014 isn't exactly encouraging for PC makers either. IDC said it expects PC shipments to drop 3.8 percent next year.
All this despite the fact that the PC is still the main computing device in use today. As more devices become available, however, PC use has declined. One area that has shown growth is convertible units that run on Windows and function as both a tablet and a PC.
According to IDC, convertible device sales in 2013 will be less than 7.5 million. By 2017, 39.3 million units are expected to be sold.
Semiconductor market research firm, IC Insights, predicted in the period from 2012 through 2017 total personal computing growth would be 10.6 percent. Standard PCs, according to IC Insights, will fall 0.3 percent, while tablet sales will grow more than 28 percent and sales of Internet based devices will increase more than 32 percent.
Related: IBM's Watson Will Be Open To Public On The Cloud
Given these less-than-inspiring predictions for standard PCs, what's the industry to do?
Intel (NASDAQ: INTC), whose processors power more than 80 percent of the world's computers, according to CNET, has been working on something it calls "perceptual computing."
Perceptual computing uses gestures – like facial movement and voice recognition – to make computers more "natural, intuitive, and immersive," according to Intel executive, Anil Nanduri.
Not only does Intel hope to imbed perceptual computing into standard PCs, it also hopes to attract mobile device and tablet makers to begin using Intel chips in their equipment.
Whatever the eventual outcome, the days of traditional PCs seem to be numbered. Microsoft's (NASDAQ: MSFT) convertibles might represent the future – or they might just be a stopgap.
Cloud-based devices that rely on an Internet connection to access both software and data seem destined to have a bright future – but only to the extent that reliable, secure Internet connections are widely available.
For now, the most that can be said is that the picture is somewhat confusing. At least that's the opinion of Apple (NASDAQ: AAPL) CEO Tim Cook, who said about the competition: "They're confused. They chased after netbooks. Now they're trying to make PCs into tablets and tablets into PCs. Who knows what they will do next?"
At the time of this writing, Jim Probasco had no position in any mentioned securities.
View Comments and Join the Discussion!
Posted-In: Anil Nanduri Apple cloud convertiblesNews Retail Sales Tech Media Best of Benzinga