Kanye West Struggling to Find VC Funding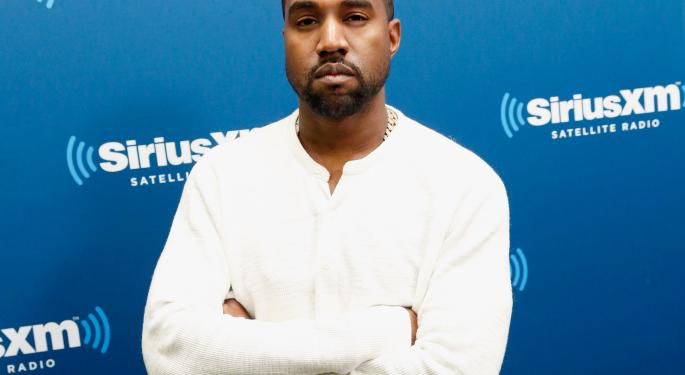 Kanye West courting fat-cat Silicon Valley investors might seem like a bit of sellout to those who follow the well-known rapper, but that's exactly what he's doing and it's not going very well.
Kanye West, famous rapper, soon-to-be husband and already baby-daddy to Kim Kardashian and well-known for, shall we say, stirring the pot, is trying to convince venture capitalists to invest in DONDA, West's latest attempt at becoming a successful entrepreneur.
What is DONDA, you ask? According to West, "DONDA is a design company which will galvanize amazing thinkers and put them in a creative space to bounce there [sic] dreams and ideas." (Misuse of "there" is his).
West continued, "DONDA will be comprised of over 22 divisions with a goal to make products and experiences that people want and can afford. I want to put creatives in a room together with like minds that are all waaaay doper than me. We want to help simplify and aesthetically improve everything we see hear, touch, taste and feel."
If you're thinking that the pitch is high on hype and low on details, you might be echoing some of the pushback that he's getting from VCs and other Silicon Valley investors.
While nobody is turning down a meeting with Kanye West, people aren't offering up money to fund DONDA. Not only do they have doubts about the company, they have doubts about the person.
Related: Slideshow: Apple Shunned Black Thursday, Microsoft Sells 1M Xboxes And More From The Last Week Of November
West is known as a hot-head and lacking in the social graces required to show investors that their money has a reasonable chance to come back multiplied. It's nice to say that you want your company to become a trillion-dollar business (yes, larger than Apple), and say that you're the next Steve Jobs, but going off on a tirade against popular venture capitalists like Zappos founder Tony Hsieh probably isn't the best way to get the VC community to write checks.
Then there's the very un-Steve Jobs mentality of wanting to start a company with 22 divisions, creating seemingly unrelated products instead of focusing on a few.
But let's be fair. He's already admitted to losing $13 million in his business ventures, but as any successful entrepreneur will argue, failure is part of the process and you only have to hit it big once.
West said of his failure that he didn't have the knowledge to do it the right way. If that indicates a willingness to learn and be receptive to the ideas of the elite that he has criticizes in the past, it's hard to argue that the Kanye West name would certainly have some brand recognition that any VC would love to have behind their investment.
Disclosure: At the time of this writing, Tim Parker was long Apple.
Posted-In: Apple Kanye West Tony Hsieh VCEntrepreneurship Crowdsourcing Startups General Best of Benzinga
View Comments and Join the Discussion!