Market Wrap For November 27: Markets Inch Higher Before Pausing For Thanksgiving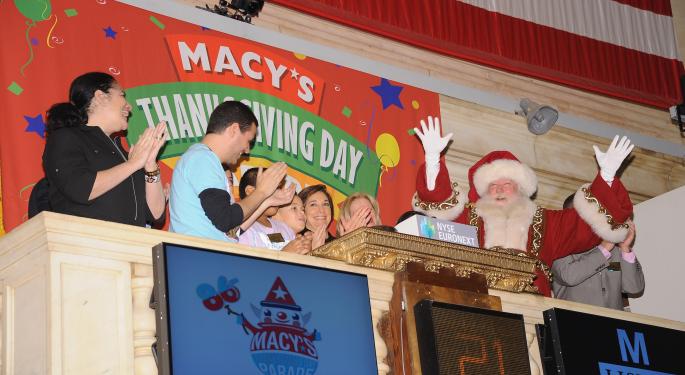 Major indices crawled higher on light volume, which was to be expected.
The Nasdaq to new highs that haven't been seen since September 2000, while the other major indices failed to hold on to earlier gains, but still finished in positive territory.
On Thursday, the markets will take a much needed breather with Friday's trading action to end at 1PM ET.
The Dow gained 0.15 percent, closing at 16,097.33.
The S&P 500 gained 0.25 percent, closing at 1,807.23.
The Nasdaq gained 0.67 percent, closing at 4,044.75.
Gold lost 0.30 percent, trading at $1,273.80.
Oil lost 1.49 percent, trading at $92.28 an ounce.
Silver lost 1.02 percent, trading at $19.69 an ounce.
News of Note
MBA Mortgage Applications declined 0.3 percent compared to a decline of 2.3 percent last week.
U.S. Durable Goods Orders came in at minus two percent with expectations of minus 1.90 percent.
U.S. Initial Jobless Claims came in at 316k, below the 330k estimate. Continuing claims came in at 2.776 million, below the 2.853 million expectations.
Chicago Fed National Activity Index for October came in at minus 0.18.
Chicago PMI for November came in at 63, above the estimates of 60.
University of Michigan Sentiment for November came in at 75.1, below the 73.5 estimate.
U.S. Building Permits for October has been revised to an increase of 6.7 percent (previous reading was 6.2 percent), Annual rate increased to 1.039 million units from 1.034 million units.
Related: 6 Things to Know About the U.S. Housing Market
Goldman Sachs revealed one of its "best trade ideas" is to short the loonie, a.k.a the Canadian dollar.
The Office for National Statistics kept its estimates for United Kingdom growth in the current quarter to 0.8 percent, which is the fastest pace of growth in three years.
The European Central Bank's Vitor Constancio noted that the organization is "technically ready" to institute negative rates, as previously indicated. But this will only be considered in extreme situations.
Related: Eurozone Politics Back In The Spotlight
Equities-Specific News of Note
Intel (NASDAQ: INTC) has been cut to Hold from Buy at RBC Capital Markets. The analysts believe that the company won't achieve an attractive return on its $2 billion yearly investments to regain tablet and handset market share. Shares nevertheless gained 1.06 percent for the day, closing at $23.90.
Analysts at FBR prefer Abercrombie & Fitch (NYSE: ANF) over Aeropostale (NYSE: ARO) despite recent LBO market chatter. Abercrombie & Fitch is Market Perform rated with a $43 target, while Aeropostale is Market Perform rated with a $10 price target. A&F gained 1.63 percent to close at $34.37 while Aeropostale declined 1.94 percent, closing at $9.84.
Shares of Green Mountain Coffee Roasters (NASDAQ: GMCR) erased yesterday's losses following a series of directors purchasing shares of the company in the $69.25 to $69.50 range. Seperatrely, Buckingham Research noted that the company can expecting "meaningful margin expansion, double-digit growth in portion packs, and more dynamic growth in H2 2014." Shares are Buy rated with a $92 price target. Shares gained 5.28 percent, closing at $67.55.
Twitter (NYSE: TWTR) has been initiated with a Buy rating and a $50 price target from MKM Partners. The analysts believe that the company "is the most powerful media property today and has tremendous potential as an advertising medium." The social media company gained 1.77 percent, closing at $40.89.
Analysts at Evercore Research upped the price target on Microsoft (NASDAQ: MSFT) to $45 based on an attractive risk to reward ratio. Shares gained 0.67 percent, closing at $37.60.
The battle of bull versus bear remains in full force over Tesla (NASDAQ: TSLA). The bear, Bank of America (NYSE: BAC) believes that the potential for a recall on the Model S is not the real issue; unrealistic volume expectations of selling 348,000 cares per year by 2020 is. Shares are Underperform rated with a very bearish price target of $45.
Deutsche Bank, (NYSE: DB) the bull, believes that shares are undervalued based on a potential success of a highly anticipated "Gen III" car. Shares are Buy rated with a $200 price target. Today, the bull side won the argument as shares gained 5.33 percent, closing at $126.92.
CVS Caremark (NYSE: CVS) is adding to its pharmaceutical offering by buying Coram, LLC from Apria Healthcare. The specialty infusion services and enteral nutrition business comes with a $2.1 billion price tag. Shares gained 1.03 percent, closing at $66.77, not far off its 52 week highs of $67.20
Winnings from Vegas casinos fell by 5 percent in October, but with such a huge exposure to Macau compard to Vegas, investors shrugged off the news as Las Vegas Sands (NYSE: LVS) gained 1.10 percent, closing at $71.55. Wynn Resorts (NYSE: WYNN) gained 0.95 percent, closing at $165.56 MGM Resorts (NYSE: MGM) gained 1.91 percent, closing at $19.19.
Related: Las Vegas Strip October Gaming Wins Down 5.06%
According to Bloomberg, General Motors (NYSE: GM) "will be a tempting target for activist investors," due to its stockpile of cash with no clear plan to return some the $26.8 billion to shareholders. The company is projected to produce $5.4 billion in free cash flow next year. Shares gained 3.13 percent, closing at $38.85, shy of its 52 week high of $39.18.
In the last half hour of trading, market chatter circulated across news desks and Twitter that Charter Communications (NASDAQ: CHTR) is set to line up $25 billion in debt to finance a bid to takeover Time Warner Cable (NYSE: TWC). The Wall Street Journal confirmed the validity of the market chatter right after the markets closed. Charter finished the day lower by 0.84 percent at $134.98 while Time Warner gained 0.18 percent to close at $136.80.
Winners of Note
Shares of Hewlett-Packard (NYSE: HPQ) rose following the company's earning report after the close yesterday. Shares didn't look back and gained 9.05 percent to close at $27.36, aided by positive analyst coverage. Citigroup (NYSE: C) reiterated its Buy rating with a $32 price target. Evercore upgraded shares to Equal-weight from Underweight and increased its price target from $20 to $25. Shares traded as high as $27.68 during today's session, ten cents below its 52 week highs.
Foster Wheeler (NASDAQ: FWLT) gained 6.13 percent, closing at $30.49 following chatter that the company can be a possible takeover target by British based Amec. Shares held on to gains despite various news sources reporting throughout the day that Amec is not in active talks for an acquisition.
Sharse of BioScrip (NASDAQ: BIOS) rose 17.29 percent, closing at $6.92 following new of its peer Coram being acquired by CVS. Traders were hoping that BioScrip could also be on the selling block with, naturally, a higher valuation.
Decliners of Note
After reporting its third quarter results which included a less than stellar fourth quarter outlook, Tilly's (NASDAQ: TLYS) shares plunged today by 24.43 percent, closing at $12.00. Shares traded as low as $11.63 which represented fresh 52 week lows. Analysts at Goldman Sachs (NYSE: GS), downgraded shares to Neutral from Buy with a lowered price target of $12 from a previous target of $17.
OCZ Technology Group (NYSE: OCZ) resumed trading at 2:30 pm after being halted since 9:00 am. The company announced bankruptcy filings and has received an offer from Toshiba to purchase the company's assets. Shares plunged 74.60 percent, closing at $0.16.
Earnings of Note
58.com (NASDAQ: WUBA) reported third quarter EPS of $0.11, below expectations of $0.13. A beat on the revenue end ($41.63 million versus an estimated $23.4 million) was not enough reason to support shares following its very hot IPO. Shares lost 10.16 percent, closing at $33.51.
Quote of the Day
"Thanksgiving, man! Not a good day to be my pants." - Kevin James
View Comments and Join the Discussion!
Posted-In: Activist investors AeropostaleDurable Goods Apria Healthcare BioScrip Building PermitsNews Econ #s After-Hours Center Best of Benzinga