UPDATE: Real Goods Solar CFO Tony DiPaolo On Q3 Improvements, Hitting Break-Even And More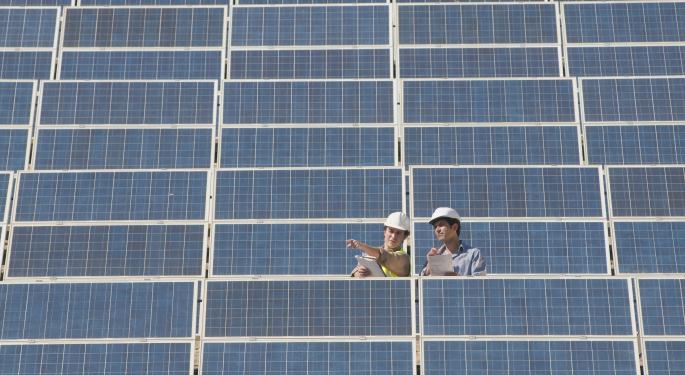 Rising solar company Real Goods Solar (NASDAQ: RSOL) could be headed for the break-even point.
During a live interview with the Benzinga Pro newsdesk, Real Goods Solar CFO Tony DiPaolo said that the company's fourth quarter results should be "very close" to break-even.
"We expect that our adjusted EBITDA number will be right at break-even to slightly positive," said DiPaolo, who was not ready to provide any predictions for 2014.
DiPaolo said that there were two key components involved in the firm's turnaround.
"The first is the top line," he said. "We were able to grow the top line to $34 million, which is up 29 percent from last quarter, and is also up significantly from $26.4 million in the year-ago quarter.
"The second key component is that we've been very successful in reducing costs. We've been able to find significant efficiencies in our back office over the last year. We've taken almost $8 million out of our run rate opex since the third quarter of 2012."
Related: Solar Stocks Shine as Short Interest Surges
While the company's losses have been improving, investors have not been overly receptive to Real Goods Solar. Year-to-date, the stock is up more than 223 percent. But over the past month it has fallen roughly 27 percent.
DiPaolo did not have a comment on this matter, but he said that feels that, on a secular basis, there has been some pressure in the solar space.
Over the summer Real Goods Solar completed its acquisition of Syndicated Solar. DiPaolo said that the firm was interesting because of its approach, which included strong sales and marketing, as well as a very strong team.
"We saw the opportunity to accelerate the evolution of our own sales and marketing approach by bringing them into the fold," he said. "We closed that transaction in August."
In discussing the firm's public offering of 5.9 million units (consisting of shares of its class A common stock and class A common stock warrants in an underwritten public offering at a price of $3.40 per unit), DiPaolo said that gives Real Goods Solar the chance to strengthen its balance sheet.
"It makes the company much more accessible from a risk standpoint as we compose our commercial transactions as well as building out our finance offering for our customers," he said.
Related: Solar And Single-Country ETFs On A Roll
DiPaolo also took a moment to speak about the appointment of Ian Bowles, who was recently added to the firm's Board of Directors.
"Ian provides skills in both the policy side and the business side, so we see some good overlap there in his background and experience," said DiPaolo. "From 2007 to 2011, he was Secretary of Energy and Environmental Affairs for the state of Massachusetts. Obviously he's very well versed in both the state of the energy market and environmental regulations and policy, as well as the impact that has on business."
Bowles also served as the Senior Director of Global Environmental Affairs and the Associate Director of the White House Council on Environmental Quality for the Clinton administration.
When asked about Real Goods Solar's closest peers in the solar space, DiPaolo reminded investors that there were not many of them on the downstream side.
"SolarCity (NASDAQ: SCTY) and Real Goods tend to be the only two choices," he said.
Real Goods Solar does not have any plans to work with SolarCity in the near future.
Disclosure: At the time of this writing, Louis Bedigian had no position in the equities mentioned in this report.
Louis Bedigian is the Senior Tech Analyst and Features Writer of Benzinga. You can reach him at louis(at)benzingapro(dot)com. Follow him @LouisBedigianBZ
Posted-In: SolarCity Tony DiPaoloNews Management Success Stories Tech Interview Best of Benzinga
View Comments and Join the Discussion!